Best Sunscreen for Babies
Last Updated: August 12, 2016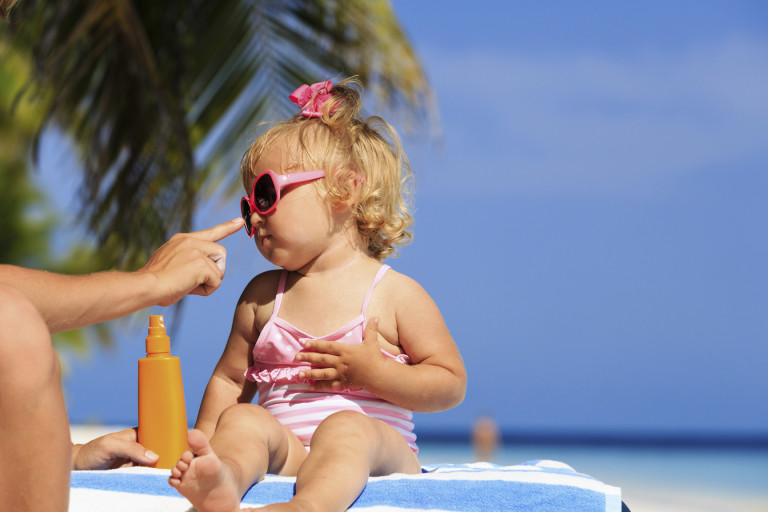 Everybody needs their Vitamin D, and getting a dose of sunshine is the best way to get it. But as we all know too much of a good thing can be painful. Watching your little one suffer from sunburn would be terrible. And the long-term impact of too much sun exposure is cancer. Scary stuff.
Enter: Sunscreen.
Do you need sunscreen?
Whether your child needs sunscreen depends on your type of outdoor activity. You can employ other preventive measures like outfitting your baby in light, breathable long sleeves and long pants, seeking out shade (or making your own with a beach or shade tent), and avoiding times of intense rays between 10 a.m. and 2 p.m., which is exactly what the American Academy of Pediatrics recommends for babies less than six months old.
Another great idea is dressing your baby in clothing with built-in sun protection. Look for rompers, one-piece sun suits, and rash guards (long or short sleeved bathing-suit-like tops) with UPF 30 or higher. UPF-rated clothing, which means ultraviolet protection factor, shields your wee one from both UVA and UVB rays.
Even if your baby is wearing UPF clothing, you'll need sunscreen for the skin that's still exposed. And, we hate to break it to you, but older babies and toddlers aren't going to be content to just roll around in the shade tent you bring along to the beach. They will demand to play in the sand and splash in the water – can you blame them?
Since a sunburn can happen in as little as 10 minutes – depending on how fair skin is and the time of day – we're guessing you'll want to have a baby-friendly sunscreen handy.
What type of sunscreen is best?
When choosing a sunscreen to use on your child, look for these five key components:
1. Broad-spectrum coverage
Since UVB rays cause sunburns and UVA rays can prematurely age skin and cause melanoma, choose a broad-spectrum sunscreen to protect from both types of rays.
2. Natural ingredients
Chemicals like oxybenzone and octisalate are often used in sunscreens and work by sinking into the skin and then absorbing and deferring UV rays. They can potentially irritate sensitive skin, and the jury is still out on whether they can have long-term adverse effects on little ones (oxybenzone is known to be a hormone disrupter). So it's best to go with natural blockers like zinc oxide and titanium dioxide. These minerals sit on top of the skin and reflect away both UVA and UVB rays (a.k.a. broad-spectrum coverage).
3. Water resistant
There's no such thing as a waterproof sunscreen. But ones labeled "water resistant" will stand up to sweat and water for either 40 or 80 minutes (check the label to see what the specific formula provides). You will need to reapply sunscreen after this time period.
4. At least SPF 15
This is the minimum number that will protect against burns and cancer-causing rays. Consider lower SPFs useless. You can go up to SPF 30, but higher than that and the amount of increased protection is minor.
5. A cream type
Sunblocks come in sticks, sprays, and creams. Sprays can make application easy on an antsy toddler, but they still need to be rubbed in order to provide adequate coverage. Plus, their small particles can be inhaled. (Gross.) Most importantly, parents often don't apply enough sunscreen when using a spray, and a burn can result. Although creams take more time to apply, they're worth it to make sure your baby is fully covered.
Below are some sunscreens to consider. They all use mineral sun blockers and are highly rated by the Environmental Working Group, a nonprofit that helps parents protect children from harmful chemicals. You may find that one of these popular picks works great for you and your family too.
---
Clear Winner
Health Food Store Fave
Strong & Pure
For Hyper-Reactive Skin
Splurge Worthy
Choosing What's Right for You
Whether you pick up a drugstore bottle or swing by Neiman's for sunblock, what matters most is having one on hand for whenever your baby will be exposed to intense sunlight. Rather than worrying about how much time your child has been outside, you can relax and catch all those super-cute, Instagram shots of him frolicking in the grass or on the sand.