Best Swim Diapers of 2023
Best Swim Diapers of 2023
Babylist editors love baby gear and independently curate their favorite products to share with you. If you buy something through links on our site, Babylist may earn a commission.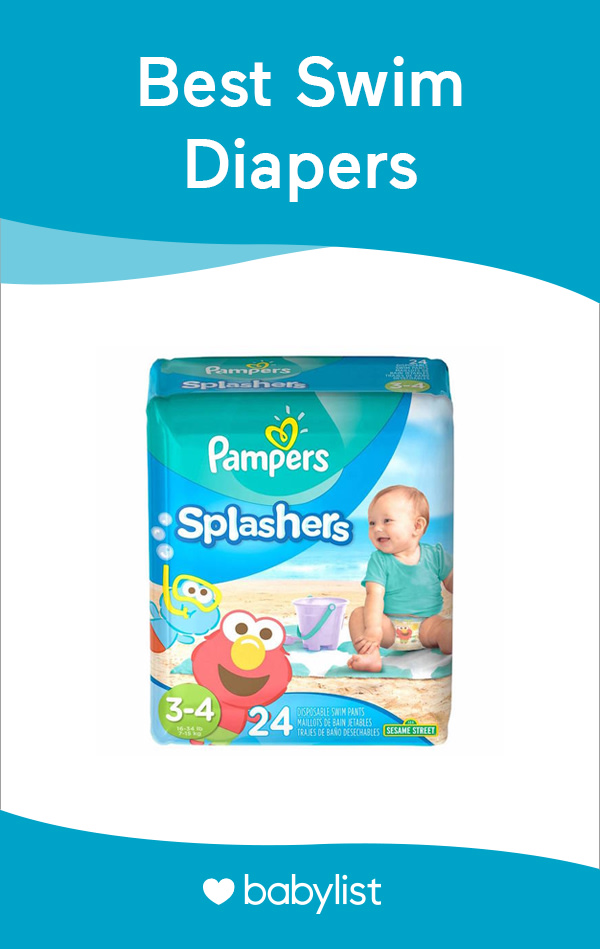 Glistening lakes, the seashore and cool pools beckon to kids and their parents on hot summer days. Don't let having a little one in diapers hold you back from getting in the water.
Do You Need Swim Diapers?
If your child isn't potty trained and they want to dip toes (and more) into a public body of water, you need swim diapers. Regular diapers won't work. The material that makes diapers so absorbent also turns them into a waterlogged anchor around your child's waist once they are submerged in water. Not only is their absorbing action rendered useless once they soak up water, but their weight makes them super saggy to the point of falling off. And they definitely can't hold anything inside once they're stretched out.
Swim diapers are designed to withstand water and contain solids. They aren't meant to absorb. Yep, that means pee will pass through to the water. But swim diapers should keep number twos inside, eliminating what public pools fear most: fecal contamination. (Everyone out of the pool, closed for days or weeks as it's drained and refilled, etc.)
You may be thinking, "What about when my child is out of the water?" Because there is no absorbency, you'll have to change your baby into a regular diaper right after swimming. For some reusables you can purchase absorbent inserts for the diaper while they toddle around on land.
Note: Swim diapers aren't designed for newborns whose stools tend to be liquidy (until they start eating solid food). Lacking absorption power, they just can't contain newborn poops. The same goes for children with diarrhea. They should not be allowed to swim in a public body of water.
If you want to introduce your baby to water before two months of age, try filling up the tub at home or using a kiddie pool rather than heading to the community pool.
What Type of Swim Diaper is Best?
Remember that swim diapers need to have a snug fit to contain poop, so they will probably be tighter than your everyday diapers.
Swim diapers come in disposable or reusable versions, each with their own advantages. Disposables are cheap and offer convenience, but they tend to sag and are more prone to letting something slip out.
Reusable swim diapers that have Velcro or snaps at the side usually offer a better fit, but are more expensive and high maintenance. After changing your child out of a reusable, you have to flush the diaper contents down the toilet, package the dirty reusable to take home, and then rinse it and run it through the wash. Also, since babies grow pretty quickly, they might grow into a larger reusable size before the summer is over. Consider how quickly your little one is growing before investing in a reusable swim diaper.
How Does this Work at the Pool?
If public pools allow diapered children to enter at all, their rules may differ. Many require kids to have two layers. A disposable diaper along with a reusable or a swim short on top can work, or some allow a reuseable underneath with a swim short on top. Many parents find that disposable on bottom and reusable on top is the best defense against spillage anyway.
---
Choosing what's right for you
Since many families use both disposable and reusable swim diapers together, you might want to purchase both and see how it goes. You may find the twofer system works great or that one or the other causes chafing or slides right off your baby's bum. Finding the perfect swim diaper for your little one will be worth it for all the splashing, smiling fun this summer.
This information is provided for educational and entertainment purposes only. We do not accept any responsibility for any liability, loss or risk, personal or otherwise, incurred as a consequence, directly or indirectly, from any information or advice contained here. Babylist may earn compensation from affiliate links in this content. Learn more about
how we write Babylist content
and the
Babylist Health Advisory Board
.
The freshest in parenting this week, delivered to your inbox