How to Wash Cloth Diapers
How to Wash Cloth Diapers
Skip the gross factor and get the honest facts on how to actually get cloth diapers clean.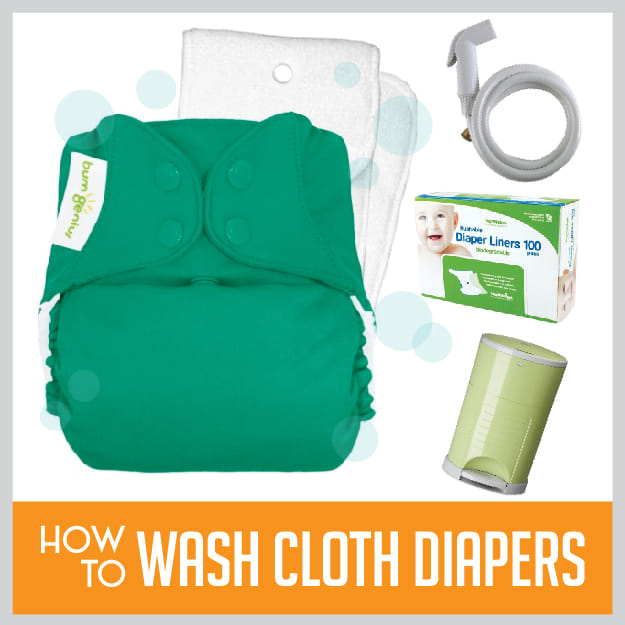 Probably the number one thing that freaks people out when they think about cloth diapering is washing them. Icky, right? Here's a question to determine if you can handle cleaning cloth diapers: Have you ever laundered sheets, towels, socks, underwear, jeans, sweaters or any other type of clothing? If the answer is yes, then you can totally handle washing cloth diapers. Promise. After you've checked out our guide to Cloth Diapering Basics, here are the three easy steps to cleaning cloth diapers.
1. Taking Off the Dirty Diaper
2. Washing
3. Drying
Hybrid or pocket style shells will dry quickly even hung up inside but can totally be thrown in the dryer with inserts. All in one diapers usually take longer to dry. And if weather permits, hanging diapers outside in the sun is an eco friendly way to save energy and sun bleach stubborn stains.
It's not recommended to use fabric softener or laundry additives as they could cause buildup on the diapers. The specific brand you choose should have info about their recommended wash routine on their website; certain practices can void your warranty (yikes!), so definitely check out what they recommend for their specific diapers.
---
How Often to Wash?
Babies can go through 8 to 10 diapers a day (or more!), so you'll want to have at least enough clean ones on hand to get you through a day or two without having to do laundry. Any longer than that and the dirty diapers will really stink and stains could set in. So how often you wash will depend on the number of diapers you have. The magic number for most families seems to be 24 cloth diapers total, but you could get away with as few as 14 if you absolutely needed to (you'd probably just be washing every day).
It's a little different for hybrids. For a system like GroVia, where you just change the liner/insert each time and outer diaper shell every few times, you'll need 6-12 outer diaper shells and enough inserts or liners to get you through between washes- again, 24 seems to be the magic number.
Having a large stash of diapers isn't necessary if you're on a tight budget but it is pretty convenient. If something comes up and you can't wash right away, it's nice to have enough to get you through. Additionally, the more diapers you have, the less often each individual piece is used and washed; this cuts down on wear and tear and increases the longevity of each diaper.
---
Extras
---
Choosing What's Right for You
There it is–the whole dirty truth about washing cloth diapers. Caring for cloth really isn't as hard as it might seem at first. The number and type of cloth diapers you should depends on your own lifestyles, preferences, and budget. Before your baby arrives, you might decide to buy most of your diapers and walk through your cleaning routine, to help yourself get used to the steps. With a bit of practice and planning, you'll be able to clean cloth diapers in your sleep!
This information is provided for educational and entertainment purposes only. We do not accept any responsibility for any liability, loss or risk, personal or otherwise, incurred as a consequence, directly or indirectly, from any information or advice contained here. Babylist may earn compensation from affiliate links in this content. Learn more about
how we write Babylist content
.
The freshest in parenting this week, delivered to your inbox