Best Cloth Diapers of 2023
Best Cloth Diapers of 2023
Babylist editors love baby gear and independently curate their favorite products to share with you. If you buy something through links on our site, Babylist may earn a commission.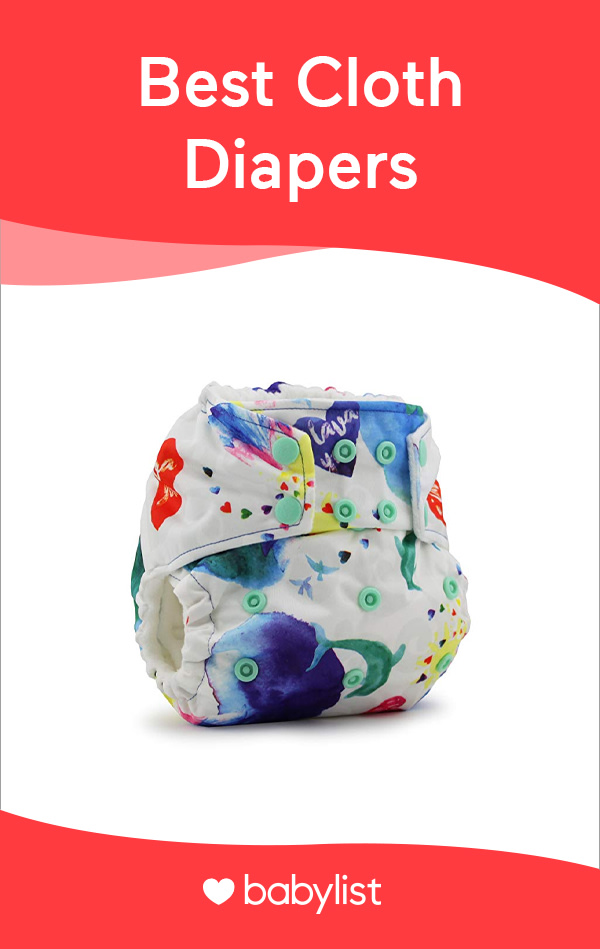 Cloth diapers are making a comeback. Once thought of as a vestige of the olden days, wash-and-wear diapers are an eco-friendly option that many families are now choosing for their babies.
Why Choose Cloth Diapers?
You definitely need diapers, but which kind you choose–cloth, disposable or a combination of both–is a personal choice.
Most families choose cloth diapers for a few reasons:
Less waste. Disposable diapers don't biodegrade. Most babies will go through upwards of 6,000 disposable diapers before they are potty trained, which means lots of diapers ending up in landfills. (3.3 million tons in 2018, to be exact, according to a report from the Environmental Protection Agency.) Cloth diapers, on the other hand, are reusable and don't end up in a landfill.
Cost savings. Cloth diapers can save you a lot of money, especially if you use them for several years and for more than one child.
Gentle on baby's skin. Disposable diapers contain ingredients that may irritate some babies' sensitive skin. That's not the case with cloth diapers.
Interested in cloth diapering but not quite sure you're all in? Consider this: using cloth diapers doesn't have to be all or nothing. Many cloth diapering families switch to disposables for outings, when grandparents are babysitting or for overnight wear.
Still don't know if cloth diapers are for you? Check out Cloth Diapering 101 and How to Wash Cloth Diapers.
What Are the Best Cloth Diapers?
There are many different types of cloth diapers, from ready-to-wear options to diapers that are one large piece of cloth that needs to be folded and clipped. The variety can make choosing cloth diapers both exciting and a bit overwhelming.
Here's a rundown of the different types:
Flats and prefolds: The original cloth diapers, flats are big, rectangular pieces of fabric (think dish towel size). Prefolds are smaller pieces of fabric that have been doubled over. Both need to be folded, clipped and covered with a waterproof shell. They're easy to wash, quick to dry and very inexpensive.
Fitted: These ready-to-wear diapers have elastic leg openings and snaps or Velcro tab closures around the waist. They're made entirely from absorbent fabric and require a waterproof cover to go over them. They offer full-coverage absorbency (on the legs, waist and hips), and you can reuse the waterproof covering with a fresh diaper.
Pocket: These diapers have a waterproof exterior and inside pockets where you place absorbent inserts. The main benefits of a pocket diaper are the ability to adjust the insert for different absorbency levels and position the insert where your little one needs it most.
All-in-ones: Most similar to disposable diapers, convenient all-in-ones have a waterproof cover and an inner cloth lining to absorb fluid. When you change your child's diaper, you toss the entire diaper into the dirty pile to be washed and then grab another (no folding, no inserting).
Hybrids: Very similar to all-in-ones, hybrids have a waterproof shell, too, but feature a removable inner cloth lining. At changing time, you just pull the dirty lining/insert out and snap a fresh one into the same shell (as long as there was no leakage onto the shell). The benefit of this system is you can purchase fewer shells (aka covers) and stock up on liners instead.
How Many Cloth Diapers Do I Need?
If you're planning on using cloth diapers from the start, you'll need between 12-36 newborn-size diapers depending on how much laundry you want to do. After around three months, you'll want to invest in a minimum of 10-12 cloth diapers if you plan on doing laundry every day and between 20-30 if you do laundry every other day.
A quick note about newborn-size cloth diapers. Because newborns are so tiny, most one-size cloth diapers don't generally fit them well, which is why you'll want a newborn-size stash of cloth diapers on hand. Newborns also go through a lot of diapers—at least 8-10 each day, sometimes even more. Some parents choose to use disposable diapers for the first few months and then switch over to cloth once their baby is a bit larger.
How to Wash Cloth Diapers
If you're overwhelmed (and a little grossed out) by the thought of washing cloth diapers, know that it's a pretty common worry for most parents as they explore whether or not to use cloth diapers with their baby. But rest assured it's not as bad as it may seem at first.
First, be sure to always consult the specific laundering instructions for whichever brand of cloth diapers you choose. Keeping those directions in mind, you can then follow three simple steps:
Remove the dirty cloth diaper. For breastfed babies, you can deposit a messy diaper directly in whatever pail or bag you're using to store dirty diapers, because breastfed baby poop is water soluble. If you're dealing with a diaper from a formula-fed baby or a baby who's eating solids, you'll want to dump the contents of a poopy diaper into the toilet before tossing it in your pail.
Wash. You'll want to run two wash cycles: a cold cycle first without detergent (to loosen up the gunk) followed by a warm or hot cycle with detergent. (You can also add an extra rinse cycle to the warm wash cycle if your machine offers that option.) Skip the fabric softener or any other laundry additives.
Dry. Dry your diapers per the manufacturer's instructions. Some cloth diapers need to be air dried while others can go into the dryer on low or medium settings.
What detergent is best for cloth diapers?
As long as your laundry detergent doesn't contain fabric softener, most brands are completely fine for washing cloth diapers. (Fluff Univesity, the largest cloth diaper community on the internet, has a helpful cloth diaper detergent index that's worth a look if you're interested in taking a deep dive into cloth diaper-friendly detergents.) Just keep in mind that many cloth diaper brands have their own recommendations on what detergent is best to use with their particular diapers, so check your brand's recommendations first before hitting the laundry room.
How We Chose Our Best Cloth Diapers
We asked thousands of Babylist families about the products they love the most. We took the most popular cloth diapers they shared with us and added our own research and insight. We think you and your babe will love at least one of these diapers too.
Choosing What's Right for You
Purchasing a set of cloth diapers is an investment. Before you go all in with one brand, experiment with a couple different kinds to see what you like. Through some trial and error, you may find that one diaper is great for day use, another for overnights and yet another for vacations. Or maybe you'll fall in love with one diaper brand but decide to use inserts from another line to boost absorbency. The only thing that matters is finding the best system for your family.
This information is provided for educational and entertainment purposes only. We do not accept any responsibility for any liability, loss or risk, personal or otherwise, incurred as a consequence, directly or indirectly, from any information or advice contained here. Babylist may earn compensation from affiliate links in this content. Learn more about
how we write Babylist content
and the
Babylist Health Advisory Board
.
The freshest in parenting this week, delivered to your inbox