Best Disposable Diapers of 2020
Best Disposable Diapers of 2020
It's a dirty business, but keeping your little one clean and comfy makes your baby happier.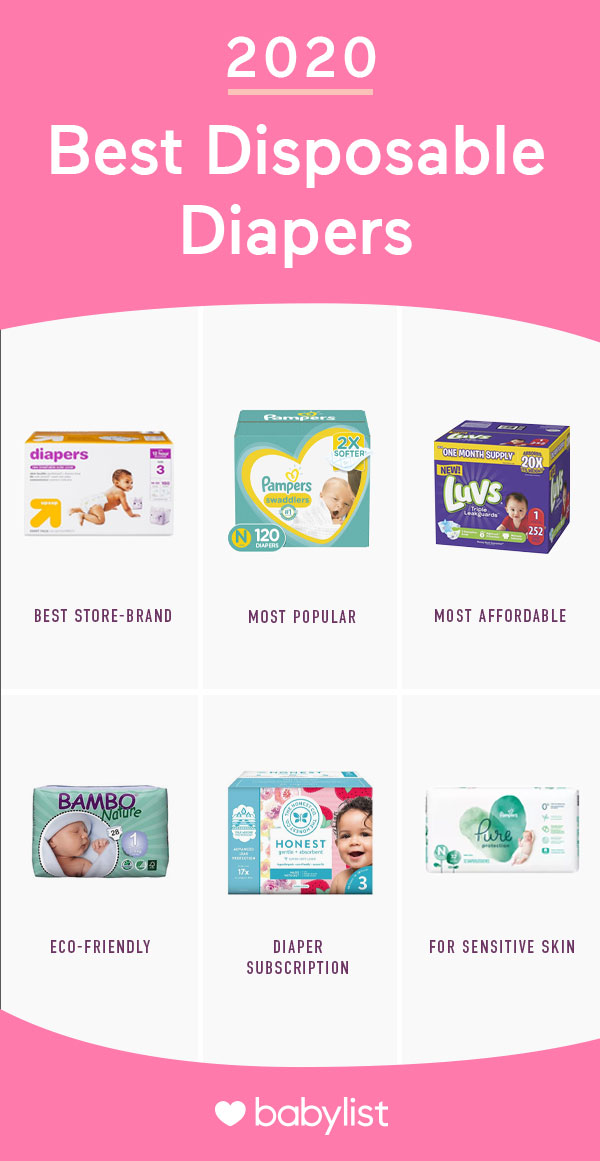 Editor's Note: Due to the current COVID-19 climate, diapers may be harder to find than usual. We know it can feel overwhelming to see things you need unavailable, but please know that baby products are considered essential items, and retailers are working to restock these items, and companies are making them.
For example, Pampers is producing diapers and wipes at record levels and Hello Bello has diapers in stock and is rapidly producing more.
Where Can I Find Diapers?
In store: Stores are most stocked at opening hours (just be sure not to go during the seniors-only hour, if the store has it). Check bigger chain stores first, which are likely to restock faster than independent grocers. If diaper shelves are still empty, ask the store manager when they expect the next shipment. You can also try unexpected retailers like discount dollar stores, drugstores and corner markets. But it's best to call ahead, so you're not running all over unnecessarily right now.
Online: You can also find diapers online, but try to order them as soon as possible—shipping is taking longer than usual. On Amazon, sort diapers by size and consider trying a new brand if your favorite is backordered. Other online retailers that offer diapers include Target and Walmart as well as these less-frequented sites:
Need disposable diapers right this minute, but can't find or afford any? Call 211 and they can direct you to a local diaper bank. And, if you've ever considered cloth diapering, now would be a great time to purchase a few and see how you like them.
How Many Diapers Do I Need?
Though it can be tempting to horde all the diapers, it's reasonable to keep a month's worth of diapers on hand. Remember, kids grow fast and you'll have to size up soon. If you're pregnant, consider stocking up for baby's first month, but know that hospitals will give you some when you leave too. Newborns go through an average of 250 diapers per month, while babies 6 months and older need 150 to 180 diapers.
---
If there's a registry item we know for sure that you'll use each and every day with your baby, it's diapers.
Diapers are one of the essential things you'll need for your little one. Making sure your baby's bum stays clean and dry is crucial for baby's comfort and to avoid diaper rash. Expect to become a diaper-slinging pro in no time—most newborns go through about 10 or more diapers every day. That's more than 300 changes in the first month…but who's counting?
Do You Need Disposable Diapers?
Yes, most parents will want disposable diapers for their baby. How many will depend on if you're planning on solely using disposable diapers or if you're hoping to use cloth diapers either part of the time or exclusively. (Here's how many diapers you'll likely need during baby's first year.)
There are pros and cons to using both disposable and cloth diapers, so spend some time doing your research and figuring out what you think is going to work best for your family and for your little one before you commit to anything. And remember that diapering doesn't have to be an all-or-nothing decision; lots of families use a combination of both disposable and cloth diapers in a variety of different ways. (You can cloth diaper at home, for example, and switch to disposables for overnight, daycare or when you're out and about.)
What Type of Disposable Diaper is Best?
There's no shortage of diaper options on the market, but the most important consideration when you're choosing what's best is to figure out which disposable diaper works for your baby. You might find your newborn's skin reacts to one brand of diaper and not another, or that your little one is having more blowouts in a certain brand. Finding the right diaper usually involves some trial and error and is all about figuring out what's best for your particular baby.
Factors that might sway you toward one disposable diaper brand over another include:
Cost
Softness
Absorbency
Fit
Fragrance
Environmental impact
How Do You Figure Out the Right Size Diaper?
Each diaper brand fits differently, so it's a good idea to try out several different brands before you click buy on those supersized packs. A diaper that fits well will:
Hit right below your baby's belly button
Fasten symmetrically on either side
Fit snugly, but not dig into your baby's skin and still allow them to move around comfortably
The bad news is that an ill-fitting diapers will often lead to lots of leaks and even the dreaded blowout…but the good news is it will be pretty obvious that it's likely time to give a new brand a try!
Also keep in mind that if you begin experiencing issues with a diaper you and your baby already liked, it's probably just time to move up a size. (Newborn sizes go up to about 10 lbs, so your little one will probably grow into the next size around one month, depending on how much they weighed when they were born.)
How We Chose Our Best Diaper Picks
We asked thousands of Babylist families about the baby products they love the most, then took the most popular diapers they shared with us and added our own research and insight—and some of our favorites as well. We think you and your baby will love at least one of these diapers too.
Do you think this content is helpful? Let our editors know!
Choosing the Right Diaper for You
Diapers are going to be a big part of your life for the next few years, so you'll want to find a brand that works for your family. Experimenting with various brands, and sometimes even sizes, can help you figure out which diaper is the winner. Before you know it, you'll be trading up to pull-ups and then big kid undies and you just might miss the diapering days. (But maybe not!)
This information is provided for educational and entertainment purposes only. We do not accept any responsibility for any liability, loss or risk, personal or otherwise, incurred as a consequence, directly or indirectly, from any information or advice contained here. Babylist may earn compensation from affiliate links in this content. Learn more about
how we write Babylist content
.
The freshest in parenting this week, delivered to your inbox