Best Bottles of 2020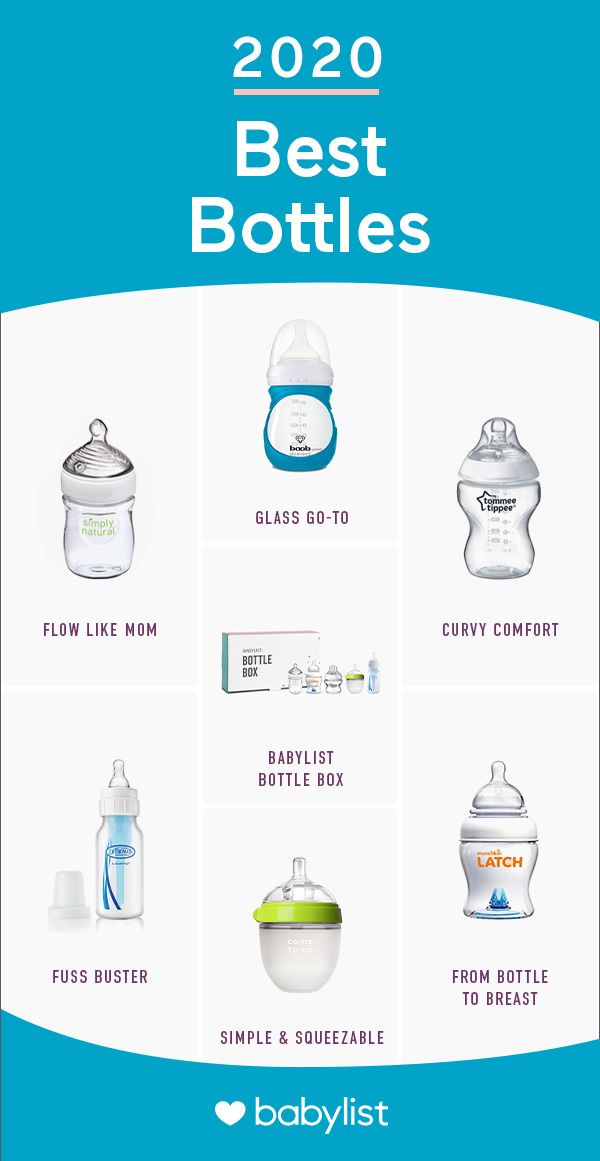 Whether you're nursing or using a bottle, nestling your baby in the crook of your arm for a feeding is one of the best bonding moments in parenthood.
Of course, if your little one is taking some or all of their meals from a bottle, you'll want to be sure to select the right bottle brand for you―one that won't interrupt those peaceful moments with leaking, air bubbles or collapsing nipples.
Do You Need Bottles?
Yes, most families do use bottles. If you feed your baby formula, you will need to use bottles. You'll also need to use them if you plan to return to work within your baby's first year and need a way for others to feed your child with expressed breast milk or formula. Even if you plan to be home and exclusively breastfeed, you might find that letting other family members feed your baby a bottle of pumped breast milk is a win-win—they nab a special moment with your little one and you get a breather.
How Many Bottles Do I Need?
If you're exclusively bottle feeding, you're going to want around 6 to 8 bottles on hand, so you can have some of them ready to go, while you're washing and sterilizing others. If you'll be using bottles occasionally, it's good to have 3 to 4 bottles.
What Types of Bottles are There?
Bottles typically come in these materials:
Glass: Sturdy and long-lasting but also heavy, and typically more expensive than other models and can shatter easily.
Plastic: Polypropylene, the hard plastic typically used in bottles, is lightweight and virtually unbreakable, but can wear out faster. After health concerns around plastics were brought to light, plastic bottles are now required to be free of a chemical called bisphenol A (BPA). So while any bottle currently on the market should be BPA-free, it's best to pass on any hand-me-downs from before 2012.
Most bottle brands offer several nipple nipple sizes, each of which provides a different rate of milk flow.
Newborn and slow flow nipples are designed for newborns and younger babies and provide a slower flow of milk or formula so baby won't gulp too much, too fast.
Faster flow nipples are designed for older babies who have bigger swallows and can handle a faster flow of liquid.
Most bottles come in two sizes:
Smaller-sized bottles, usually around 4 oz, are geared toward newborns who eat less.
Larger bottles, usually around 8 oz, are for older babies who eat more.
In terms of sizes, you can choose to buy a few each of smaller and larger bottles, or you can buy big from the get go and only fill the larger bottles halfway during baby's first months. As a benchmark, newborns may eat as little as an ounce or two every meal, while babies around six months old may eat six to eight ounces at a feeding.
When deciding which bottles to add to your registry, keep in mind that it's tough to anticipate what type of bottle your baby will prefer. We recommend adding either one brand's starter kit or a sample box to your registry first, then waiting to see which one your baby likes best.
When Do You Need Bottles?
You can start using bottles from day one. If you're breastfeeding, you may choose to wait to introduce a bottle until baby has gotten the hang of nursing, usually around four weeks in or so.
Babies usually use bottles until at least one year old. (That's a lot of bottles to clean! Here's how to sterilize them.) That's when the American Academy of Pediatrics says it's okay to transition your little one from breast milk or formula over to cow's milk. However, many breastfeeding parents continue to nurse well into the second year. Also, you'll likely want to introduce your child to straw or sippy cups, used to transition kids from bottles to regular cups, between one and two years of age.
How We Chose Our Best Bottles
We asked thousands of real Babylist families about the baby products they love the most and then took the top bottles they shared with us and added our own research and insight. We think you and your little one will love at least one of these bottles too.
Do you think this content is helpful? Let our editors know!
---
Did you find this content helpful? Let our editors know!
---
Choosing What's Right For You
There are numerous bottles on the market, and finding the right one for your little one may take more than one try. Having a few different brands or a starter pack on hand to test out when baby arrives are great ways to prepare for whatever baby may prefer.
And when your little one graduates from bottles to sippy cups, we have sippy cup recommendations and essential feeding tools too!
This information is provided for educational and entertainmentpurposes only. We do not accept any responsibility for anyliability, loss or risk, personal or otherwise, incurred as aconsequence, directly or indirectly, from any information oradvice contained here. Babylist may earn compensation fromaffiliate links in this content. Learn more about
how we write Babylist content.
The freshest in parenting this week, delivered to your inbox