Best Travel Systems of 2021
Best Travel Systems of 2021
Babylist editors love baby gear and independently curate their favorite products to share with you. If you buy something through links on our site, Babylist may earn a commission.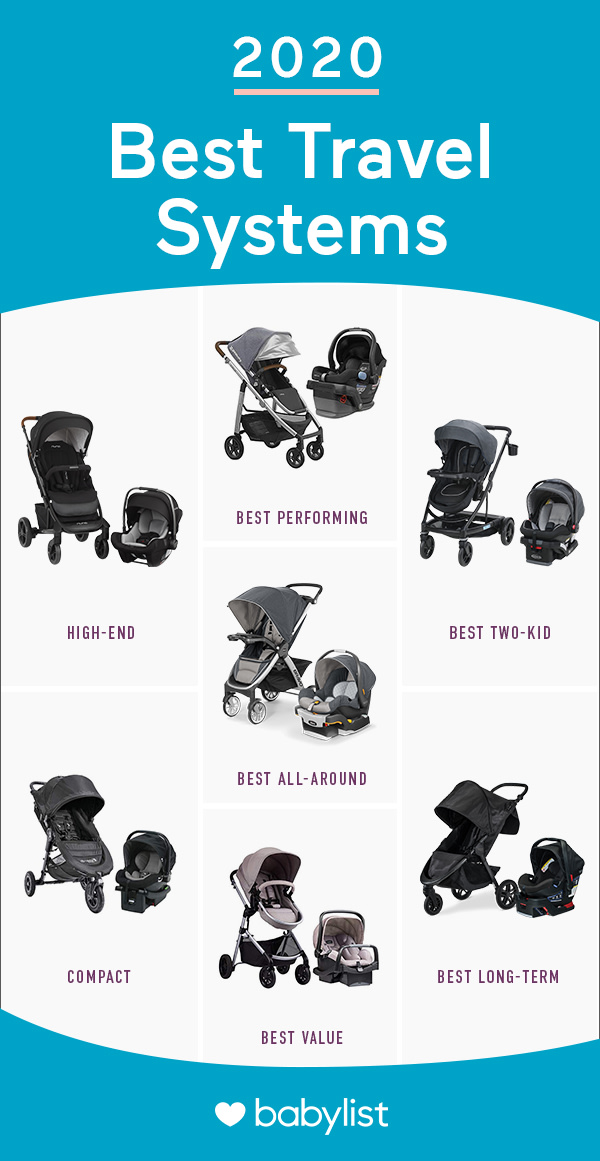 When you're ready to roll with your little one, a car seat and a stroller are key. Thanks to the smarty who designed the first travel system―a car seat that clips onto a matching stroller―you can make one purchase and get both essentials.
In this article:
What Is a Travel System?
A travel system is a car seat and a stroller that attach to each other. Since they're sold as a pair and are both the same brand, travel systems are guaranteed to work together. Just unclip the car seat from its base in the backseat, snap it into the stroller and you're off.
A travel system can be purchased in two ways:
As a package deal from the same brand (the type of travel systems we're reviewing here), or
As a "make your own" set that combines a stroller and a car seat from different brands using adapters.
Package deals tend to be more economical than the DIY version and are guaranteed to work together—no adapters required. If you're eyeing up a stroller and a car seat from different brands, however, don't stress. Just keep in mind that not all brands work together and you'll often need to buy separate adapters. Check out Babylist's Infant Car Seat and Stroller Compatibility guide to learn more.
Do You Need a Travel System?
Unless your stroller comes with a bassinet attachment or fully reclines and is approved for newborn use, it's not suitable for your little one until they can sit up unassisted—which usually happens around six months of age. And even if that is the case, you'll still need to move your infant every time you want to transfer them from the car seat to the stroller (and back again).
Here's where a travel system comes in. A travel system solves for strolling with your newborn before they're able to sit up independently. It also means you won't have to disturb your little one every time you need to make the switch between your car seat and your stroller.
When Do You Need a Travel System?
You'll need a travel system right at birth if you plan on using your car to transport your little one. Most parents choose to research travel systems prior to baby's arrival and have one ready to go before birth so they're prepared.
Around six to nine months, your baby will be sitting up and will likely want a better view of the world—and then you can use the full-size stroller on its own. And because you can use the stroller from infancy through toddlerhood, it's the only stroller you'll need to purchase.
How We Chose Our Best Travel System Picks
We asked thousands of real Babylist families about the baby products they love the most now that their little one has arrived, then took the top products they shared with us and added our own research and insight. Here are the travel systems we think are the best of the best.
Do you think this content is helpful? Let our editors know!
---
Did you find this content helpful? Let our editors know!
---
This information is provided for educational and entertainment purposes only. We do not accept any responsibility for any liability, loss or risk, personal or otherwise, incurred as a consequence, directly or indirectly, from any information or advice contained here. Babylist may earn compensation from affiliate links in this content. Learn more about
how we write Babylist content
and the
Babylist Health Advisory Board
.
The freshest in parenting this week, delivered to your inbox