Best Bubble Toys for Babies and Toddlers
Best Bubble Toys for Babies and Toddlers
Not to sound like a Pringles commercial, but for babies and toddlers, it's true, 'once you pop, the fun don't stop'
Babylist editors love baby gear and independently curate their favorite products to share with you. If you buy something through links on our site, Babylist may earn a commission.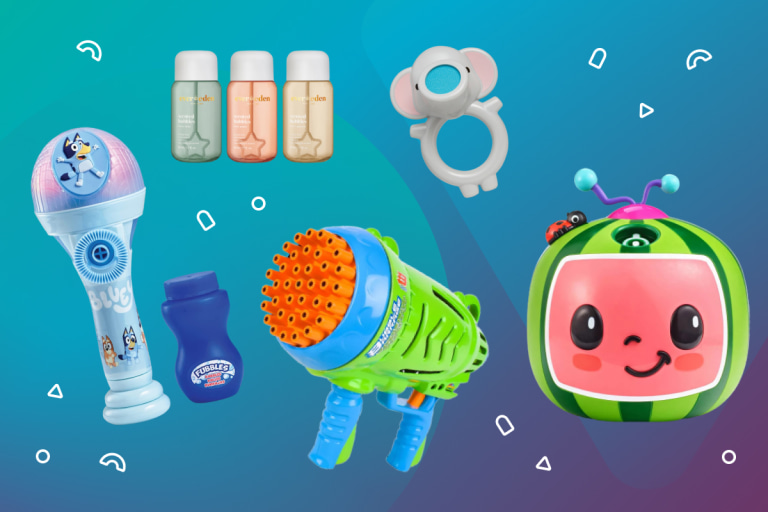 When it comes to summer fun for little ones, some toys will always be poppin'—take bubbles, for instance. Have you ever met a baby or toddler who hasn't been completely mesmerized by bubbles—be it blowing, popping, catching, chasing or just following them with their eyes? The bubbles' luminous, rainbow colors and how they float through the air is instantly captivating to a child. Even as adult parents, we're obsessed with the simplicity and ever-hypnotic allure of bubbles, how easy it is to play with them and how much fun can be had with a bottle of bubbles, a bubble wand and a whole lot of imagination.
For babies and toddlers, bubbles offer "a multi-sensory and magical experience that fascinates children," explains Sarah Liebenrood and Rebecca Gasiewicz Thiemann, teachers, play experts and creators of the kindergarten prep book, Kindergarten Ready Through Play. They also provide a number of developmental merits for your bright and bubbly kiddo, from visual and sensorimotor stimulation to cause-and-effect learning opportunities and emotional regulation benefits.
The Benefits of Playing With Bubbles
According to the American Academy of Pediatrics (AAP), outdoor play fosters "children's curiosity, creativity and critical thinking," but even more simply, it can "help with motor development and overall physical health… lower their stress and increase their focus."
Liebenrood and Thiemann agree, adding that bubbles help with so many key competencies, "including speech and language skills, fine motor skills, hand-eye coordination, spatial awareness and social skills."
Speech and language
Beyond inviting giggles and various sound effects from your entertained tot, bubbles can afford you, as a parent or caregiver, the opportunity to engage in playful conversations with your mini. Ask them to describe the bubbles' size, shape and how they float, glide or move as a way to strengthen their vocabulary or inspire their language skills.
Fine motor skills
Blowing and chasing after bubbles involves both fine and gross motor skills, as toddlers need to coordinate their hand movements to blow bubbles or reach out and pop them. The sensorimotor experience helps them grow and refine their motor skills.
Spatial awareness
Bubbles have a mind of their own, and they'll catch a breeze or get launched into an unpredictable pattern. Toddlers, in turn, will track their trajectory and anticipate where they'll go, honing their spatial awareness and sharpening their hand-eye coordination to try and pop or catch each bubble.
Social skills
Playing with bubbles helps toddlers develop important social skills such as turn-taking, peer engagement and non-verbal communication. Through bubble play, toddlers learn to take turns, interact with others and express themselves non-verbally, fostering social interaction and cooperation in an enjoyable and engaging way.
Emotional regulation
Blowing and watching bubbles can be a soothing and calming experience for toddlers. The slow and gentle motions of blowing bubbles can help regulate their emotions and provide a sense of relaxation. Additionally, for fussy or worked up babies, the K-Ready Through Play team says that "bubbles are a great way to help them calm down and parents can facilitate."
Whether you're in the parent bubble, or just popping by (hiya, grandparents, favorite aunties, nannies, babysitters and/or additional caregivers) on a sunny day, you'll be sure to keep the tiny troops occupied for hours on end with these baby and toddler-friendly bubble toys, bubble machines and bubble baubles. Here are our favorites!
This information is provided for educational and entertainment purposes only. We do not accept any responsibility for any liability, loss or risk, personal or otherwise, incurred as a consequence, directly or indirectly, from any information or advice contained here. Babylist may earn compensation from affiliate links in this content. Learn more about
how we write Babylist content
and
review products
, as well as the
Babylist Health Advisory Board
.
The freshest in parenting this week, delivered to your inbox