Best Bibs for Babies and Toddlers
Best Bibs for Babies and Toddlers
Little ones + mealtime = lots of messes. These cute bibs help keep it under control.
Babylist editors love baby gear and independently curate their favorite products to share with you. If you buy something through links on our site, Babylist may earn a commission.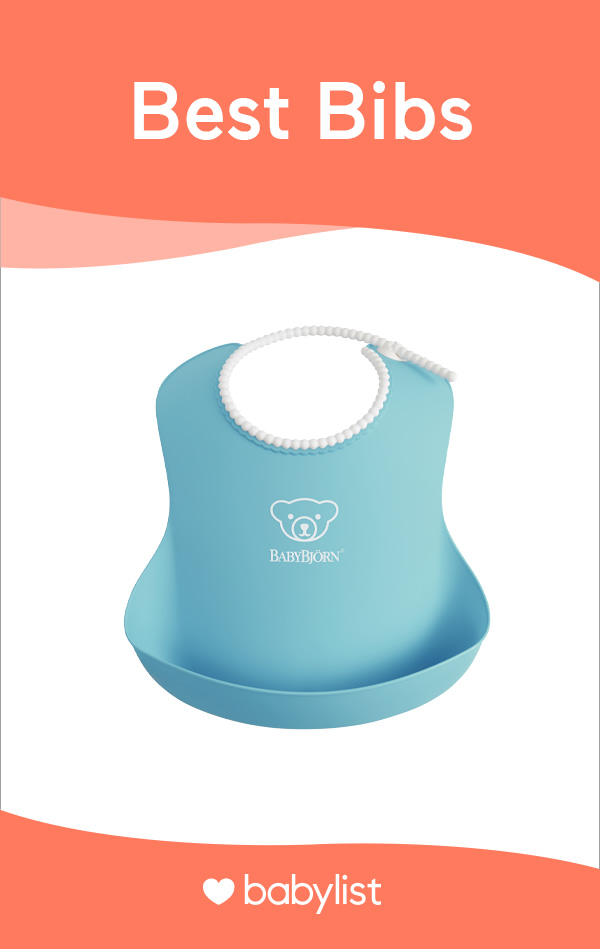 With every meal, your kiddo is getting better and better at eating, but chances are not all of the food on your little eater's plate is going to make it into their mouth (especially if you've got a self-feeder). Mess is inevitable, so you'll definitely want some bibs to contain the overflow and keep your kiddo's cute outfits pristine (well, relatively).
Bibs come in a variety of styles—drool bibs, plastic bibs, bibs with pockets to catch the mess. Here are the different types of bibs you'll come across when looking for the right one for your baby or toddler:
Waterproof: If you're looking to cut down on laundry, you'll want a material that doesn't soak up a ton of liquid and can be easily wiped clean. Some cotton bibs have an inner waterproof layer that keeps them from soaking in food smells.
Soft material: Bibs sit against your little one's sensitive skin, so soft material is key. If the bib is rough or itchy, you can bet baby will want to rip it off.
Adjustable neckband: Babies grow so, so fast, and you'll want bibs that last more than just a couple of months, so look for ones that have adjustable closures and can fit a range of neck sizes that will last at least a couple of years.
Firm closures: As your little one gets bigger (and stronger), they'll get better at gripping their bib and yanking it off mid-meal. Bibs with firmer closures like snaps or buttons are easy for you but harder for older babies and toddlers versus Velcro closures.
Pouch/pocket: Some bibs only protect baby's neck and chest from messes, but having a pouch at the end of the bib means their lap will stay clean too (not to mention the ease of scooping out all the fallen bits). These tend to be popular for baby-led weaning since they'll catch and hold all of the solid food pieces.
Bandana: Mostly a style choice, bandana bibs are trendy and cute, but also pretty handy for teething. Some bandana bibs, like the one on this list, have a silicone piece at the end that's perfect for gnawing.
Coverage: If your little one is extra messy, or if their outfit is extra special, keep food and liquids off more than just their chest with an extra-large bib. Some even come with sleeves or cover their whole torso and shoulders. Some even come in a smock style with sleeves and cover their whole torso.
Bibs also come in a variety of different materials. Here's what to know:
Cotton bibs are fairly soft and absorbent, and typically machine washable without any special care needs (no gentle cycle, etc.), but always double check the washing instructions on the label. They're typically available in organic and non-organic cotton, but likely won't hold up for more than a year of regular use.
Muslin bibs are softer, more absorbent and more breathable than basic cotton, but can require special care like a gentle cycle or hand wash only. They can also be slightly more expensive than basic cotton, but may last longer too.
Plastic/plastic-coated or polyester bibs are waterproof and easily wipeable, though sometimes dishwasher safe or machine washable (not dryer safe, though!), just be sure to read the label. They're usually either a thin and flexible all-plastic composition, thick and rigid all-plastic or cotton with a plastic cover.
Silicone bibs are the easiest to clean out of all materials—they can be wiped clean, hand washed or put in the dishwasher. Since they tend to be long lasting, they're also often the most expensive. Many parents say you only need one (if you wipe it off after every meal).
Paper bibs are convenient if you need a disposable option when on the go, but not very economical for everyday at-home use.
Keeping all the options in mind, these are some of our favorite bibs for babies and toddlers.
This information is provided for educational and entertainment purposes only. We do not accept any responsibility for any liability, loss or risk, personal or otherwise, incurred as a consequence, directly or indirectly, from any information or advice contained here. Babylist may earn compensation from affiliate links in this content. Learn more about
how we write Babylist content
and
review products
, as well as the
Babylist Health Advisory Board
.
The freshest in parenting this week, delivered to your inbox