Best Mini Cribs of 2021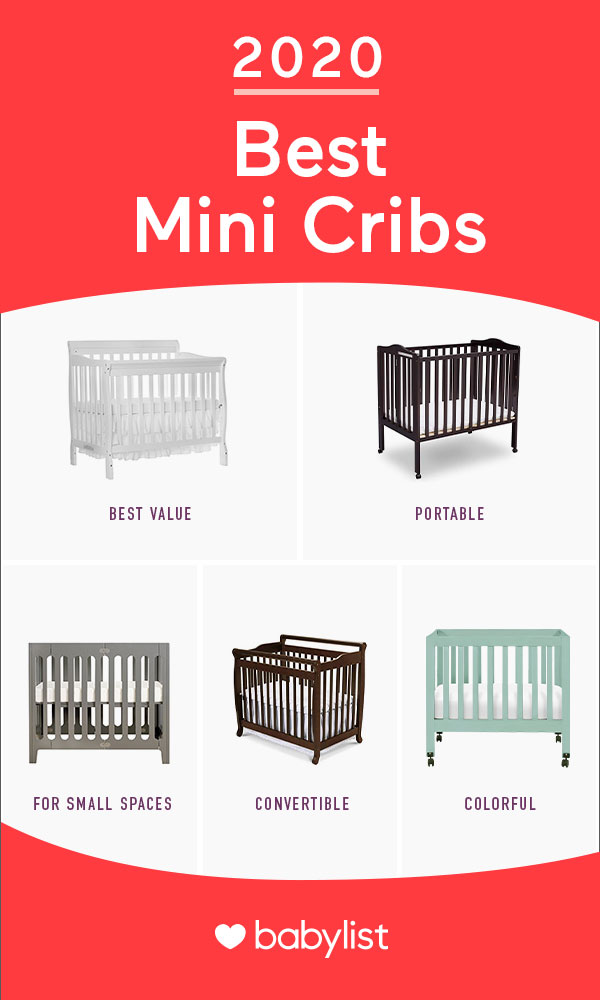 Does thinking about how to fit a full-size crib—along with all the other baby gear—into your home throw you into a panic? Consider a mini crib. It's a major space saver and sometimes a multitasker, too, doubling as a bassinet or transitioning into a toddler bed down the road.
What is a Mini Crib?
Mini cribs are much smaller than standard-size cribs, and some models come with wheels, which make it easy to move your child from your room into the nursery when you're ready. Some mini cribs can also be folded flat to store in a closet or under a bed, ideal for keeping at a sitter's or grandparents' house.
Often, little ones can fit in mini cribs until it's time to transition to a toddler or twin bed—around two- to three-years-old or when your child starts climbing the rails. Some models convert into toddler beds or even a headboard and footboard for a twin bed. However, you typically have to buy a separate conversion kit to make the transition. If that's what you'd like to do, buy the conversion kit at the same time you purchase the crib (just in case the model becomes discontinued).
Note that you'll need to purchase a mini crib mattress and mini crib sheets (like these examples: mini crib mattress and mini crib sheets) to go along with the smaller-size frame. (Typically mini cribs come with a one-inch mattress, but it's really skimpy.)
Note: the average standard crib mattress is 28-inches wide and 52-inches long, while the average mini crib mattress is 24-inches wide and 38-inches long.
How We Chose Our Best Mini Cribs
We asked thousands of real Babylist families about the baby products they love the most, then took the top mini cribs they shared with us and added our own research and insight. We think you and your little one will love at least one of these items too.
Choosing What's Right for You
A mini crib is a great option if you're pressed for space or if you're looking for a sleep solution that will allow you to room-share a bit longer with your baby. There's a size and a style that's just right for everyone—and that you don't forget to add on any extras like a mattress or a conversion kit to your list.
This information is provided for educational and entertainment purposes only. We do not accept any responsibility for any liability, loss or risk, personal or otherwise, incurred as a consequence, directly or indirectly, from any information or advice contained here. Babylist may earn compensation from affiliate links in this content. Learn more about
how we write Babylist content
.
The freshest in parenting this week, delivered to your inbox