We Tried ALL the Baby Wipes (So You Don't Have To)
We Tried ALL the Baby Wipes (So You Don't Have To)
13 different brands, weeks of testing and hundreds of wipes later, these are the four worth buying.
Babylist editors love baby gear and independently curate their favorite products to share with you. If you buy something through links on our site, Babylist may earn a commission.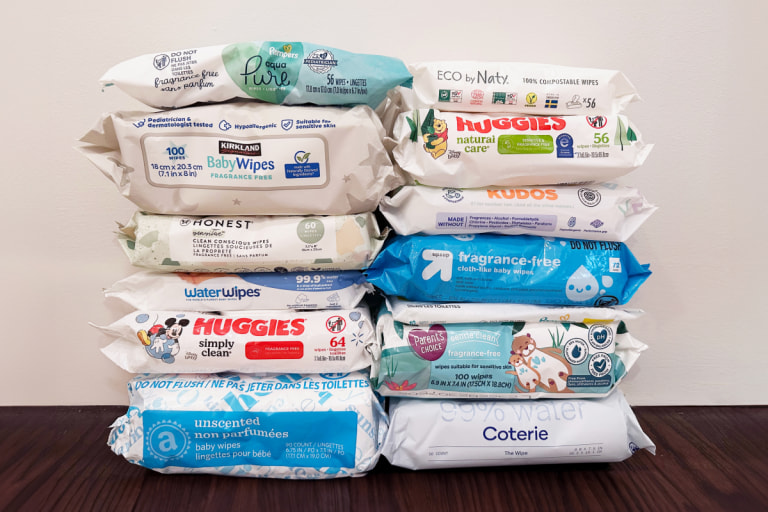 If there's one item you can never have enough of as a parent, it's the baby wipe. From diaper blowouts and sticky fingers to messy faces and dirty restaurant tabletops, there's not much the baby wipe can't tackle. A pack stashed in your home, car or bag is a universal declaration: "I am officially a parent now."
But do you know how many different types of baby wipes there are in this world? (Seven pages full of them, the last time I checked Amazon.) And while it's easy to randomly click and buy, the last thing you want to discover is that you're now the proud owner of an 800-count value pack of wipes that don't actually wipe much of anything at all.
That's where I come in. As an expert in the baby space for over six years and a mom of two (very messy) little boys for almost a decade, I've wiped a whole lot of butts (and faces, and hands, and countertops) in my day. But I've never formally put baby wipes to the test—until now.
Welcome to The Great Baby Wipes Test of 2023.
All the Wipes We Recommend:
Navigate This Guide
Why You Should Trust Me
I'm an experienced writer who's worked in the baby space since 2017. I've written about baby gear at Babylist for five years and have been the gear editor for two, writing hundreds of gear guides on everything from the best strollers and car seats to how to build a baby registry. I head up Babylist's Best Baby Products annual survey that polls over 6,000 parents and asks them to share the baby products they love the most and why. I'm also a mom of two boys, ages nine and two. I've tested countless baby products over almost a decade, including dozens of baby wipes.
The Research
I started by researching the most popular baby wipes across a wide swath of retailers, including Amazon, Target, Walmart and the Babylist Shop. I noted the bestsellers across all sites and read countless user reviews. I researched direct-to-consumer and subscription-based wipes brands like Kudos, Coterie and Dyper and what's available at warehouse clubs like Costco and Sam's Club. I combed results from the Babylist Best Baby Products survey and noted which wipes rose to the top and the brands that parents mentioned again and again. And I talked to countless coworkers, parents and friends about the baby wipes they've used and loved over the years—and the ones they've hated.
After sifting through everything above, I narrowed down my list to 13 wipes for testing:
Next, I started thinking through this question: What makes a good baby wipe? At its core, the best baby wipe should do one thing and should do it well: make cleaning dirty butts as easy as possible. But there are quite a few factors that go into a wipe's performance and quality.
Thickness. This is a biggie, because thickness generally correlates with how many wipes you'll need at each diaper change. It also determines how easily a wipe will tear (important for lots of reasons, but especially when you're trying to pull one out of the package) and can impact how well the wipe actually does its job. A good baby wipe should be thick. If you're using one, you may not even notice how thick it is—until you attempt a diaper change with a thinner one.
Coterie makes the thickest wipe that I tested. You can hardly see my hand beneath it.
Pampers Aqua Pure is one of the thinnest of the wipes I tested. You can easily see my hand right through it.
Wetness. This is another area where you don't want your wipe to fall short. A wipe that's too dry means you're constantly grabbing for more to get the job done; a wipe that's too wet can make an already messy task even messier (and can sometimes leave a weird foam on your hands). I was looking for a happy medium but erring on the side of too wet.
Absorbency and texture. A wipe's makeup and texture (smooth, patterned, etc.) can determine absorbency—how well it "grips" and removes the poop rather than just pushing it around. It sounds a little weird, but I promise it's a thing you'll notice when you start using different brands of baby wipes.
Size. The more surface area the better when you're talking baby wipes. A cheap wipe may save you money, but you'll likely end up using so many at a time that the cost savings never pan out.
Cost. And speaking of cost, you're going to go through a lot of wipes over lots of years—so it does matter. But you'll also need to weigh cost against performance, as I mentioned above.
Ingredients and fragrance. What's in the wipe? Ingredients matter more to some parents than others, but at a minimum, a good wipe should combine ingredients that are gentle on a baby's delicate skin and are effective at cleaning it. (The cleaning agent in a wipe is called the surfactant. More on that below.) Also a matter of personal preference is fragrance, but most parents (including myself) generally prefer a wipe that's fragrance-free, so those are the wipes I tested for this experiment.
Environmental impact. Most disposable wipes aren't doing any favors for our environment. The most popular baby wipes on the market are not compostable or biodegradable. But the flip side is that many of the more eco-friendly wipes are expensive and simply don't work as well. (More on that later.) For most parents, it's about finding a balance that works for them. You may also want to consider reusable wipes, like these Green Sprouts Muslin Clothes or Charlie Banana's Reusable & Washable Cotton Wipe. You'll need to launder them after every use, but they eliminate the need for disposable wipes.
A quick note on ingredients: According to a study published by the National Center for Biotechnology Information, a division of the National Institute of Health, a baby wipe should be made mostly of water—but water alone isn't enough to make an effective wipe. Feces is water-insoluble (meaning it doesn't dissolve in water), so a purely water-based wipe won't clean a dirty bottom. A water-only wipe also won't prevent the growth of microorganisms or maintain a healthy skin pH. That's why the study recommends that a baby wipe also contains a mild cleaner, called a surfactant, at a formulation that's not more than one percent by wipe's weight—and ideally less than that. Translation: I was on the hunt for a gentle wipe that won't irritate a baby's skin but also gets the job done when it's time to clean up after a blowout.
The Testing
And then it was time to test, test, test. I tested all of the wipes firsthand with my toddler over a period of a few weeks, mostly during diaper changes but on sticky hands and fingers, too. I also asked friends, family and coworkers for feedback on their experiences with various brands of wipes.
Thirteen is a lot of wipes, so I needed a big-picture way to capture and compare my first impressions of how each wipe performed. I created a points-based rating scale to use for this performance testing. I designated four different performance categories—thickness, size, wetness and absorbency—and assigned zero to five points to each based on the wipe's performance, for a maximum score of 20 points. Here's how things shook out.
The point system ranking was a good start, but it doesn't tell the whole story. Beyond performance, I wanted to consider cost, as most families go through packs and packs of wipes over multiple years. I researched the lowest price for each brand of wipes across a few popular big box retailers and calculated the unit cost for each baby wipe I tested.
In addition to performance and cost, I also factored in the average number of wipes I used at each (poopy) diaper change, ingredients and environmental impact into my overall review.
Babylist Best Baby Wipes Picks
Best Baby Wipes Overall
Why I Love It
As a longtime fan of all things Costco, I'm embarrassed to admit how long it took me to give their in-house brand Kirkland's baby wipes a try. When I finally did, I was immediately impressed by how awesome they were, and they became my go-to for all of my baby wipe needs. But how would they stack up when I officially put them to the test? Amazingly, that's how.
Kirkland wipes topped my list for performance after weeks of testing, with a cumulative performance score of 19 out of a possible 20 points. These wipes truly have (and do) it all. The wipes are water-based and fragrance-free and never irritated my little one's skin. Thickness-wise, they're some of the strongest and thickest on our list. I never tore one, even when I really tugged.
Kirkland Signature Baby Wipes __
__Huggies Natural Care Sensitive Wipes
They're also some of the largest wipes that I tried, with a huge surface area that comes in handy when it's time to tackle a mess. They're wet but not too wet and feature a slightly patterned texture that, combined with the wipes' thickness, makes them extremely "grippy" and absorbent. They were no match for any number of (really) dirty diapers, and I used fewer wipes per diaper change than I did with any other wipe on my list. That means I'm saving money by buying fewer wipes and putting less trash into landfills, two big positives in my book.
They're also some of the largest wipes that I tried, with a huge surface area that comes in handy when it's time to tackle a mess. They're wet but not too wet and feature a slightly patterned texture that, combined with the wipes' thickness, makes them extremely "grippy" and absorbent. They were no match for any number of (really) dirty diapers, and I used fewer wipes per diaper change than I did with any other wipe on my list. That means I'm saving money by buying fewer wipes and putting less trash into landfills, two big positives in my book.
A Kirkland wipe next to a wipe by Eco by Naty, one of the smallest wipes I tested, with an iPhone 14 Pro tossed in for scale.
Last but definitely not least is cost. Like many warehouse products, cost savings is a key feature of these wipes. At the time of writing, Kirkland's wipes came in at $21.99 for 900 wipes—a unit price of a little over two cents per wipe. Top performance + incredible affordability equals a wipe that's tough to top in my book.
Keep in Mind
You'll need to be a member of the warehouse club Costco to get the best price on these wipes or to stock up in person, which means paying a membership fee. (At the time of this writing, a basic membership costs $60 annually.) You can purchase them online as a non-member, but you'll need to create a (free) online account and you'll pay a five percent surcharge for each order. While this isn't ideal, the wipes are still quite affordable even considering the surcharge, so I don't see this as too big of a detractor. And environmentally speaking, Kirkland's wipes aren't biodegradable or compostable, so they're not at all eco-friendly.
(Almost) Just As Good: Honorable Mention Picks
Honorable Mention
Why I Love It
I'll be completely honest: I didn't have high hopes for these wipes right out of the package. I'd heard from other parents that they tear, and a baby wipe that tears is generally not one I'd put on any best-of list. They also looked a little thin to me. But I'm always up to be proven wrong…and here we are.
Yes, when I pulled on these wipes really hard from either side, they did tear. But they didn't tear once as I used them many, many times over several weeks—so it didn't impact their performance one bit. (They scored a 16 on my overall rating scale.) They're fragrance-free, made from 99 percent purified water and pH balanced. And they did an excellent job of wiping everything from poop-filled diapers to sticky fingers. They're large (not quite as large as Kirkland's wipes, but really close), but don't lose their wetness and feature a texture that helps them grip onto and remove whatever they're wiping.
A close-up view of the texture pattern on Huggies Natural Care wipes.
The best part? Huggies Natural Care wipes tie for the cheapest on our list, and they're fast and easy to order from major online retailers. At the current time of writing, the unit cost per wipe works out to about two cents each. If you go through a ton of wipes, have multiple kids or simply don't want to spend a lot on wipes, these make a great pick.
Keep in Mind
I wouldn't call these wipes flimsy, but they are a bit flimsier than some of the other top picks on our list. I found myself reaching for an extra wipe here or there at especially messy diaper changes, but overall, it didn't seem to have a huge impact on their performance. They're also not very eco-friendly, as they are not biodegradable or compostable.
Honorable Mention
Why I Love It
With over 160,000 reviews on Amazon (almost 90 percent five-star) and nearly 20,000 five-star Target customer reviews, these bestselling wipes from Pampers caught my eye as soon as I began researching baby wipes. They performed well during testing (15 out of 20 points) and I agree with the overwhelmingly positive reviews from so many users; they're thick, moist and absorbent.
Just about the same size as Huggies Natural, these wipes are able to cover a lot of real estate. I used an average of four at each diaper poopy diaper change, fewer than most other brands on our list. There's no fragrance, and the wipes are really soft and gentle on the skin, just as advertised. (They were some of the best baby wipes for sensitive skin that I tried; I felt comfortable using them both on my toddler's bottom and his face.) I also really liked the thickness and the overall absorbency. The wipes easily handled even the yuckiest of diapers.
__Pampers Sensitive Baby Wipes are large, thick and absorbent. __
Cost-wise, Pampers Sensitive is the most expensive of my favorite picks, with a unit cost of between 3.2 and 3.4 cents depending on how many wipes you buy and where you purchase them. But that's still very much in line with a lot of the high-performing, more affordable wipes on the market, so I don't see cost as a huge negative here. And unfortunately also just like my other top picks, they're not environmentally friendly.
Keep in Mind
These wipes are textured, but if I had to find a knock against them, it's that the texture isn't quite as good as in Kirkland wipes, my top pick. It didn't have a huge impact on how well the wipes performed on a really poopy diaper, but it did have a minor one. I also found that in some instances, the wipes started out pretty wet and then dried out faster than other brands. Again, it wasn't all that big of a deal and Pampers Sensitive still did a great job of cleaning, but it was noticeable when I compared these wipes against others head-to-head.
Level Up Pick
Why I Love It
If you're in the market for a baby wipe with fewer ingredients and a less harmful impact on the environment—and are willing to pay for it—Kudos Premium Wet Wipes are an excellent choice. Ingredients-wise, these wipes are plant-based and made from 99 percent purified water along with a few other simple ingredients. But unlike some other popular water-based wipes, this doesn't impact their performance. Kudos were part of the highest-performing group of wipes on my list and were no match for a poopy diaper. Their quilted surface and slightly raised edges easily wiped up messes and never ripped or tore.
Environmentally speaking, I think that's where these wipes really shine. They're made from a special type of fiber made from sustainably managed trees and are completely compostable and biodegradable. (I spoke with the brand's founder just to make sure.) They biodegrade in multiple environments including home and industrial composting, soil and marine. (Kudos recommends composting over landfill, but the wipes will degrade in a landfill—it will just take a bit more time. The brand also recommends tossing a wipe with poop on it into the trash or disposing of it via industrial composting as opposed to at-home composting.) The thought of them degrading in a landfill rather than sitting around for years made me feel a lot better every time I tossed one in my diaper pail. (They're also EWG-certified, if that's something that matters to you.)
Keep in Mind
Kudos wipes are 100 percent an upgrade pick. With a unit cost of 10 cents per wipe, they're almost five times as expensive as some of the other highly performing wipes on our list such as Kirkland and Huggies. You can only order them via the brand's website and you'll need to pay shipping at an additional cost. (There is an option to add the wipes on either to a one-time or monthly diaper bundle, though, which does bring the cost down a bit.) They're also on the thinner side, although I didn't find that this affected performance much.
The Baby Wipes Competition
Out of the 13 different wipes I tried, four clearly rose to the top. Here's a quick breakdown of why the others didn't make the cut.
Amazon Elements Baby Wipes scored 11 out of 20 on my performance scale, one of the lowest scores of any of the wipes I tested. They're affordable-ish, but that's about the only thing I liked about them. They're thin and do a terrible job of actually cleaning anything, especially a poopy bottom.
Performance-wise, Coterie Baby Wipes are tough to beat. Right out of the package, they feel luxurious: they're huge, extremely thick and oh-so-soft and gentle. They're also biodegradable, a huge plus, decomposing in a landfill in about 12 weeks according to the brand. But all of that luxury comes at a steep cost. You'll pay over 13 cents a wipe, far and away the most expensive wipe on the list. (You'll pay slightly less if you purchase them via a monthly subscription or as part of the brand's diaper bundle, but only slightly.) Even if you use half the number of wipes you'd use with a more affordable brand, you're still in for a big chunk of change. I couldn't get past it.
I had high hopes for Eco by Nat's Unscented Baby Wipes because of their natural makeup and environmental benefits. And in those respects, the wipes did deliver; they're 100 percent compostable, plant-based and were super gentle on my toddler's sensitive skin. But when it came to wiping poop, they failed miserably, scoring an eight on my performance scale—the lowest ranking of any wipe on my list. They're thin, flimsy and strangely narrow, so there's not a lot of surface area to work with. I found myself reaching for at least six to eight wipes every time I needed to change a dirty diaper. And they're expensive, with a unit cost of over 10 cents per wipe—over four times more than some of the other (better-performing) wipes on our list. I was willing to overlook the price for the environmental benefits, but the poor performance was just too much to ignore.
The Honest Company Baby Wipes had been my go-to for years and one of the best natural baby wipes until semi-recently when something about their formulation changed. The wipes are thick and have a great raised texture that I love, but they are not nearly wet enough to get the job done. I was left with a dried-out wipe after just one or two swipes. They're also fairly expensive at about six cents per wipe. Honest's wipes scored a 13 out of 20 on my performance scale.
Huggies Simply Clean Unscented Baby Wipes are actually pretty great, scoring high on my performance testing and ranking as one of the most affordable wipes on the list. The brand's Natural Care Sensitive Wipes edged them out only because of softness and thickness, as they performed slightly better in each category than the Simply Clean wipes did.
Pampers Aqua Pure Sensitive Baby Wipes landed in the lower middle of my testing range, with a score of 13 out of 20. The biggest knock here is the wipes' texture—or lack thereof. The smooth surface means less grip and that you'll use more wipes at each diaper change. They're also fairly thin.
Parent's Choice Fragrance Free Baby Wipes are a pretty good deal at just about two cents per wipe, but that's where my love for them ends. They scored near the bottom in my performance rankings with an 11 out of 20. Most tore before I could even get them out of the package. I also found them to be flimsy and not very moist.
I love Target for so many things, but their Up & Up Fragrance Free Baby Wipes are sadly not one of them. With a 12 out of 20 performance score, these wipes are large and thick-ish, but they lacked an effective surfactant, making them pretty bad at cleaning. Most times I felt like I was simply "pushing" the poop around my son's bottom rather than actually cleaning it.
WaterWipes Original Wipes get a lot of props in the parenting world for being 99.9 percent water-based and are often advertised as the best baby wipes for newborns. And while I love them for cleaning dirty faces, I do not love them for cleaning poopy butts. WaterWipes scored a 12 out of 20 on my scale and the wipes felt flimsy and lacking a good cleaning agent. They're also on the more expensive side with a unit cost of around six cents each.
The Wrap Up: How to Find the Best Baby Wipe for You
It's pretty clear that a lot goes into a good baby wipe. It's easy to rank a wipe by how it performs—and there is, of course, a huge benefit in relying just on that indicator alone. But there are other factors to consider, too. Things like cost, ingredients and environmental impact are all things to think through as you're wading through the many options. Some families may be willing to pay a bit more for a wipe that's a bit less effective but friendlier for the planet or gentler on their baby's skin. Others may worry less about ingredients and more about how many wipes they'll need to use at each diaper change. Just remember that most families use baby wipes for years, so while it's a pretty basic item, it's one worth putting a little thought into before you click buy.
This information is provided for educational and entertainment purposes only. We do not accept any responsibility for any liability, loss or risk, personal or otherwise, incurred as a consequence, directly or indirectly, from any information or advice contained here. Babylist may earn compensation from affiliate links in this content. Learn more about
how we write Babylist content
and
review products
, as well as the
Babylist Health Advisory Board
.
The freshest in parenting this week, delivered to your inbox