Best Cribs of 2020
The crib that helps your child sleep peacefully is the crib that helps you sleep peacefully.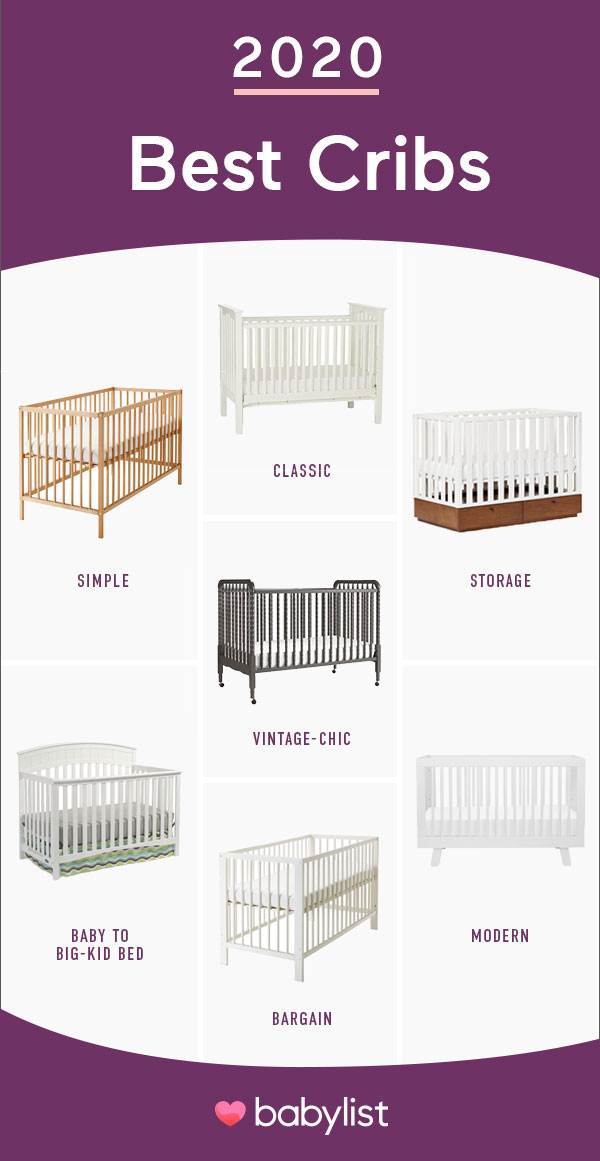 We're not going to lie. Watching your little one peacefully snoozing in their crib, all angel-faced and cuddly, is one of the greatest pleasures of parenting. Whether you use a crib from day one or transition your baby into the crib later, you'll be sure to get years of use of it, and even longer if the crib converts to a toddler bed.
Do You Need a Crib?
In addition to a bassinet, a crib is the safest place for your baby to sleep. It's important to follow crib safety guidelines, no matter which brand you select. The space should be free and clear of stuffed animals, toys, bumpers and blankets that can become suffocating hazards. Once you have your crib setup, you can add a cute fitted sheet over the mattress and call it done.
If you're purchasing a crib brand new, it will automatically comply with current safety standards. It's a whole other story though if you're looking at used models. You'll want to check for recalls and make sure your crib was made after 2011. Also, avoid cribs with drop-down sides (since 2007, seven million of these types of cribs have been recalled). You'll also want to make sure the crib you select has at least a few adjustable mattress settings (allowing you to lower or raise the mattress). When your child is an infant, you'll want a higher mattress that allows you to easily scoop them up, but as your baby grows, you should lower the mattress so they can't climb out.
Although there are still regular cribs on the market, many these days are convertible cribs, meaning they convert to a toddler bed—some even turn into a standard-size bed frame (usually a double bed) later on as well. Sometimes these cribs are also called 4-in-1 or 3-in-1 cribs. Some convertible cribs do require conversion kits to morph into different setups, and those may be included with your crib or purchased at an additional cost. If the crib you decide on doesn't come with one, it's a good idea to purchase it (or add it to your registry) in case it's been discontinued by the time you need it.
Some families prefer to just use a mini crib (larger than a bassinet, but smaller and usually more portable than a standard crib) throughout babyhood before transitioning their child right to a full-sized bed; this is handy if baby tends to sleep in multiple locations or if you have limited space.
When Do You Need a Crib?
Although you can use a crib for your baby from the get-go, many parents choose to have their newborns sleep in bassinets and then typically transition their babies' to a crib after three or four months. Even if you don't plan on using a crib right away, consider putting one on your registry since it's an expensive item that friends and family may want to pitch in to get for you.
Depending on your child's weight and height, you could use a crib until they are four or five years old. However, parents usually move their children into toddler or twin beds around two to three years old. But, if your kiddo is a climber, you'll likely make the change sooner because of safety concerns.
How We Chose Our Best Cribs
We asked thousands of real Babylist families about the baby products they love the most. We took the top cribs they shared with us and added our own research and insight. We think you and your little one will love at least one of these items too.
Do you think this content is helpful? Let our editors know!
---
Did you find this content helpful? Let our editors know!
---
Choosing what's right for you
While these cribs were BabyList user favorites, all new cribs on the market are safe. So, it's just a matter of finding something that suits your personal style, taste and space. There's nothing like setting up the crib in the nursery room to make having a baby feel very, very real. Soon you'll be fawning over your own dozing mini!
This information is provided for educational and entertainment purposes only. We do not accept any responsibility for any liability, loss or risk, personal or otherwise, incurred as a consequence, directly or indirectly, from any information or advice contained here. Babylist may earn compensation from affiliate links in this content. Learn more about
how we write Babylist content
.
The freshest in parenting this week, delivered to your inbox