How to Road Trip with a Toddler: 6 Essential Tips
How to Road Trip with a Toddler: 6 Essential Tips
Plus 30+ parent-tested, expert-approved toys, games and more to keep your toddler entertained in the car.
Babylist editors love baby gear and independently curate their favorite products to share with you. If you buy something through links on our site, Babylist may earn a commission.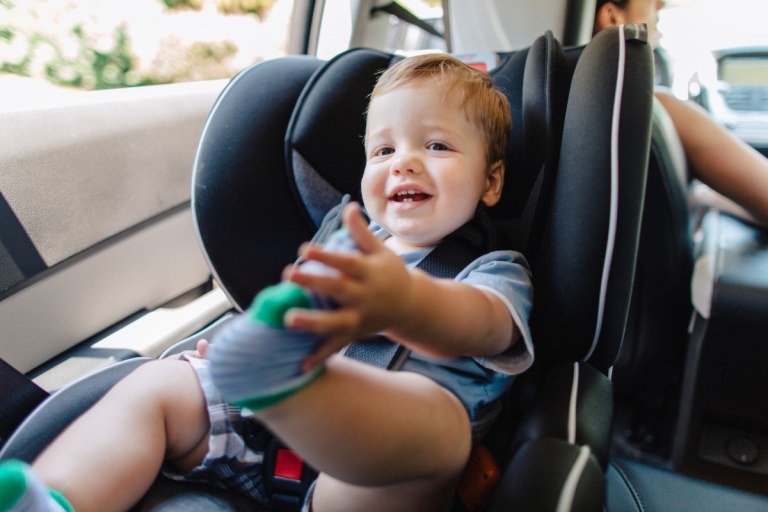 Remember tossing a few things in a bag, turning on your favorite playlist and driving wherever your heart desired?
Road-tripping with a toddler is…not that. (Sorry, just keeping it real.) But don't scrap your travel dreams just yet. While admittedly a bit daunting, traveling with a toddler is more than just getting from one place to another—it can actually be pretty fun with a little planning and the right gear.
Start by following these six essential toddler road trip travel tips. Then stock your cart with the best parent-tested, expert-approved toys, games, safety items and more to make your next toddler travel adventure a success.
Start Small
Dreaming of a destination that's twelve hours away from home? We applaud your vision, and please don't let us stand in the way of your vacation dreams. But if possible, we'd suggest starting a bit slower when you're thinking of tackling your first road trip with a toddler in tow.
Toddlers can be, to put it kindly, finicky. Their attention spans are short and most don't love sitting still for more than a few minutes at a time, if that. They have very strong opinions and preferences. And tantrums are likely starting to creep into the behavior mix.
Taking a toddler on a few short road trips (think two or three hours, max) is a good way to test the waters before diving headfirst into a long journey. Shorter trips will give both of you a chance to get the hang of things and figure out if a longer trip may be in your future soon.
Play It Safe
There's a lot to remember about toddlers + travel, and there's a lot to remember about toddlers + car seat safety. Combine the two and it's easy to get overwhelmed quickly. While we recognize it's often less stressful to choose convenience over compliance, keeping your toddler safe in the car during any trip—but especially during a long road trip—is paramount. Keep in mind these safety considerations before you hit the road.
No aftermarket products, ever.
You've likely seen products and accessories like travel trays, neck or head supports, car seat toys, seat protectors, footrests, strap cushions and other similar items advertised as ways to keep your toddler entertained or more comfortable during road trips.
What do the experts say? Skip them. These are aftermarket products: products made by a third-party manufacturer that are sold separately from your car seat's original packaging. After-market products are not evaluated under federal safety standards and are not safe. According to the safety experts at Car Seats for the Littles, a non-profit organization staffed by Child Passenger Safety Technicians, what may seem like a minor change to your car seat could alter the way the seat or booster is designed and tested and could result in serious injury or even death. Some of these products can also turn into dangerous projectiles in a crash.
Stick to safe snacking.
Snacks and toddlers go together like peanut butter and jelly. But car snacks and toddlers? That's where things become a bit more complicated.
There are two concerns when talking toddlers and car snacking: choking and projectiles. Choking is silent, so if your toddler is riding rear-facing and you're sitting up front you may be completely unaware that anything is even wrong. There's also no way to help a choking child while they are restrained in a moving car. Items like hard water bottles and snack containers may also turn into projectiles in the event of a crash.
So what are your options? According to Safe in the Seat, use your discretion when it comes to feeding your toddler in the car, and know there's always an inherent risk involved. Avoid serving sticky foods like peanut butter or high-risk choking foods like raw veggies or hard fruits, hard candies or lollipops, string cheese, whole grapes, hot dogs, popcorn and nuts. Instead, stick to safe toddler car snacks like pouches, puffs, Goldfish, soft bars or even things like waffles or soft fruits cut up into small pieces. Avoid any hard or heavy water bottles or snack containers and try something like a reusable snack bag, a silicone bento box or a silicone tumbler instead.
Do the projectile test.
While a lovely thought, it's not realistic to think your toddler is going to sit peacefully in their car seat for hours upon hours staring dreamily out the window. You'll likely need some small toys or games to keep things interesting, especially if you're on a long ride. But so many items can turn into dangerous projectiles in the event of a crash. The Car Seat Lady recommends performing an "ouch test" to evaluate if the toy or item you're considering is car travel-friendly. Hit yourself on the head with the toy (and try not to laugh); if you say "ouch," skip it in a moving vehicle.
In addition to the toddler-specific tips above, you'll also want to keep in mind general road trip safety when heading out in the car with your family. Be sure your vehicle is up to date on all inspections and maintenance appointments. Check your tires and your windshield wipers, especially if you'll be driving during the winter or other through other treacherous weather conditions. Be sure your car seats are installed safely and securely. And keep your route and weather predictions in mind.
Stick to a Schedule…Sort Of
Traveling with a toddler is all about finding the right balance of scheduling. Too rigid? Your toddler definitely will let you know. Prefer to throw caution to the wind and completely ignore your little one's usual schedule? That likely won't work, either.
Figuring out the cadence for a long road trip with a toddler should be an art, not a science. The best road trip schedule for your family will take into account your toddler's usual daily routine, your schedule and driving preferences and how much time you'll have to get to and from your destination. Here are a few things to keep in mind.
Find the right departure time. Toddler moods are nothing if not unpredictable. Some are happy in the morning after a good night of sleep and a meal, while others tend to be on their best behavior later in the day or after a good, long nap. The same goes for adults. Some of us are night owls, while others are raring to go bright and early each day. Figure out where you—and your toddler—fall on this spectrum, and try to plan your departure accordingly to maximize everyone's best selves.
Consider nap times. And speaking of scheduling, you'll want to factor naps into your road trip, too. If you're looking at an all-day drive, for example, you may want to consider leaving early, working in a few play breaks and a big lunch, then crossing your fingers that your toddler will take a chunky afternoon nap in the car seat. Caveat: If your toddler isn't a big car sleeper, working around nap time won't be as beneficial to you. You'll also want to avoid leaving around bedtime if your toddler isn't a fan of car seat sleep.
Always be flexible. Even if your toddler is accustomed to a pretty strict schedule on the daily, know that some (okay, lots) of flexibility will be needed during a road trip. Don't skip mealtimes or snacks entirely, and don't expect your toddler to be awake for ten hours straight without a peep—but be ready to go with the flow as needed and make modifications if possible. It won't be perfect, but it will go a long way in keeping everyone sane.
Pack All the (Right) Things
So much of parenthood is being prepared for anything at any time. And never is that more true than during a road trip with a toddler. We polled dozens of parents and consulted kid-friendly travel articles and social media accounts for a list of road trip items you should never leave the house without if you're traveling with your toddler.
Baby wipes. All the baby wipes. And throw in some hand sanitizer, too.
Extra diapers. Because a diaper is the last thing you want to be without if you're stuck on the road.
Portable changing pad/changing clutch. Great for diaper changes in public restrooms or on the floor of a trunk.
Ziplock bags. Great for trash, wet or soiled clothing, extra snacks or whatever else needs containing.
Trash bags. Just in case of any really big messes.
Snacks. Pack all the snacks! Just remember to avoid choking hazards and choose safe snacking options. And don't forget a car-safe water bottle too.
A bib. Even if your toddler is beyond the bib stage at home, having one in the car can help contain the mess on a road trip.
A change of clothes—for your toddler and you.
A first aid kit. Just in case.
Travel potty, if your little one is potty trained.
Car-friendly soft toys, books or other games. Pro tip: don't give your toddler all the things all at once. Slow your roll to buy yourself more time! You might also consider buying a few new toys and using them only in the car to keep things interesting.
A lovey, blanket, stuffed animal or other comfort item your toddler loves.
Plan Strategic Stops
This one may sound a little obvious, but it's worth emphasizing. Toddlers have a LOT of energy. While it's tempting to try to knock out a huge chunk of miles all at once, your toddler (and you) will be much happier if you stop regularly to stretch, play and get the wiggles out.
If possible, look for parks, playgrounds or other kid-friendly pit stops along your route and stop every few hours to let your toddler get out of their car seat to run around. No parks nearby? An open parking lot works just as well. If you're feeling ambitious, you can do some research before your trip and map out the stops prior to your departure, or you can just Google along the way.
Use ALL the Entertainment Options
There's something to be said for letting kids be bored, but a long car ride with a toddler is not the time for this. While you certainly don't have to entertain your toddler every minute of your trip, having an arsenal of entertainment options, games and activities at the ready will pay off on long road trips. Here are a few ideas.
Make a playlist. Include any of your toddler's favorite songs and anything easy and fun to sing along to. You may have Wheels on the Bus stuck in your head for the next four days, but if it keeps your toddler happy in the car, it's worth it.
Kid-friendly music is great, but don't forget audiobooks. Even younger toddlers usually love to listen to stories—both new and ones they're already familiar with—while in the car.
Simple games are a good way to pass the time, especially with an older toddler. Things like I Spy or any time of landmark or license plate game can be fun for little ones during a road trip.
Personal Care and Safety Items
Toys, Games and Activities
The majority of these toys pass the "ouch" test we explained above; however, a few of them do not. We included them because of their popularity, but please use them at your discretion.
This information is provided for educational and entertainment purposes only. We do not accept any responsibility for any liability, loss or risk, personal or otherwise, incurred as a consequence, directly or indirectly, from any information or advice contained here. Babylist may earn compensation from affiliate links in this content. Learn more about
how we write Babylist content
and
review products
, as well as the
Babylist Health Advisory Board
.
The freshest in parenting this week, delivered to your inbox