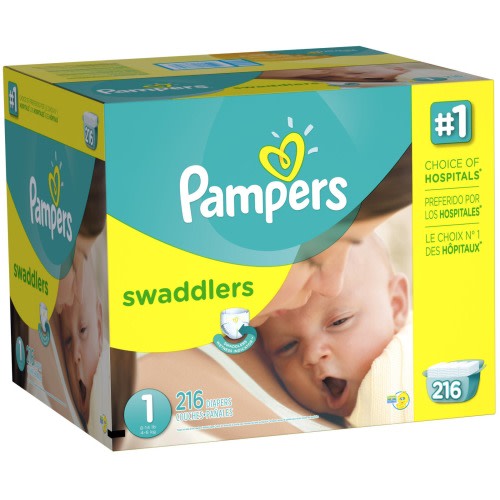 This comfy hospital-preferred diaper has a nifty wetness indicator line that changes color when your baby needs changing.
Pampers Pampers Swaddlers Diapers
$42.78
Availability: Out of Stock
Product Details
Pampers Swaddlers is the preferred brand for most hospitals! These diapers are especially nice because they have a line that changes from yellow to blue when the diaper gets wet (much more user-friendly than the sniff test). They fit snugly even on small babies, which helps to prevent blowouts. The soft, cloth-like material sucks away the wetness in a way that helps to prevent diaper rash. Downsides? Not everyone likes the fragrance that Pampers adds to their diapers, and some parents prefer higher absorbency diapers for overnight. If you want fewer chemical additives, try Swaddlers Sensitive diapers.
These diapers got enough votes from satisfied parents to win their way into our Best Disposable Diapers guide.
Specifications:
Average cost per diaper: $0.16
Includes mild ingredients: petrolatum, stearyl alcohol, aloe barbadensis leaf extract
Diaper type: Disposable
SIZES
Newborn = up to 10 lbs
1 = 8 - 14 lbs
2 = 12 - 18 lbs
3 = 16 - 28 lbs
4 = 22 - 37 lbs
5 = 27+ lbs
6 = 35+ lbs
7 = 41+ lb
User Reviews (16)
They generally don't leak.
These are one of the only diapers that prevented leakage and blowouts. I love the blue indicator stripe, and they mask the smell of a dirty diaper really well.
They fit great, adhesive is strong, and I love the blue stripe. We tried generic Kirkland brand ones from Costco and Huggies, but we're sticking with Pampers :)
Fits perfectly, no leaks, smells great & used by hospitals!
We LOVE Pampers. They have always fit really well and been super absorbent. We used Swaddlers until our little one could sit up and really started moving (six months) and then transitioned to Cruisers. We have tried others, Luvs and Huggies, but hated the way the Luvs felt and Huggies just weren't as absorbent. I HIGHLY recommend using the amazon subscribe and save, so easy and the best deal on diapers
We're a Huggies family. Pampers have a smell and we didn't care for the mesh topping. Don't invest in one brand until you see what works best with baby. Stores will let you exchange them out, but it can be a hassle if you're trying to keep your deals.
Tried EVERY diaper on the market and Pampers are the best-- never had one leak-- and baby stays dry... Which means no diaper rashes! The money is worth it! Trust me.
Extremely absorbent, helpful line to detect wetness and smells great! Also, they fit well compared to other diapers, and there are less blowouts.