Baby K'tan Baby Carrier
$49.95
Color: Black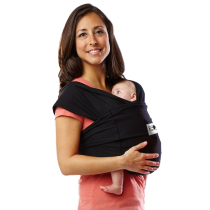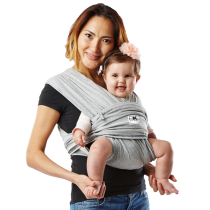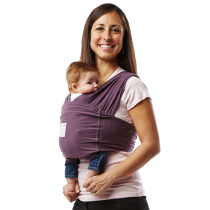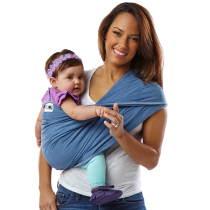 Availability: In Stock at Other Stores
Product Details
3 possible positions: front facing in, front facing out, hip carry
Easy, three-step configuration
Sized for wearer
No infant insert necessary
This carrier is ideal for parents who can't face the usual 10-plus steps required to use a wrap carrier, but still want the snuggly closeness of a wrap. Pared down to three steps that even the sleep-deprived can handle, the Baby K'Tan goes on quickly in three easy steps and comfortably works in up to six different positions. (It does require some practice to master the steps of looping the material into various positions.) It also has a carrying pouch that doubles as a supportive sash for your back.
Like most warps, the K'tan is best for smaller babies. It does not have structured support to carry heavier babies for long periods of time.
Unlike a typical wrap that can be modified to fit all-size wearers, the Baby K'Tan comes in specific sizes. A partner or caregiver whose body size is different from yours won't be able to share this carrier with you. The carrier size generally corresponds to your fitted (tight) t-shirt size. (See details in specs below.) If you are 5'2" or under it is recommended to choose a smaller size. If you are in between sizes based on the measurements above, it is recommended to choose the smaller size. If you are pregnant, base sizing on your pre-pregnancy size. The carrier is meant to fit snugly!
Resources
Specifications:
Weight range: 8-35 lbs
Age range: 0-3 years (approximately)
100% cotton
Machine washable
Sizes (according to women's top size and men's suit jacket size)
Extra Small: fits Women's 0-4, Men's 24-30
Small: fits Women's 6-8, Men's 32-38
Medium: fits Women's 10-12, Men's 39-42
Large: fits Women's 14-16, Men's 43-46
Extra Large: fits Women's 18-22, Men's 47-50
User Reviews (48)
Easy to wear and perfect for new baby who cannot quite fit into ergo carrier. Carrier takes a little practice to get on, but once you get the hang of it, the carrier can easily be put on and taken off without waking a sleeping baby.
We never really felt this design suited us and it never felt comfortable to wear the baby in this carrier. Getting the baby into it wasn't natural for us.
It's complicated to figure out. Baby seemed to be smushed against you, and it's hard to keep the strap from covering baby's head.
The ease of use is fantastic! I used a Hotsling with my first and this sling was 100% easier to take on/off.
Super compact for travel. Baby is secure. As you lose your baby weight, baby gets bigger, so although it's not adjustable, it always fit well. People watch you as if you've just performed a magic trick when putting it on. I had to read how to wear it multiple times before it was committed to memory. Wasn't a big deal to figure out. I carried my 14 pound baby in this for almost six hours straight when traveling. The only discomfort was the knot in the back of the K'tan dug into me when I leaned back into a chair.
I love wearing my baby. And the K'tan is much easy to get in and out of (especially when by yourself) compared to the Ergo. However, she wasn't ready for it for the first eight wks or so. It runs large - so get a size down and try it out (as best you can) before washing. It takes a bit to figure it out, but the videos are useful. I'm sad that she's starting to grow out of it!
It wasn't as easy to use as I thought. My baby was also very big so he didn't fit well. I'm sure with a lot of practice and a smaller baby it wouldn't have been as bad.
It took awhile to get the baby positioned just right. Sometimes by the time I was done, he was over it and I had to take him out. When I did get it right, I loved how snugged in he was!
It doesn't feel quite as sturdy and safe as other carriers and stinks that it only fit me, and didn't have the option of adjusting size for someone else to carry the baby. I also didn't feel savvy enough to wrap it in all of the different ways and felt that a pack-type carrier was better for me.