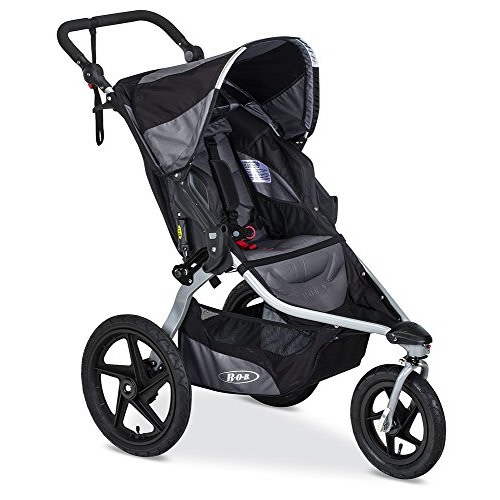 This jogger is comfortable for any height of parent and for your little one too (they can even nap while jogging).
BOB Revolution FLEX Stroller
$449.99
Color: Black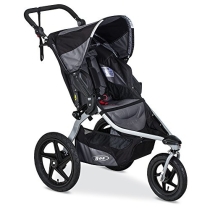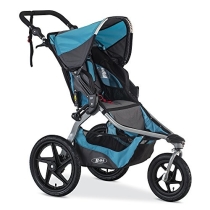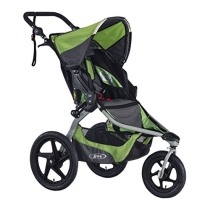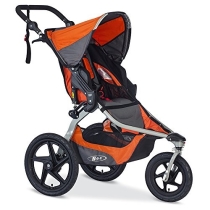 Availability: In Stock
Free shipping on orders of $25+ & free returns
Product Details
Full suspension system for a smooth ride
Adjustable handlebar with nine positions for different parent heights
Front wheel can swivel or lock and has tracking adjustment
Very roomy basket
One-hand recline
It's called the FLEX because the handlebar has nine different positions; if you're really tall or really short, you'll be so grateful for that feature. Another nice feature is the tracking adjustment knob. Many jogging strollers have a tendency to list slightly in one direction after repeated use; the tracking adjustment knob enables you to easily correct that tendency. The jogging experience is good: one parent wrote, "The stroller glides smoothly, rolls hard as a rock and tracks straight as an arrow."
Like most jogging strollers, it isn't super lightweight or compact. Folding it requires muscle. One reviewer said (meaning it positively) that it was "built like a tank." So it's awesome for running, but using it as your everyday stroller (navigating crowded store aisles or public transit) isn't so practical. Also make sure to check the folded dimensions against the dimensions of your car's trunk. It holds children up to 75 pounds, so you'll be able to use it with an older child.
The jogging experience will be great for your little one; the suspension system absorbs all the shocks, even if you're running over huge bumps. They can sit up straight or recline for a nap. There's a net pouch on the back of the seat where you can store their diapers and blankets, and the stroller basket is big enough to fit serious supplies. It probably makes more sense as a secondary workout stroller than as a primary stroller, but if running is a big part of your life, that's worth the cost.
Specifications:
Weight of stroller: 28.5 lbs
Child weight limit: 75 lbs
Storage basket weight limit: 10 lbs
Child height limit: 44"
Wheels: Air Filled
Suspension: All Wheels
Sponge with mild soap, air dry
Dimensions Unfolded: 48 x 25.4 x 42
Dimensions Folded: 43 x 25.4 x 16