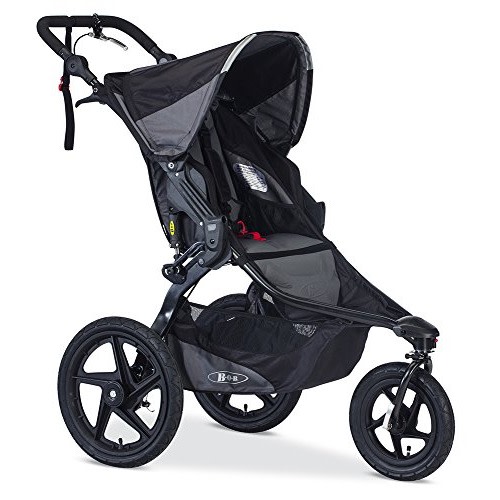 The hand-activated rear brakes make it so much easier and safer to jog and stroll in hilly areas.
BOB Revolution PRO Stroller
$499.99
Color: Black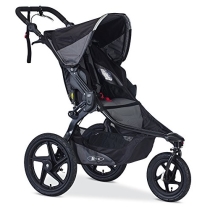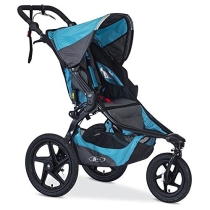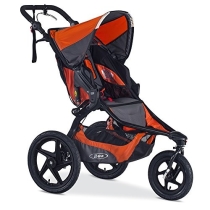 Availability: In Stock
Free shipping on orders of $25+ & free returns
Product Details
Full suspension system for a smooth ride
Hand-activated rear drum brakes
Adjustable handlebar with nine positions for different parent heights
Two-step fold
Full coverage canopy
Just like on the Bob FLEX, the handlebar has nine different positions, so the stroller can adjust to whatever height of parent. What makes the Bob PRO different from the Bob FLEX is the hand-activated, rear drum brakes: a super valuable feature if you live in a hilly area. They help you slow down when you're jogging downhill, and they also make it easy to pause for a break on the uphill stretch. If you're afraid of a heavy stroller getting away from you on hills, these brakes will set your mind at ease.
The ride's very comfortable and smooth for the little one, even going over bumps: they can sit up straight or recline, and they have full sun coverage from the nice big canopy. The basket is pretty roomy, but the lack of an included parent cup holder can be annoying, especially for dehydrated joggers.
As with all jogging strollers, it's on the weightier and bulkier side (it has to be, with the big bicycle-style tires and the great suspension system). The fold takes two steps and a little bit of muscle. Check the folded dimensions against the dimensions of your car's trunk if you plan on driving your stroller anywhere; if you have a large vehicle, you'll be fine. It isn't the most practical choice for navigating tight corners, small shops, or public transit. If you adore running, it makes sense, but you might want a different, smaller stroller for errands.
Specifications:
Weight of stroller: 28.2 lbs
Child weight limit: 70 lbs
Storage basket weight limit: 10 lbs
Child height limit: 44"
Wheels: Air filled
Suspension: All wheels
Sponge with mild soap, air dry
Dimensions Unfolded: 44" x 25.4" x 43"
Dimensions Folded: 53" x 25.4" x 43"