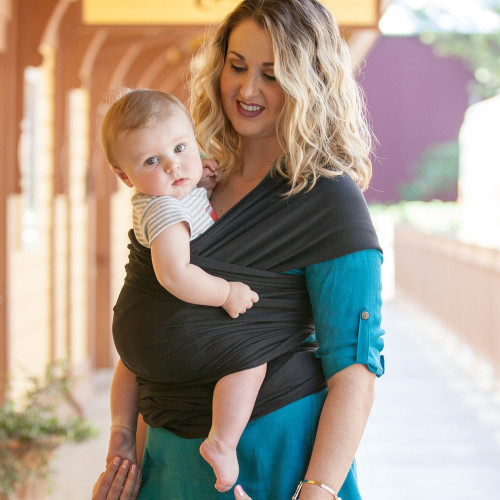 This wrap creates a snuggly cocoon for newborns and adjusts to fit multiple caregivers.
Color: Black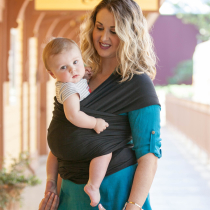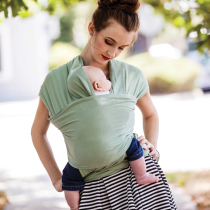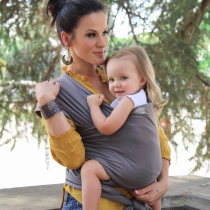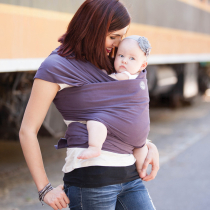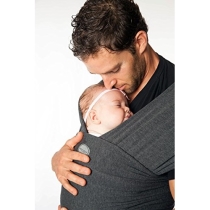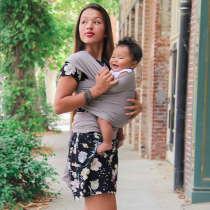 Availability: In Stock at Other Stores
Product Details
2 possible positions: front facing in, hip carry
No infant insert necessary
Fits parents of all sizes
Can be used with smaller newborns
The Moby Wrap is one, super-long (18' to be exact) piece of stretchy jersey that wraps around you and your baby and encourages the skin-to-skin contact preemies and newborns crave. Little ones cuddle into the comfy pocket created by wrapping the fabric over the wearer's shoulders and waist. There's plenty of material to keep the wrap as secure for bigger babies as it is for newborns. But the key advantage of the Moby Wrap is that it adapts to differing body frames so any caregiver can comfortably use it. Also unlike ring slings, which go across one shoulder, the Moby Wrap your back and shoulders, to carry the weight of your baby.
Plan on getting lots of practice (and watching videos) to nail down the technique of putting this on, but eventually it comes naturally. Also, because the fabric is so long, the ends drag on the ground in the process of tying it on.
If you're still deciding which carrier is best for you, check out our guide to baby carriers.
Specifications:
100% cotton
Machine washable
Weight range: 5-35 lbs
Age range: 0-3 years (approximately)
User Reviews (19)
Easy to use once you figure it out, such a great way to calm an upset baby, not bulky or as hot as other carriers. I've used it a ton, and will continue to. It's great for walks or just being around the house and having your hands free.
It was so nice to have snuggle time with my little one and also be hands free and able to move around. It was the easiest way to go grocery shopping when he was super tiny. It takes a few tries to get it down, but it's well worth the initial effort.
It was great while baby was a newborn, but around three months, it became easier to carry him in the Ergo.
Too difficult to learn with a new baby, and too stretchy. Needs to be stiffer. Don't buy this as a first time parent. You won't figure out how to use like you think you will (pipe dreams people). Get something that is stiffer or buckled. Second time mom? Maybe it is worth trying. Get it used if you get one.
This was great to use when our daughter was first born. Once you learn how to wrap it, it isn't difficult to get it on. Our daughter always seemed comfortable in it and it was comfortable for me to wear as well. TIP: There are lots of youtube videos to help you learn how to wrap the Moby.
I can tie it tight! And baby was a lot more secure in the wrap than some others I've seen.
I have both a Moby Wrap and also a soft-sided carrier. The Moby is definitely my favorite! It may have taken a little getting used to, but I love the various different ways to use the Moby. I also love how snug and close it keeps my baby. In my opinion, there is no better way to wear your baby than with a Moby! TIP: Practice makes perfect! It may seem intimidating at first and your first few attempts will probably be clumsy and confusing. However, once you get the hang of it, wrapping up your little one will become second nature. My advice is to find a Moby 'hold' that feels comfortable for both you and for baby; master one hold before experimenting with new ones to avoid overwhelming yourself.
So cozy for a little baby! It was great for walks and around the house in our mountain winter climate. My baby is 9 months now, so I don't use it as often, but I still love it when he needs to be extra snuggly. TIP: Google a how-to video to wrap it the first couple of times, and you'll have it in no time! Look up a video on breastfeeding in the Moby as well-- you won't regret it!
The Moby wrap was great for 2-3 months-- and I had a relatively small/light baby. I loved that I was able to wear my daughter close to me while I was at home and running errands. Once you got the hang of the wrapping it was a breeze! I felt like we grew out of it very quickly though and if our little one was one of those cute lil roly poly's we probably wound't have been able to use it as long as we did. All in all though, I loved having it while I was on maternity leave; I was able to snuggle and still get a few things done.