Thinking of Making Your Own Baby Food? This Gadget Is the Ideal Sous Chef.
Thinking of Making Your Own Baby Food? This Gadget Is the Ideal Sous Chef.
Video: We test the two-step Babycook Neo. Bonus: it even goes in the dishwasher for easy cleanup.
Babylist editors love baby gear and independently curate their favorite products to share with you. If you buy something through links on our site, Babylist may earn a commission.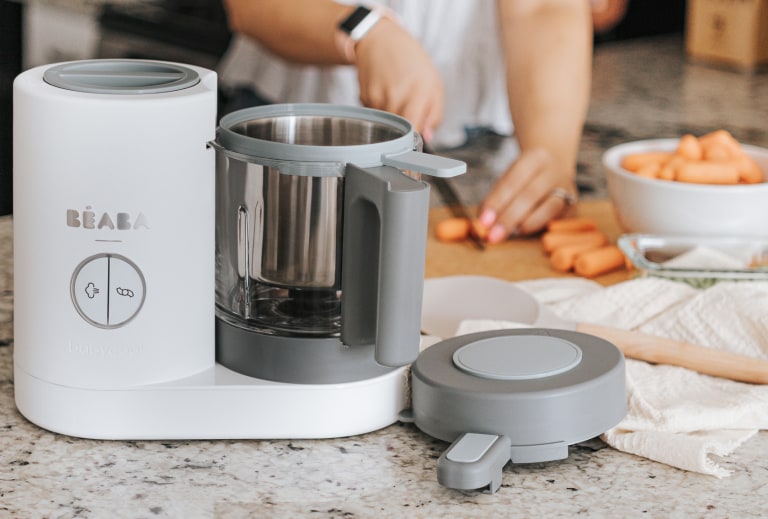 It's exciting when your baby starts showing signs that they're ready to try solids, but it can be a bit of an overwhelming milestone, too. Do you introduce pouches and jars, try baby-led weaning, or a combo and hope that whatever you do gets more smiles than spit-outs? And if you do opt to make your own food, should you use the trusty blender that's mixed your margaritas and protein shakes?
While all of those options are certainly doable, a compact, all-in-one appliance that defrosts, steams, blends, and warms like the BEABA Babycook Neo can be a huge help if you're thinking of trying the DIY baby food route. We took it for a test drive (and taste test!) in the video above. Here's how it works.
What the BEABA Babycook Neo Does
Thirty years ago, the French foodies behind BEABA wanted to simplify the process of making homemade baby food without all the extra pots, pans and microwaves. The result? The Babycook—the first-ever baby food maker. BEABA's latest iteration, the Babycook Neo, is a sturdy, ultra-convenient upgrade on the classic appliance. Once your ingredients are prepped, it's a two-step process from start to finish:
Steam: Add veggies, fruits or other ingredients to the stainless steel steam basket, then add water to the reservoir and press the steam button. The Babycook Neo senses just how long to cook your ingredients, getting the right texture, every time. You'll hear a series of beeps when cooking is done (but there's also an auto shut-off feature in case you forget).

Blend: Empty the cooked food from the steam basket into the included glass bowl, using the leftover cooking juice to thin out your ingredients as desired. The pulse/blend feature allows you to customize for your desired texture, from chunky to smooth.
Once you're done cooking, the steam basket and glass bowl can go on the top rack of your dishwasher for an easy clean.
What Makes the BEABA Babycook Neo Different
The Babycook Neo may look similar to other baby food makers (including other BEABA Babycook machines). But there are a few specific details that make it extra user-friendly:
All-in-one Action: The Babycook Neo does everything to DIY baby food except the chopping—it steams, blends, defrosts and reheats baby food in one compact unit from start to finish in under 20 minutes.

Sturdy Design (with Easy Cleaning): The Babycook Neo is the only baby food maker with both a glass bowl and stainless-steel steam-basket, making it sturdier, longer-lasting and less prone to staining. And because we're trying to save time here, all the cooking parts are dishwasher-safe too (and the stainless-steel reservoir has a large opening for easy cleaning).

Smart Cooking: We used our Babycook Neo to make pureed sweet potatoes in the video above, but you can also cook raw chicken, meats, fish, fruits, and veggies and then puree them to your baby's preferred consistency. The handy included guide tells you just how much water to add for each type of food, so there's no guesswork.

Extra Capacity: If you're hoping to meal prep for baby (think: freezer meals), the Babycook Neo is an easy way to stock up, without having to make extra batches from scratch. With a 5.2-cup capacity, it holds nearly 1.5 times more than other baby food makers, without taking over your countertop.

Countertop Couture: The Babycook Neo subtly blends into your kitchen with four beautiful colors, including Terracotta (which you can only get at Babylist), Cloud, Eucalyptus and Midnight, with can't-miss rose gold accents).
Why You'd Want the BEABA Babycook Neo
There are lots of ways to prepare homemade baby food for your little one. The Babycook Neo saves on counter space and time, by not dirtying multiple bowls, pots and pans. And the extra large capacity means you can cook more at once and freeze it for later. Frozen leftovers can easily be defrosted and warmed back up to the desired temperature right in the Babycook.
But one of the biggest benefits of the Babycook Neo is that the elevated steam basket design promotes "soft steam cooking," a method that helps to preserve more of the nutritional benefits of your baby's food (the juice leftover in the glass after cooking is packed with vitamins, and can be saved to blend your purees). You can see how it all comes together in our video review above.
Need some ideas of what to cook for baby? The BEABA website has over 100 recipes to help you get started, like a basic pumpkin puree or baby pina colada . Bon appetit!
This article is sponsored by BEABA. Babylist's free site, apps and emails are made possible by our sponsors. We limit our sponsored content to relevant partners that offer products and services we believe in and use ourselves.
This information is provided for educational and entertainment purposes only. We do not accept any responsibility for any liability, loss or risk, personal or otherwise, incurred as a consequence, directly or indirectly, from any information or advice contained here. Babylist may earn compensation from affiliate links in this content. Learn more about
how we write Babylist content
and
review products
, as well as the
Babylist Health Advisory Board
.
The freshest in parenting this week, delivered to your inbox