Video: 5 Unique Features on the Cybex Gazelle S Stroller
Video: 5 Unique Features on the Cybex Gazelle S Stroller
With over 20 seat configurations and one of the biggest storage baskets we've ever seen. See it in our review.
Babylist editors love baby gear and independently curate their favorite products to share with you. If you buy something through links on our site, Babylist may earn a commission.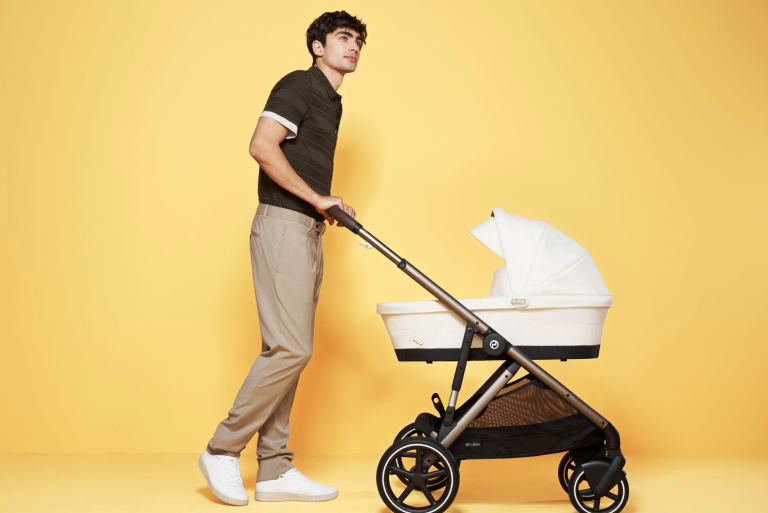 If you live in a city or plan to use your stroller for most of your baby's transportation needs, there are a few special details that can make a big difference in your daily strolls—namely a lot of storage and the ability to handle all kinds of different surfaces. Which is exactly what you'll find (along with a bunch of other cool features) on the Cybex Gazelle S stroller. We take it for a spin in the video above. Here's what makes this stroller unique.
5 Unique Features on the Cybex Gazelle S Stroller
1. Massive Storage
One of the biggest pluses of this stroller is…well, the really big storage—a detachable basket and roomy space under baby's seat. Cybex designed their baskets to hold a combined 55 pounds of shopping bags or baby gear. That's a couple of pretty hefty grocery bags!
2. 20 Ways to Ride
This stroller can be configured a whopping 20 different ways (you can see five different configurations right at the beginning of our video). The stroller itself with the standard seat is for use from six months up and can hold up to 50 pounds (or about the size of an average five- or six-year-old). Here are a few ways your baby can ride right out of the box:
Baby facing you in the stroller's higher position (we call this the "bonding position" because it's easier for baby to see you).
Forward-facing in the lower position with the basket up high (great for baby to explore the world while you're shopping).
If you want to start strolling right away, you can also add the newborn cot for these riding styles (it has a built-in carry handle and can hold up to 20 pounds):
Newborn cot by itself in the upper position
Two newborn cots (if you have twins) with one in the upper position and one in the lower position
Two different-aged babies at once with a newborn cot in the upper position and a standard forward-facing seat in the lower position
And if your family grows, you can add a second standard seat (sold separately) to open up these riding options as well:
Two kids at once both in rear-facing standard seats
Two kids at once in forward-facing standard seats
Two kids at once with seats facing in opposite directions
With included adapters, the Gazelle S is also compatible with all Cybex infant car seats. You can also purchase adapters for car seats from:
Maxi Cosi
Nuna
Clek
Chicco
Britax and more.
3. Smooth Ride
Most strollers roll smoothly on city sidewalks, but what about a little more rugged terrain? This stroller has all-wheel suspension and a shock absorption system, so you get that coasting feeling even on cobblestone or rough pavement. There are also large, never-flat tires, so there's no need to think about re-inflating them or finding an air pump for your stroller if you roll over something sharp.
4. Compact Fold and Portability
Perhaps one of the most important things about choosing a stroller is how it packs away when you're actually done using it. The Gazelle collapses simply, smoothly and quickly, and it still fits in a trunk; even with two seats attached. You can see us sliding the stroller into a standard-sized trunk here, at the 3:05 mark in our video.
5. One-Pull Harness
Harnesses aren't usually at the top of our feature list for strollers, but the one-pull adjustment on the Gazelle S is pretty handy, especially when you're trying to wrangle not one, but two wiggly babies. Plus, the chevron pattern is a stylish touch, and anything that makes stroller pics cuter gets a thumbs up in our book.
Who Is the Cybex Gazelle S For?
At $799 the Cybex Gazelle S falls smack in the middle of the price range of similar modular strollers. But even alongside more expensive strollers, you'll be hard-pressed to find one that has more storage space. And that's without sacrificing on other key features like multiple riding modes and a smooth suspension.
So if you're going to be strolling from daycare pickup to your local grocery store without stopping at home in between, this stroller might be the one for you. Watch our complete video review to see it in action.
This article is sponsored by Cybex. Babylist's free site, apps and emails are made possible by our sponsors. We limit our sponsored content to relevant partners that offer products and services we believe in and use ourselves.
This information is provided for educational and entertainment purposes only. We do not accept any responsibility for any liability, loss or risk, personal or otherwise, incurred as a consequence, directly or indirectly, from any information or advice contained here. Babylist may earn compensation from affiliate links in this content. Learn more about
how we write Babylist content
and the
Babylist Health Advisory Board
.
The freshest in parenting this week, delivered to your inbox