Best Baby Bathtubs of 2023
Best Baby Bathtubs of 2023
Babylist editors love baby gear and independently curate their favorite products to share with you. If you buy something through links on our site, Babylist may earn a commission.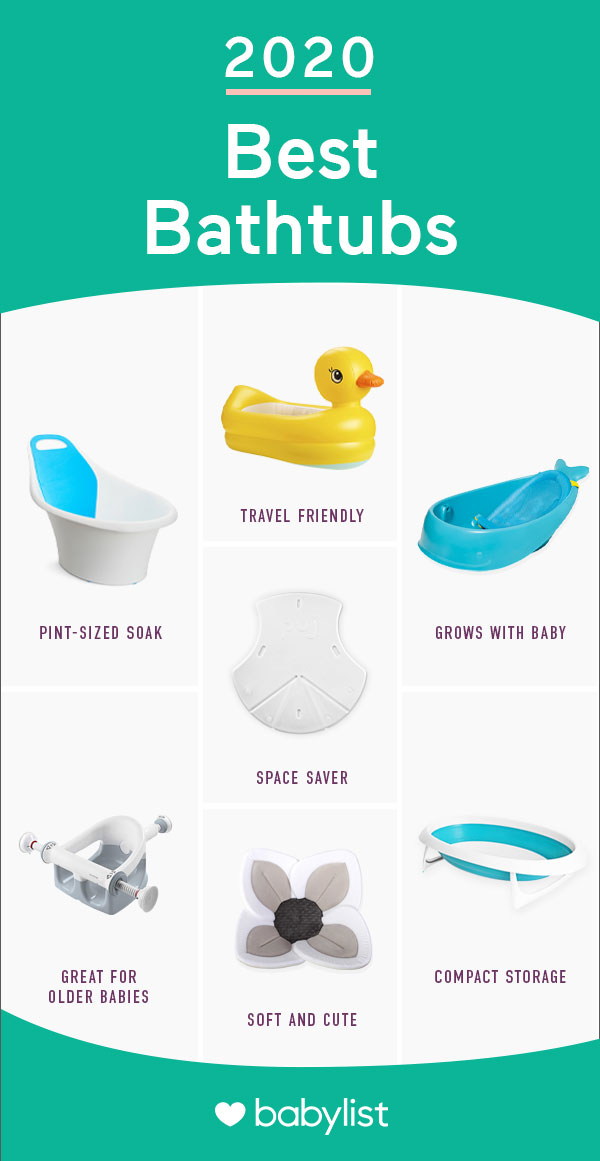 While bathtime can be adorable, it can also be tricky. Newborns are tiny (and floppy!), and older babies are curious and don't want to sit still. A good baby bathtub can help support and and contain your little one and make the whole process a lot easier.
Do You Need a Baby Bathtub?
A baby bathtub will help you safely support your baby during bathtime. While the kitchen sink is an option, many parents like having a dedicated spot for bathing their little one, especially during the early months. A baby tub can also be great to set on top of a kitchen counter for bathtime so you don't have to bend over your adult-sized tub (which can be especially hard for those recovering from delivery).
How Long Will You Use a Baby Bathtub?
Each baby bathtub has its own age range, but many can be used from day one until your baby begins sitting up. Some can even be used through the toddler years.
Many parents choose to move their baby to the big tub around six months old (about the time many babies begin sitting up on their own). Some parents and caregivers continue to use basin tubs after this milestone, however. Baby bathtubs provide a non-slip surface in the big tub while still leaving plenty of room for things like bath toys and washcloths.
What are the Types of Baby Bathtubs?
There are two main types of baby bathtubs: sink inserts and basin tubs.
Sink Inserts
Sink inserts are padded inserts that rest inside your sink, turning it into a mini baby bath.
Usually flexible and mold to fit the kitchen or bathroom sink
Caregiver can stand at the sink comfortably during bath time
Hangs conveniently—great for limited storage space
Typically outgrown after 4-6 months
Just be sure to measure your sink and the insert before purchasing to ensure that it fits.
Basin Tubs
Basin tubs are standalone baby bathtubs.
Can be used in regular bathroom tubs or on counters or tables (they can even be used outside)
Most have a newborn-friendly option that can be removed, allowing the tub to last through at least the first year
Some models collapse for easier storage
Babylist's Best Bathtubs Picks
These are Babylist's picks for the best bathtubs for babies.
Do you think this content is helpful? Let our editors know!
This information is provided for educational and entertainment purposes only. We do not accept any responsibility for any liability, loss or risk, personal or otherwise, incurred as a consequence, directly or indirectly, from any information or advice contained here. Babylist may earn compensation from affiliate links in this content. Learn more about
how we write Babylist content
and the
Babylist Health Advisory Board
.
The freshest in parenting this week, delivered to your inbox