Best Baby Bathtubs of 2017
Last Updated: January 1, 2017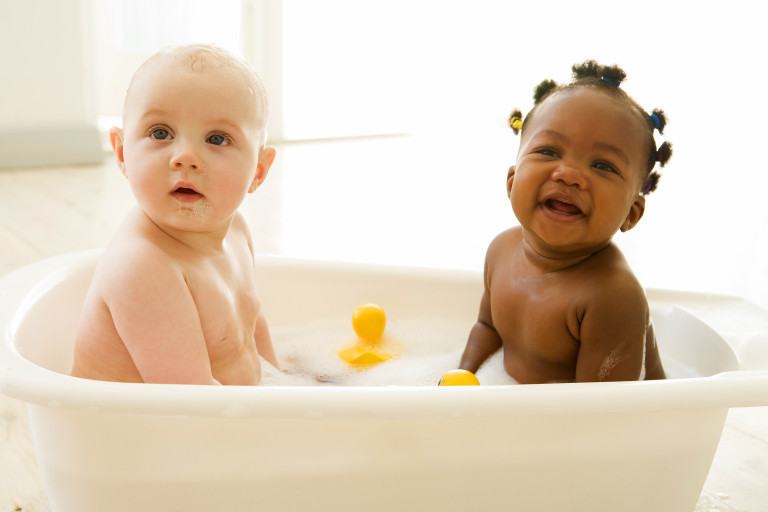 In generations past, most babies got all their scrub downs in the kitchen sink. These days, plastic or foam tubs give parents a convenient spot to prop floppy newborns and keep more curious older babies contained. While bathtime can be adorable, it can also be tricky- a good tub can make the process a lot easier for parents. There are two main categories of baby tubs to choose from: sink inserts and basins, and we cover them both in this article.
Do you need a baby bathtub?
The kitchen sink is still an option, but a baby bathtub will help you prop up an unstable newborn. It's also great to set on top of a kitchen counter for bath time, rather than bending over the tub (especially hard for new moms recovering from delivery). Plus, there are great budget options, so if you're toying with the idea of skipping, just know it's a baby gear item that won't break the bank.
How long will you use it?
Each baby bath tub has its own age range. Don't fret if you love one that you think will be outgrown quickly- around the 6 month mark when baby is sitting up well on their own they can usually graduate to the big tub anyway, so it's ok to buy a baby bathtub that will be outgrown around then.
In the meantime, if you have questions about that first bathtime with your little one, check out this handy guide from our friends at Puj.
How we chose our best picks
We asked thousands of real BabyList families about the baby products they love the most. We took the top baby tubs they shared with us and added our own research and insight. We think you and your little one will love at least one of these items, too.
Sink Inserts
Usually flexible, molds to fit kitchen or bathroom sink
Caregiver can stand at sink comfortably during bath time
Hangs conveniently- great for limited storage space
Typically outgrown after 4-6 months
Basin Tubs
Standalone tubs
Can be used in regular bathroom tubs, counters, or tables
Can even be used outside
Most have a newborn-friendly option that can be removed, allowing the tub to last through at least the first year
Choosing what's right for you
The best baby bathtub for you depends on where you want to wash baby- if you picture doing it at the kitchen sink or have space for something bigger, if you'll need something to hang neatly away, or if you want something high tech or travel friendly. Whichever you pick, it's sure to be a top used baby item and hopefully will become part of a great nighttime routine. Add one to your BabyList today!
About BabyList
Looking for the best items for your growing family? Add all your favorite baby products to ONE registry with BabyList. You deserve to get exactly what you want.