Best Ring Slings of 2023
Babylist editors love baby gear and independently curate their favorite products to share with you. If you buy something through links on our site, Babylist may earn a commission.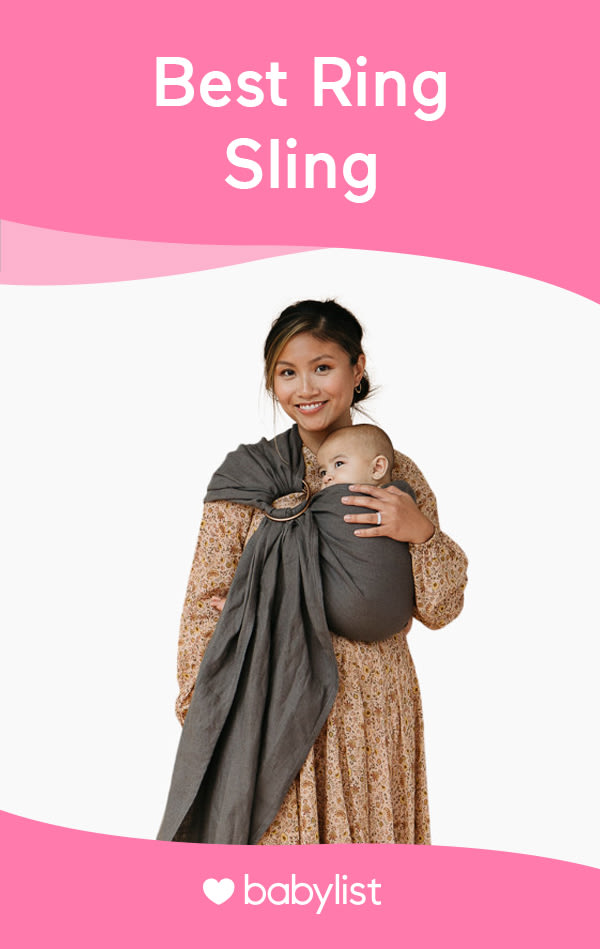 A ring sling is a convenient way to keep your little one close when they need to come along for the ride, whether you're trying to get things done around the house or out running errands.
A ring sling can help calm a fussy little one down when they're having a tough day or just need a little one-on-one time with someone they love. Slings also come in handy when baby needs you, but you need your hands free to do something else. And with a little practice, they can even be used for breastfeeding on the go.
In this article:
What is a Ring Sling?
A ring sling is a type of baby carrier made from one long piece of fabric and two rings. The cloth is worked through the rings to create a secure pouch for your child to sit in—no snaps, buckles or ties needed. A ring sling is worn across your torso and supported by one shoulder. Ring slings usually work best with babies, but can accommodate toddlers as well.
A ring sling is one of many carrier options to choose from, including baby wraps, babywearing shirts and soft structured carriers. If you're looking for something that provides the closeness of a wrap without actually having to do the wrapping, a ring sling is a great choice.
The downside? They're a bit labor-intensive to keep clean. Most slings require either hand washing or machine washing on a gentle cycle with cold water. And using the dryer is a big no-no for many brands; lots of ring slings must be air-dried so they don't shrink. They also can be a bit uncomfortable for long-term babywearing as they don't distribute weight evenly.
Types of Ring Slings
Ring slings all share the same basic structure but do differ in material and shoulder types. Ring slings come in a wide array of fabrics like cotton, linen, silk, wool and even cashmere. Shoulder types differ between brands and include simple gathered (a shoulder sewn about five to eight inches from the rings), a floating gathered shoulder (sewn farther back than a simple gathered), pleated (narrow pleats near the rings) and even hybrid.
What's the Difference Between a Ring Sling and a Baby Wrap?
Because they both use one huge swath of fabric, baby wraps and ring slings are similar, but there are a few key differences.
Baby wraps tend to be a bit more complex. They go over both shoulders and around your waist, distributing your little one's weight a bit more evenly across your body than a ring sling. While this is great for making longer periods of babywearing more comfortable, the origami-like configurations can make wraps a bit tougher to get on and off.
Ring slings are best suited for shorter stints of babywearing. They're far easier to get on and off than a baby wrap, which can be a big plus for some parents who need to use the sling multiple times a day.
How We Chose the Best Ring Slings
We asked thousands of real Babylist families about the baby products they love the most, then took the top products they shared with us and added our own research and insight to tell you about the best ring slings.
Other Ring Slings We're Keeping an Eye On…
A few slings have caught our eye based on glowing parent reviews.
This information is provided for educational and entertainment purposes only. We do not accept any responsibility for any liability, loss or risk, personal or otherwise, incurred as a consequence, directly or indirectly, from any information or advice contained here. Babylist may earn compensation from affiliate links in this content. Learn more about
how we write Babylist content
and the
Babylist Health Advisory Board
.
The freshest in parenting this week, delivered to your inbox