Nike Is Making It Easier for Expecting Moms to Stay Active—Here's How
Nike Is Making It Easier for Expecting Moms to Stay Active—Here's How
Babylist editors love baby gear and independently curate their favorite products to share with you. If you buy something through links on our site, Babylist may earn a commission.
Training for a marathon takes anywhere from 16 to 20 weeks. Carrying a baby to full term takes about 40. During that time, your body is changing, being pushed to its limits and growing a literal human being—and that's all before you actually give birth.
As far as we're concerned, that makes every birthgiver out there a full-fledged athlete. And Nike agrees. With the new (M)ove Like a Mother program in the Nike Training Club app, they're making it easier for people at every stage of pregnancy, prenatal or postpartum, to get and stay active.
What Is (M)ove Like a Mother About?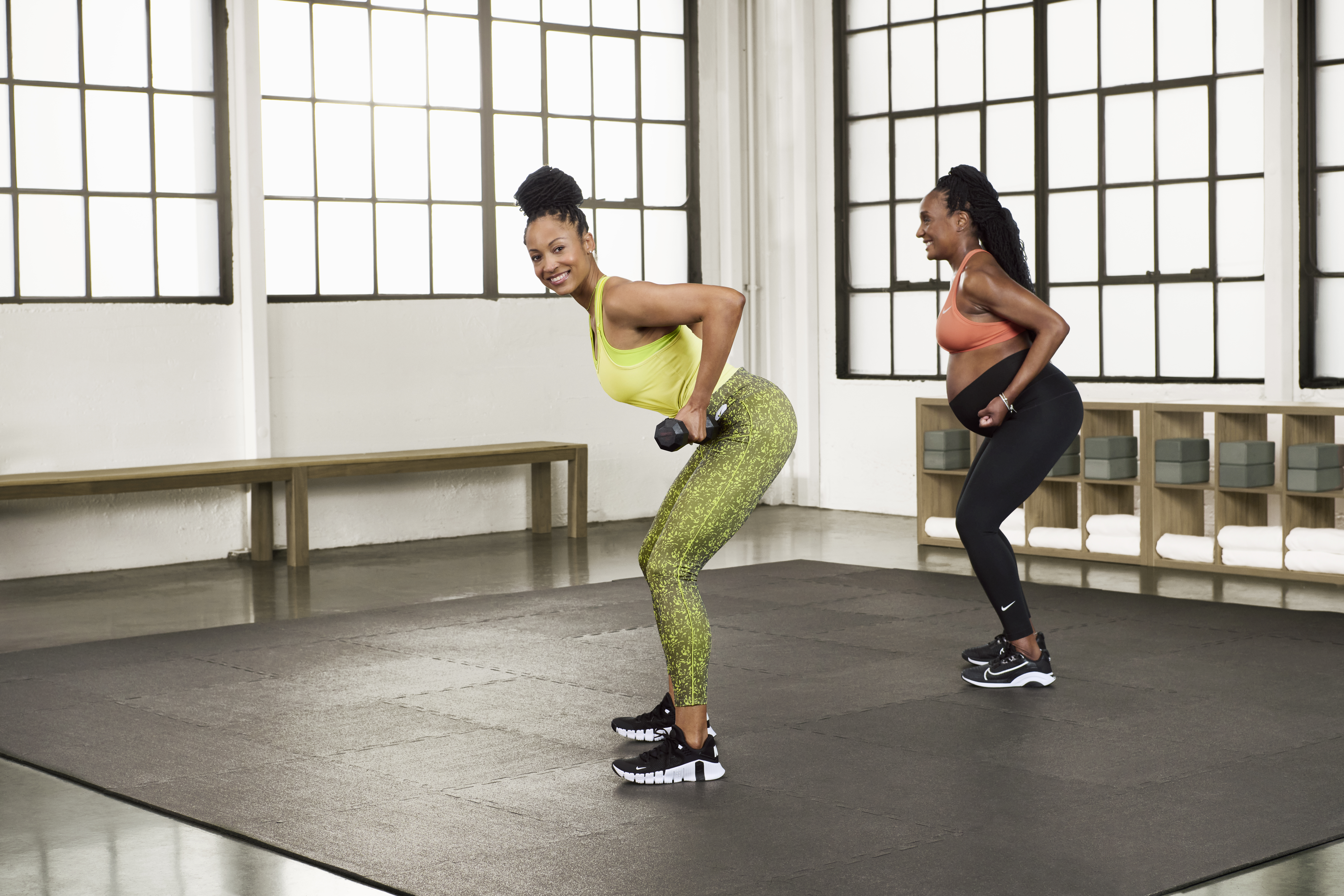 Not to be confused with the "post-baby snapback" trend popping up on social media, these workouts are designed to build strength, confidence and mind-body connection. The Nike trainers remove the pressure of trying to "get your body back after baby" and instead focus on meeting new and expecting mommas where they're at to work on overall wellness.
The app and program are both free, making exercise more accessible for anyone who isn't sure how to workout while pregnant. Paired with Nike (M), Nike's inclusive maternity gear collection, it gives you the opportunity to prioritize your health and well-being during what might be one of the most physically challenging experiences of your life.
What Are the (M)ove Like a Mother Workouts Like?
The program is broken into three stages over 48 weeks: Early Pregnancy, Later Pregnancy and Postpartum. Whether you want a short and sweet sweat flow session or something a little more challenging, there are 24 workouts for any level of fitness and they're all just 5-20 minutes long. You can start at any time during your pregnancy and hop around the weeks if you prefer to try different classes.
Oh, and if you're imagining training sessions with intense gym pros, you'll be delightfully surprised. Each trainer is a mom who's been where you are, and they take time to walk you through each workout—no intimidation. The classes are created by pre- and postnatal specialists and vetted by an advisory board of leading experts to support you through pregnancy and recovery. That said, you should always check with your doctor before starting a new exercise program while you're pregnant.
Which Workouts Should I Try While Pregnant?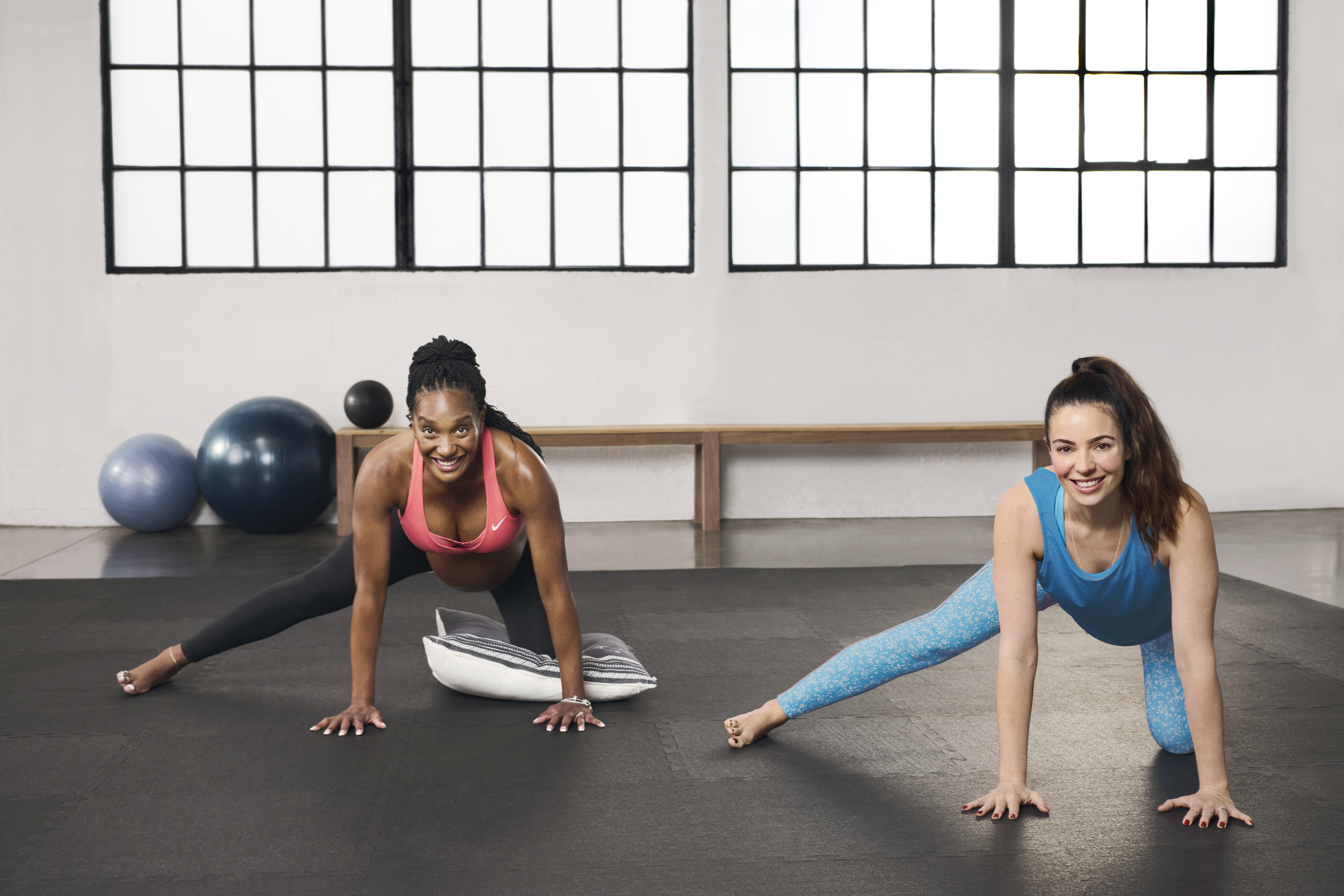 Here are few workouts from the (M)ove Like a Mother program we were impressed with:
Early Pregnancy: Total-Body Strength
Early Pregnancy: Gentle Flow
Later Pregnancy: Pelvic & Hip Release
Postpartum: Core & Pelvic Floor Reconnection
Postpartum: Calming Flow
With everything else you'll be thinking about during your pregnancy, working out may get bumped down on your priority list. Getting out for a run or an in-person class might feel like a lot of effort, but the (M)ove Like a Mother program puts you in control of where, when and how you take care of your body. There are also recipes and articles in-app for extra support while your bump is bumpin'. Since most ob-gyns recommend exercise for pregnant people, Nike's program is one of the easiest ways to put your wellness front and center during a time where it might feel like everything is about your growing bump.
This article is sponsored by Nike. Babylist's free site, apps and emails are made possible by our sponsors. We limit our sponsored content to relevant partners that offer products and services we believe in and use ourselves.
This information is provided for educational and entertainment purposes only. We do not accept any responsibility for any liability, loss or risk, personal or otherwise, incurred as a consequence, directly or indirectly, from any information or advice contained here. Babylist may earn compensation from affiliate links in this content. Learn more about
how we write Babylist content
and the
Babylist Health Advisory Board
.
The freshest in parenting this week, delivered to your inbox