3 Reasons to Add a Humidifier to Your Baby's Nursery
3 Reasons to Add a Humidifier to Your Baby's Nursery
Video: from stuffy noses to dry skin—this deceptively simple essential is a major cold season helper.
Babylist editors love baby gear and independently curate their favorite products to share with you. If you buy something through links on our site, Babylist may earn a commission.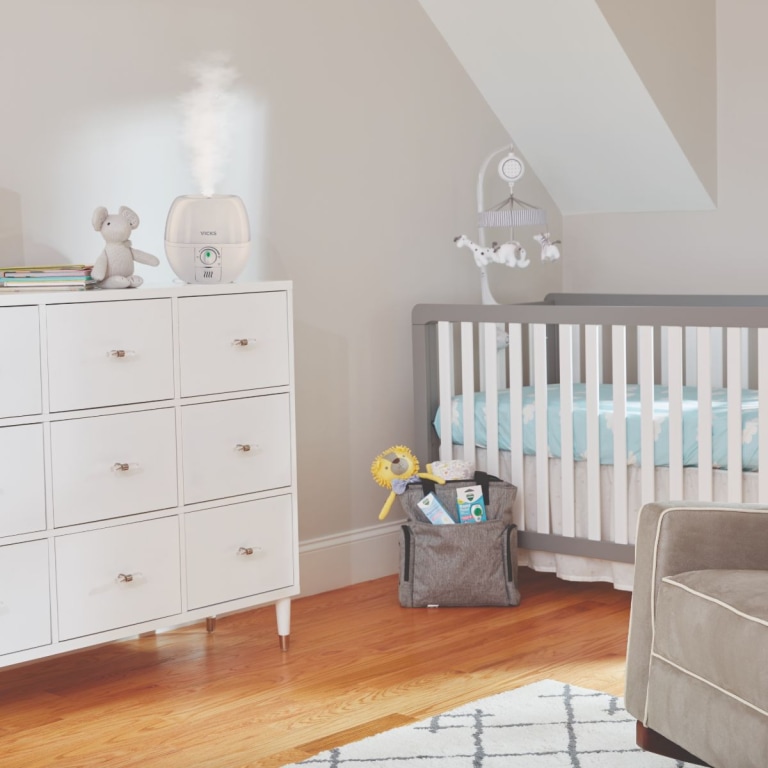 Few things can make a new parent feel more helpless than a tiny baby with the sniffles. But there are things you can do to help ease your baby's cough and congestion during cold season and sleep more comfortably—like adding a humidifier to your nursery to add moisture to the air. But not all humidifiers are created the same. We break down what makes the Vicks 3-in-1 Sleepytime Humidifier different in the video above (and why you want one to begin with).
Humidity Helps Relieve and Congestion
Sick babies are tiny mucus machines, and you can't exactly instruct them how to blow their nose. A humidifier can help keep tiny throats and nasal passages hydrated by sending cool mist into the air (and unlike old-school humidifiers that use steam, the cool-mist on this Vicks 3-in-1 Sleepytime Humidifier is totally baby-safe).
What does it mean to keep your baby's nasal passage hydrated? It means less congestion, coughing, crusty noses and throats.
Keep in mind: it's not just about adding humidity, it's about adding the right amount of humidity. (Too much humidity could encourage dust mite and fungi growth, which could cause a flare up of allergies.) In the case of your baby's nursery, the ideal humidity is between 40-60% (you can monitor it with one of these). The Vicks 3-in-1 Sleepytime Humidifier has an adjustable output so you easily change it up to make sure you're always at the ideal amount of moisture. On the lowest setting, the humidifier will keep running for up to 24 hours and automatically shuts off if it runs out of water.
Moist Air Soothes Skin and Sinuses
Adding moisture to baby's air isn't just about when they're sick. It also can get really dry in the winter, and babies are pretty well known for having sensitive skin and respiratory systems. Adding humidity to the air can help remedy dryness by helping skin, hair and nails retain moisture. Adding moisture back into the air can also help restore the membranes located inside your baby's nose (because breathing dry air can often mean irritated sinus passages).
Speaking of adding moisture, one thing we appreciated when we tested out this Vicks 3-in-1 humidifier was how easy it was to fill, thanks to the wide opening on the water tank (you can see it in action at the 0:49 mark in our video). This humidifier is also filter free, which means you don't have to worry about cleaning and replacing a filter—handy when your sink is already filled with a day's worth of bottles and pacifiers to clean. The tank holds just over half a gallon of water, which makes it perfect to run all night long in a small room like baby's nursery.
Soothing Vapors Can Help with Sleep
Sick babies aren't known for getting great sleep, and that means neither do their parents. Soothing vapors can be a calming way to help lull baby to sleep. Vicks humidifiers have a special compartment on the front of their humidifiers (including the 3-in-1 Sleepytime Humidifier) that allow you to insert a Vicks VapoPad for stuffy-nose-busting scents like rosemary, lavender and eucalyptus. This humidifier also accepts 100% essential oils into the tank if you want to use the humidifier as a diffuser.
In addition to soothing smells, this humidifier pulls triple duty as a nightlight, too. You can cycle through seven colors at the tap of a finger and then set it to either stay on one color, or continue cycling through all seven.
A humidifier might seem like one of those nice-to-have nursery additions, but in the winter months it can make a big difference on your baby's comfort. Watch our complete video review to see if the Vicks Sleepytime 3-in-1 is the right humidifier for your baby's room.
This article is sponsored by Vicks. Babylist's free site, apps and emails are made possible by our sponsors. We limit our sponsored content to relevant partners that offer products and services we believe in and use ourselves.
This information is provided for educational and entertainment purposes only. We do not accept any responsibility for any liability, loss or risk, personal or otherwise, incurred as a consequence, directly or indirectly, from any information or advice contained here. Babylist may earn compensation from affiliate links in this content. Learn more about
how we write Babylist content
and
review products
, as well as the
Babylist Health Advisory Board
.
The freshest in parenting this week, delivered to your inbox