16-Month-Old Toddler: Your Little Potty Trainer (Almost!)
16-Month-Old Toddler: Your Little Potty Trainer (Almost!)
Signs that your 16-month-old toddler may be ready for a tiny toilet.
Babylist editors love baby gear and independently curate their favorite products to share with you. If you buy something through links on our site, Babylist may earn a commission.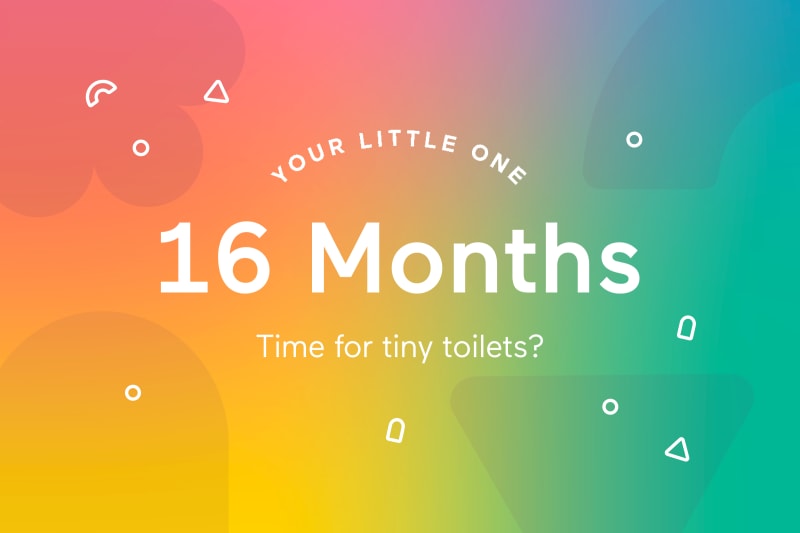 Your Little Potty Trainer (Almost!)
It's not likely your little one is ready to graduate from diapers just yet: most children begin potty training between 18 months and 3 years (a huge range!). But in the interest of getting ahead, we thought it'd be a good time to share the early signs that your toddler is physically and emotionally ready, so you know what to watch for:
Stays dry for periods of two hours or more
Is able to pull their pants up and down
Can easily sit down on a potty chair and get up again
Can climb up a step stool to the big potty
Is able to follow basic directions
Is showing interest and curiosity in underwear or toilets
Is complaining about dirty diapers and finding them unpleasant
Lets you know when they need to go
As for what to do at Go Time, we've got a guide for that.
---
Did You Know?
When it comes to learning how to pee or poop in the potty, a lot can go sideways (including regressions!). Bookmark these 6 solutions for common problems just in case.
Encouraging Books
From reassuring them that everyone poops to cheering them along, these 9 titles were written with curious toddlers in mind.
Tiny Thrones
Learn the difference between a free-standing potty chair and a kid-size seat that fits into your standard toilet—and see our favorites.
This Month: Prepare the Bathroom
Ideas for encouraging independence on and around the toilet.
---
Parenting Toolkit: Potty Talk
Try this: Dr. Becky, the parent whisperer behind Good Inside, explains how talking about poop impacts kids' bathroom behavior.
This information is provided for educational and entertainment purposes only. We do not accept any responsibility for any liability, loss or risk, personal or otherwise, incurred as a consequence, directly or indirectly, from any information or advice contained here. Babylist may earn compensation from affiliate links in this content. Learn more about
how we write Babylist content
and the
Babylist Health Advisory Board
.
The freshest in parenting this week, delivered to your inbox