Video: The Ergonomic BabyBjörn Bouncer with Thousands of 5-Star Reviews
Video: The Ergonomic BabyBjörn Bouncer with Thousands of 5-Star Reviews
Simplicity reigns supreme when it comes to this adjustable seat.
Babylist editors love baby gear and independently curate their favorite products to share with you. If you buy something through links on our site, Babylist may earn a commission.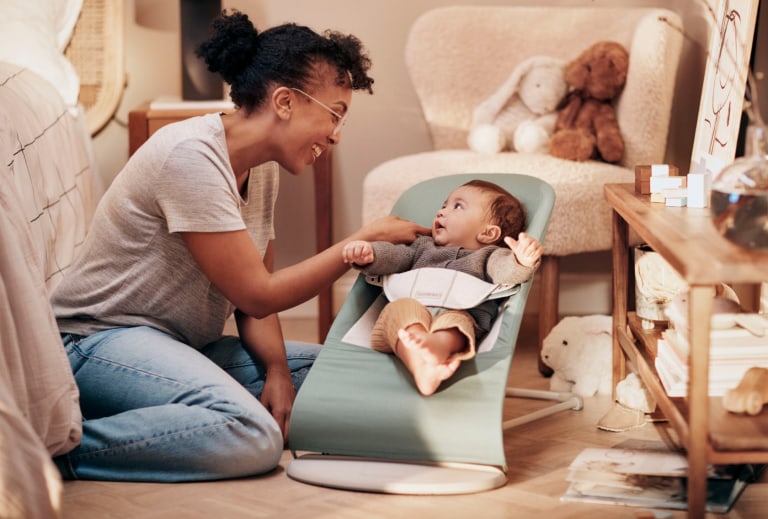 There are a lot of options at different price points for where you can put your baby when you need your hands free. But sometimes the simplest one is the most effective, like the parent-favorite BabyBjörn Bouncer Balance Soft. It's a lightweight-yet-cozy seat you can strap baby into in seconds (and it doesn't need any bells or whistles turned on to make it functional).
In the video above, Kayla, mom of 1, puts the Bouncer Balance Soft to the test to see why it gets so much praise from parents—and happy coos from babies.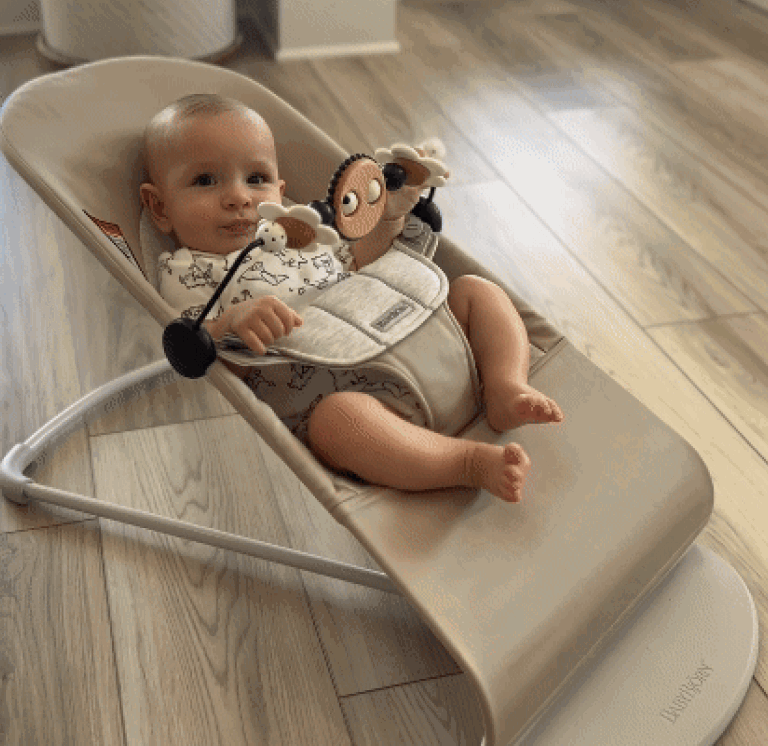 What the BabyBjörn Bouncer Balance Soft Does
Unlike swings or even other bouncers that can be bulkier, the slim, ergonomically designed BabyBjörn Bouncer Balance Soft acts almost like a sling or carrier (that you don't have to wear). The fitted seat evenly distributes baby's weight while providing support for their back, neck and head—creating a similar environment to holding baby without actually holding them. There's even an optional toy bar to help keep your baby entertained when you need a few extra minutes.
And unlike a swing, this bouncer folds flat and weighs only 4.6 pounds, which means you can carry it from room-to-room, or pack it in the car or stroller without taking up a lot of space (there's also a zippered travel bag you can buy to protect it from dirt, dust and liquids). Besides the fact that you could bring it anywhere, here's what else makes the Bouncer Balance Soft a top registry pick for Babylist parents:
Three-position recline: Unlike some other seats, your baby can use this bouncer pretty early on (starting at 8 pounds and 21 inches). As they grow, the rear latch easily adjusts the seat to more upright positions to give them a better look at their surroundings.

Natural rocking motion: You'll need to use your hand (or foot) to manually power the motion at first. But that can have its benefits: There's no need to place it near a power outlet, and the lack of cords makes it easier to transport. As baby grows, their own kicks and movement will make it bounce, which can help baby as they develop motor skills.

Turns into a toddler seat: Once your little one reaches 20 pounds or can sit unaided, you can flip the fabric over to continue using the bouncer as a chair (up to 29 pounds).

Machine-washable cover: The bouncer itself actually comes in two versions, Balance Soft and Bliss, with the same features but different colors for the frame and fabric seat. The fabric comes in four soft OEKO-TEX-certified materials in a variety of neutrals and pastels: a quickdrying 3D mesh, soft 100% cotton, a cozy and durable woven blend and a snuggly jersey mix)—all of which can be popped in the washing machine for a quick clean after spit up or blowouts. Between the two, there are more than 25 designs to choose from (including a Babylist-exclusive Sage!), so you have plenty of choices to find one that works with your decor.
Why You'd Want the BabyBjörn Bouncer Balance Soft
Babies want to be held. A lot. And while those moments being naptrapped on the couch or doing tummy time on your chest can be undoubtedly heartwarming, you also have to get stuff done—whether that's doing your fifth laundry load of the week, preparing dinner or even just going to the bathroom. Without batteries or electricity, this gear moves freely with you, has a small, foldable footprint (which is helpful since babies tend to have so. much. gear.) and doesn't have any distracting flashing lights or songs that will be stuck in your head until they go to college.
And most importantly: babies seem to love it, and have loved it, for decades. BabyBjorn bouncers have over 10,000 five-star reviews on Amazon and Babylist (not to mention a loyal following for their other gear—like baby carriers). As one review summed it up, "I was skeptical of this item because it's so unassuming…but it's probably the single most important item I have for my son's entertainment."
Watch Kayla's full video review to see whether this simple and super-portable bouncer is right for your family.
This article is sponsored by BabyBjörn. Babylist's free site, apps and emails are made possible by our sponsors. We limit our sponsored content to relevant partners that offer products and services we believe in and use ourselves.
This information is provided for educational and entertainment purposes only. We do not accept any responsibility for any liability, loss or risk, personal or otherwise, incurred as a consequence, directly or indirectly, from any information or advice contained here. Babylist may earn compensation from affiliate links in this content. Learn more about
how we write Babylist content
and
review products
, as well as the
Babylist Health Advisory Board
.
The freshest in parenting this week, delivered to your inbox