Best Bouncers and Swings of 2021
Best Bouncers and Swings of 2021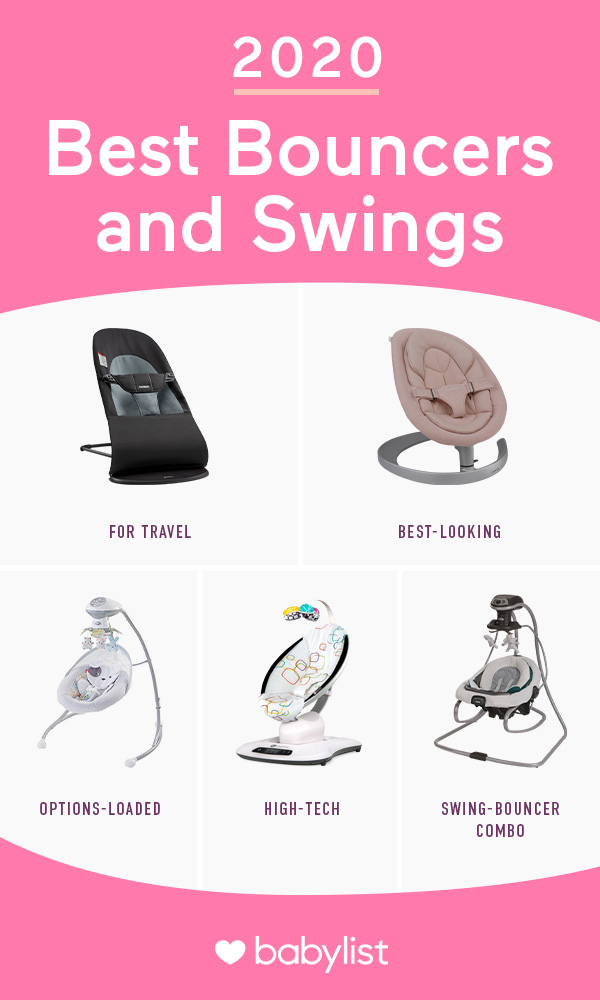 Parents love bouncers and swings for providing a place for their babies to play or relax while they get things done around the house. Typically, a bouncer is a lightweight, low-to-the-ground seat designed to sit on the floor and bounce when your baby kicks their legs or moves their arms. Usually heftier than bouncers, a swing is a seat that moves your little one back and forth, or from side to side.
Do You Need a Bouncer or Swing?
At some point, you will want to take a shower, make a meal or get something done around the house. And, when you do, you'll be faced with the age-old question: "Where should I put the baby?"
That's where a bouncer or swing comes in super handy. Put one in the room with you, strap in your baby and start the vibration or swinging mode. Even if they start to wail, at least you can peek at them and know they're safe while you blast through your shampoo or meal prep.
When Do You Need a Bouncer or Swing?
Bouncers and swings are generally made for the pre-sitting set. So they're best for newborns and babies up to six months old, or until they can sit up on their own (and will probably squawk at being confined!). Be sure to check the age and weight recommendations on each to make sure they're still okay for baby to use as they grow.
Also, note that these products are not meant to be used for sleep, and baby should be supervised by a caregiver when using them.
Keep in mind: When used properly and under supervision, a swing, bouncer or rocker is a safe space for baby—but, per the American Academy of Pediatrics, these products are not approved for safe sleep. While some of these products have the word "sleep" in the name or have photos of babies sleeping on the packaging, it's important to always follow safe sleep guidelines for your baby.
Choosing the Right Bouncer or Swing for You
To find the baby bouncer or swing that works best for you and your family, consider your budget and living space. Do you want something easy to move around? Or something with more bells and whistles? Those are a few factors to think about as you consider different products. Whatever one you choose, a bouncer or swing can be a big help during your child's earliest days.
This information is provided for educational and entertainmentpurposes only. We do not accept any responsibility for anyliability, loss or risk, personal or otherwise, incurred as aconsequence, directly or indirectly, from any information oradvice contained here. Babylist may earn compensation fromaffiliate links in this content. Learn more about
how we write Babylist content.
The freshest in parenting this week, delivered to your inbox