Best Bouncers and Swings of 2022
Best Bouncers and Swings of 2022
Babylist editors love baby gear and independently curate their favorite products to share with you. If you buy something through links on our site, Babylist may earn a commission.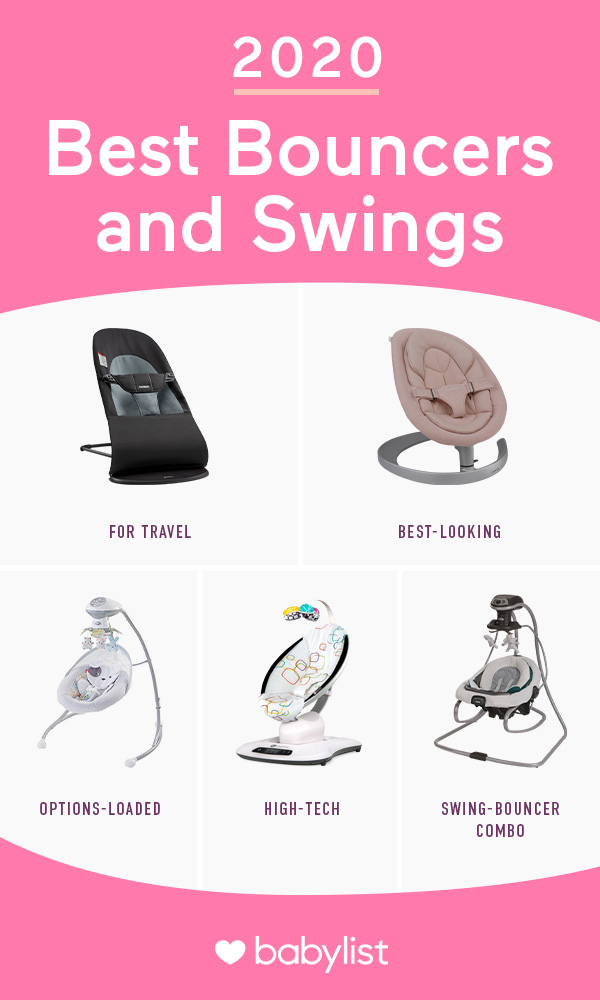 Although your baby may disagree, it's not practical to think you'll be able to hold your newborn all day long. At some point you'll need a shower, a meal or just a quick break.
That's where bouncers and swings come in. Parents love them for providing a safe place for baby to play or relax while they get other things done, and babies love them because they're comfy and soothing. Most parents choose to add a bouncer or a swing to their baby registry—and are really happy they did.
What's the Difference Between a Bouncer and a Swing?
A bouncer is usually lightweight and low to the ground. It's powered by baby's own movements or by giving it a quick nudge with your hand or foot. Bouncers tend to be fairly compact—some even fold flat for easy storage—and range in price but are often quite affordable.
Swings tend to be heavier and larger than bouncers and are mechanically powered. A swing rocks your baby back and forth, side to side or a combination of both in some cases. Many have other features like sounds and vibrations. Swings range from affordable to fairly pricey.
Do You Need a Bouncer or Swing?
Bouncers and swings are not must-have baby items. But for most parents, they like the idea of a portable piece of baby gear that offers a safe place for baby when they need to get something else done. Bouncers and swings can also be great for soothing fussy newborns.
Keep in mind: When used properly and under supervision, a swing, bouncer or rocker is a safe space for baby—but, per the American Academy of Pediatrics, these products are not approved for safe sleep. While some of these products have the word "sleep" in the name or have photos of babies sleeping on the packaging, it's important to always follow safe sleep guidelines for your baby.
When Do You Need a Bouncer or Swing?
Bouncers and swings are generally made for the pre-sitting set. They're best for newborns and babies up to about six months old or until they can sit up on their own. Be sure to check the age and weight recommendations on the particular swing or bouncer you're using to ensure it's still okay for your baby to use as they grow.
This information is provided for educational and entertainment purposes only. We do not accept any responsibility for any liability, loss or risk, personal or otherwise, incurred as a consequence, directly or indirectly, from any information or advice contained here. Babylist may earn compensation from affiliate links in this content. Learn more about
how we write Babylist content
and the
Babylist Health Advisory Board
.
The freshest in parenting this week, delivered to your inbox