Best Toddler Blankets
Babylist editors love baby gear and independently curate their favorite products to share with you. If you buy something through links on our site, Babylist may earn a commission.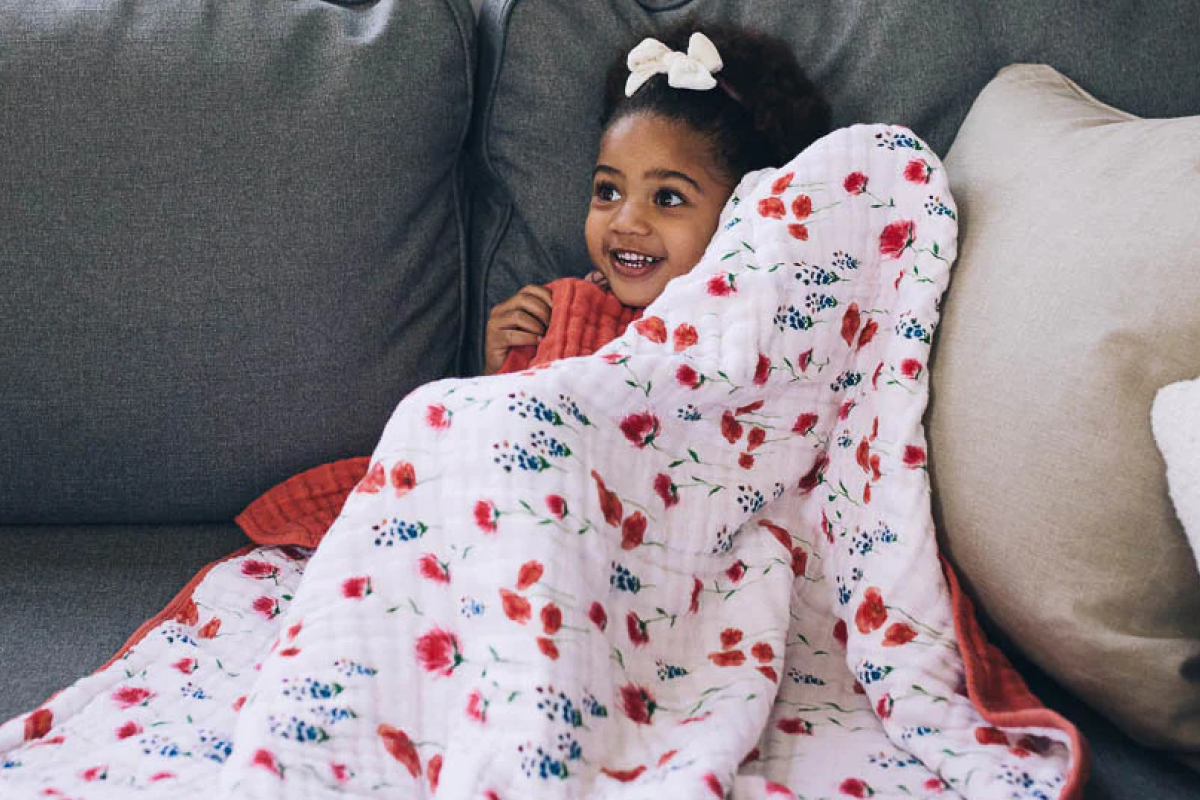 Have you been waiting for the day you can tuck in your little one each night under a soft, warm blanket? While loose blankets are a definite no-go for babies, older toddlers can safely snuggle up. Whether your toddler is using one to sleep each night or simply for some cuddles on the couch, a cozy blanket is a must. Here's what you need to know before you start shopping for a toddler blanket.
When Can a Toddler Sleep with a Blanket?
While it's not safe to keep a loose blanket in your baby's crib, most experts say you can let your toddler sleep with a blanket by around two years of age.
"The general guidelines recommend avoiding anything additional in the sleep space until an infant is at least 12 months old," says Dr. Krupa Playforth, MD, FAAP, pediatrician and Babylist Health Advisory Board member.
This includes soft objects and loose bedding like pillows and pillow-like toys, quilts, comforters, mattress toppers, non-fitted sheets, blankets, toys, bumpers and other products that attach to crib slats or sides.
"I personally wait until age two to introduce blankets to my children. The risk of accidental suffocation is significantly diminished by this point," she explains.
How to Introduce a Blanket to a Toddler
There's no right or wrong way to introduce a blanket to your toddler, but there is the issue of practicality to keep in mind.
"Toddlers are such restless sleepers," notes Dr. Playforth. "In my experience, it is rare for them to keep a blanket on. So we typically used footed pajamas and sleep sacks for as long as possible."
And don't forget another benefit to putting your little one in a sleep sack, according to Dr. Playforth—it's a great way to stop a precocious toddler from attempting to climb out of their crib.
Are Weighted Blankets Safe for Toddlers?
The American Academy of Pediatrics advises against weighted blankets for infants, but many experts do not recommend them for children at all due to safety concerns.
"We do not have any randomized controlled trials that can assure us of their safety, and there have been recent cases of accidental deaths in even older children due to weighted blankets, " Dr. Playforth explains.
"The purported benefits of weighted blankets are along the lines of helping with anxiety and regulation," she says. "My advice is that if a parent is concerned about these issues in their children, they talk to their pediatrician about a referral to an occupational therapist with expertise in this area."
Toddler Blanket Size
Most baby blankets measure about 30 by 40 inches, while blankets sized for toddlers are larger—usually 40 by 60 inches or above. Can you use a smaller blanket for your toddler? Of course. Just keep in mind that a more oversized blanket will last longer as your child grows.
How to Choose the Best Toddler Blanket
Choosing a blanket for your toddler should mostly be about fun—but there are a few things to keep in mind while you're shopping.
Size. As noted above, keep size in mind when choosing the best toddler blanket. An oversized blanket may seem too large for your toddler at first, but you'll be surprised how quickly they grow into it.
Fabric. Does the temperature in your nursery run hot or cold? What's the weather like where you live? Does your toddler have any sensory sensitivities? Toddler blankets come in all different types of materials, from light, airy cotton muslin to warm natural wool. Choose the fabric that works best for you. And don't forget to consider washability, too. (Toddlers are messy!)
Style. Prints or patterns, bolds or neutrals, there's a toddler blanket for every style. Choose what you (and your little one) like best.
This information is provided for educational and entertainment purposes only. We do not accept any responsibility for any liability, loss or risk, personal or otherwise, incurred as a consequence, directly or indirectly, from any information or advice contained here. Babylist may earn compensation from affiliate links in this content. Learn more about
how we write Babylist content
and the
Babylist Health Advisory Board
.
The freshest in parenting this week, delivered to your inbox