Best Toddler Bedding
Is your toddler making the switch from crib to bed? The right toddler-sized bedding makes the transition more fun.
Babylist editors love baby gear and independently curate their favorite products to share with you. If you buy something through links on our site, Babylist may earn a commission.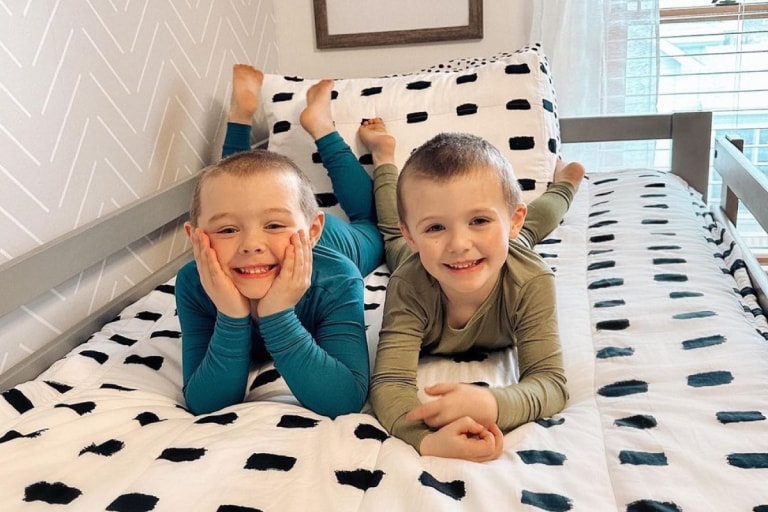 Every new step in a toddler's journey is a big deal, and when that move onto bigger and better things includes a new toddler bed (buh-bye crib!), new toddler bedding is the next great adventure.
New bedding tailored for toddlers isn't just about accommodating their miniaturized dimensions; it's especially designed with their safety and comfort in mind. Unlike standard bedding, toddler bedding often features protective attributes like secure elastic edges, snug-fitting sheets and lightweight materials that reduce the risks of entanglement or general discomfort while they're deep in sleep. Plus, once your little one is no longer behind bars (of their crib, of course), they'll revel in their newfound freedom and have a ball picking out bedding that's theirs and theirs alone.
Whether you're hoping to snag your little snuggler the softest and coziest duvet, on the lookout for lightweight, breathable blankets or stocking up on a protector pad or two for when the time comes, investing in toddler bedding has its draws. Between keeping up with safe sleep practices and fostering your little one's growing sense of independence and pride over bedtime, your bedding choices might even be what puts your tuck-in time struggles to bed.
Babylist's Top Picks for the Best Toddler Bedding
In This Article
Best Bedding for Toddlers
Best Dinosaur Toddler Bedding
If you've got a future paleontologist on your hands, you're bound to get two adorable thumbs up when you stretch these dino-themed toppers over your toddler's bed. The centerpiece of the collection is the toddler quilt, adorned with too-cute 3D dino appliqués that lend a touch of whimsy to any nursery or bedroom. But what we love even more is how these textured depictions (and endearing dino names in child-like writing) offer fantastic opportunities for some pre-bedtime dialogue with your dino-loving little one. It's an easy way to add a delightful layer of connection, bonding and excitement to their bedtime routine.
Best Zip-Up Toddler Bedding
If you've ever wrestled with bed sheets in the middle of the night before, you're probably very aware of how disrupting it can be to a good night's sleep. Now, imagine that frustration on a toddler level—and how disrupting that might be for your whole family. That's why zip-up bedding is a total dream come true. The zipper closure on this fun black and white set eliminates the need for loose sheets and blankets. Safer, more comfortable sleep for your toddler? Check. More sound sleep for you? Check. We also love how the zip-up design can help promote tidying habits from a young age. When they're old enough to start understanding basic chores/routines, toddlers can learn how to make their bed independently simply by zipping up their bedding in the morning.
Best Toddler Bed Set
Did you ever have a "bed-in-a-bag" set when you were younger? They were big back then and they're still super popular today—undoubtedly because of the convenience and cost-effectiveness an all-in-one kit of bed essentials offers parents. This five-piece set includes a fitted crib sheet, duvet cover, pillowcase, pillow insert and comforter all reserved for the toddler crowd. The bright, playful colors and gender-neutral patterns are perfect for any nursery or toddler bedroom. And since neither of the covers (pillowcase or duvet) sports a zipper or button closure, you don't have to worry about anything coming loose.
If you're already a Brooklinen loyalist with your own bedding, you can (literally) rest assured knowing that your toddler will likewise be sleeping in the utmost style and comfort. Brooklinen's signature 100 percent long-staple cotton is incredibly soft and breathable, which helps keep your toddler's temp nice and cool while the sheets wick away sweat and drool.
Best Colorstay Comforter
When you're in your "I've got a toddler" era, you can expect at least a few accidents, bouts of 3 am sickness and leaked sippy cups. So, finding bedding that stands up to all the thrills and spills of toddlerhood is pretty important. We adore Rookie Humans for the brand's whimsical and imaginative sleep wares (crib sheets for babies, nursery decor, big-kid bedding etc.), but we're especially wrapped up in their toddler comforters. Designed to fit toddler beds and converted cribs, the comforter, which comes in five dreamlike designs (the bolo hat and bowtie-wearing jellyfish is our favorite) features a buttery-soft cotton jersey bottom and a cotton sateen top that keeps its shape and vibrancy wash after wash after wash. And it's confectioned out of OEKO-TEX-certified materials, so no harmful chemicals are anywhere near your sleeping seal.
Bonus points? If your toddler has a younger sibling who needs a new place for tummy time, this comforter makes a great playmat (supervision required, of course).
Best Toddler Bed Protector Pad
Now, about those accidents… Since potty training typically happens in the throes of toddlerhood, it's smart to invest in a protector pad to keep their mattress dry and stainless. We always come back to Naturepedic's Organic Fitted Crib Pad because it's certified free and clear of emissions, toxins and formaldehyde and it won't crinkle or make noises when your little one is deep in their REM cycle. A polyurethane layer on the bottom creates that all-important waterproof barrier, while absorbent organic cotton muslin and soft, organic cotton flannel provide a cozy tuffet for your toddler's hush-hush hours. Just be sure you take your toddler's bed size into consideration before adding this much-loved topper to your cart. The fitted crib pad should fit any standard crib mattresses (which usually transition over into their toddler bed), but if you'll be leveling up your toddler with a twin bed, a twin buffer is the better match.
Most Breathable and Softest Toddler Bedding
How many times have you heard the phrase, "It's like sleeping on a cloud," and thought ohhh, if only? This Crate&kids duvet cover (which can be bought in tandem with the cloudlike Natural Harmony Toddler Duvet Insert) isn't too far off from that wishful truth. Crafted from 100 percent organic cotton gauze, the comforter is ultra soft and phenomenally breathable—something that bodes well for toddlers who run a little hot during the night. The secret sauce is in the double-layer weave, which allows for ventilation and creates pockets of air that hold warmth. You can keep this duvet+cover on your toddler's bed all year long, and you'll probably want to, too, because the minimalist, neutral colorways can match any aesthetic. Just be sure to use a cold, gentle cycle when you're doing laundry, because gauze fabric can shrink up fast and furiously.
Most Modern Toddler Bedding
When we think of modern toddler bedding, clean lines, simple patterns and a neutral color palette that contribute to a sleek, uncluttered look come to mind. Minimalism can also equal safety, as some safe sleep practices don't just get retired when your baby-turned-toddler transitions out of their crib and into a toddler bed. With this bundle of fitted bed sheets—fully elasticated for a snug and secure fit that won't come undone overnight—and a soft and lightweight blanket that provides just the right amount of warmth and coziness without being overly heavy, you can keep your kiddo's sleep environment cool, comfy and safe. West Elm's platinum crib sheets—in modern half-moon and geometric, textured prints—and a soft chenille baby blanket make a simple and stunning addition to your toddler's bedroom aesthetic.
Best Toddler Nap Mat
If you haven't used one before, a nap mat is a portable, compact bedding solution catering specifically to young children who are transitioning from cribs to more independent sleeping arrangements, such as nap times at preschool, daycare or during travel. Nap mats provide a comfortable and familiar sleeping surface for toddlers when they are away from their usual beds. The toddler-friendly mat's chenille material is extremely soft and cuddly, and the lightweight feel and integrated carrying handle make it perfectly portable. It's perfect for travel (think of it as a barrier between your child and shared, germy surfaces) or for use anytime your toddler needs a break.
When to Transition to a Toddler Bed
We spoke with Aubrie DeBear, PsyD, a pediatric sleep consultant, doctor of clinical and forensic psychology and soon-to-be mom of three for some pointed, yet totally flexible direction on this exciting, yet still daunting milestone. Because let's be honest, there's no exact science to this toddler adventure.
As a general overview, most toddlers make the transition out of the crib between 18 months and three years old—but DeBear cautions parents to make the decision based on gut instinct, unless specific weight or height requirements or toddler escape artistry dictates otherwise. "It is always best to keep toddlers in their crib for as long as possible because their 'readiness' is really based on developmental ability and cognitive ability to understand why they should stay in their bed and room once given so much freedom," notes DeBear. Once the transition happens, without a toddler railing to rein them in, your toddler has access to everything. So, babyproofing will need to happen full-scale, in-house, from top-to-bottom.
A child must be moved out of their crib regardless of age or 'readiness' if any of the following are true:
They have reached the height limit according to the crib manufacturer
They have reached the weight limit according to the crib manufacturer
They have attempted or been successful in climbing out of their crib
You may hear your family or friends say that you should stop your child from climbing by turning their crib around to make it harder for them to maneuver or by attempting to drop the crib's mattress somehow. But DeBear advises against these solutions as they are unsafe.
How to Transition from a Crib to a Toddler Bed
According to DeBear, if you have time to make a gradual transition, you definitely can spend time (days or weeks) talking about the upcoming changes. Give your toddler some authority in the process and even practice the transition if possible.
"Including them in choosing bedding or a new stuffed animal for their new bed, and even working on simply playing or only napping in their 'big kid' room and new bed" can make a big difference in helping your toddler acclimate to their new sleeping arrangement. Creating dialogue also helps. According to DeBear, talk through "what will be expected of them, what the boundaries will be and what your role will be in the change (where you will be in the night, how you will respond if they need you, etc.)," she says.
How to Get Your Toddler to Stay in Bed
Consistency matters most. If you want your child to sleep in their bed, in their own room, bringing them into your bed for comfort or even putting that into the universe as an option can be counterproductive. "It might be helpful in the moment, especially when everyone is exhausted, but it can take a long time to reverse these new habits," shares DeBear. If you find your toddler struggling to stay in bed, a toddler alarm clock may help. Sometimes called"ready to wake" clocks, these clocks provide visual cues—in red, yellow or green lights—that guide when it's appropriate timing for your toddler to get out of bed.
Once toddlers are out of their crib they can sleep with a pillow and a blanket, but DeBear also encourages parents to keep in mind your toddler doesn't yet know how to sleep with a blanket (or even just a pillow). "They tend to get easily tangled in sheets and blankets, so it's best to keep it simple."
Types of Toddler Bedding
There are several types of toddler bedding options available to cater to the comfort and safety needs of young children as they transition from cribs to more independent sleeping arrangements. Some common types of toddler bedding include:
Toddler Bedding Sets. These sets often include a fitted sheet, flat sheet and pillowcase designed to fit a toddler mattress. They usually feature colorful designs, characters or themes that appeal to children.
Toddler Comforter Sets. Similar to bedding sets, these include a comforter or quilt along with sheets and pillowcases. Bulkier comforters aren't as frequently recommended, again, due to safety concerns.
Toddler Duvet Covers. These covers are designed to fit over a toddler-sized duvet or comforter insert (take note of whether the duvet cover and comforter insert are sold together or separately). They can be easily removed and thrown into the wash when they need laundering!
Toddler Bedding Separates. Instead of purchasing a complete ensemble, you can also buy individual components like fitted sheets, flat sheets and pillowcases to align with your room aesthetic and their style preferences.
Toddler Nap Mats. Portable and space-saving, nap mats are designed for nap times at preschool, daycare, during travel or even at home. They typically feature a thin mattress with an attached cover that includes a pillow and blanket section.
What to Look for When Choosing Toddler Bedding
When choosing toddler bedding, there are a few features you'll want to consider to ensure safety, comfort and ultimate approval from your sometimes frustratingly discerning toddler. Here's what to look for:
Material
When you're shopping for toddler bedding, opt for breathable, hypoallergenic materials that are soft and gentle against delicate skin. Cotton is a popular choice as it's naturally breathable and soft on the skin. Organic cotton is free from pesticides and chemicals and is another option. There's also microfiber and jersey, both known for their durability and softness.
Safety
Safety is the most paramount qualifier when it comes to toddler bedding. Specific guidelines for toddlers aren't as extensively covered by the APA, as safe sleep recommendations tend to be more focused on infants, but there are some general safe sleep considerations that can apply to toddlers as well. Always use a firm, flat mattress devoid of gaps, maintain a cool, comfortable room and opt for a securely-tucked light blanket to ensure both warmth and ease for toddlers to get in and out of bed safely. For very young toddlers (ones who have just transitioned out of their crib), you can even consider sleep sacks or wearable blankets as a safe alternative to loose, multilayered or overly-stifling bedding.
Ease of Care
Toddlers can be messy, so easy maintenance is a must. Choose bedding that is machine-washable and can withstand frequent washing without losing its quality. Bedding that retains its color, shape and softness after multiple washes will save you time and money. Pro tip: Sidestep bedding that requires special care instructions, as it'll be a lot more inconvenient in the long run.
Design
The design of the bedding also plays a significant role in creating an inviting sleep space. Prioritize designs that resonate with your child's interests and preferences. Whether it's a favorite character, animal, pattern or color, bedding with aesthetics that enthuse your toddler can make bedtime a ton more appealing—not to mention, a lot less stressful for their grownups. Wink wink. DeBear does recognize that longevity plays a role here, though. "Buying bedding with your child's favorite character on it certainly might get them excited about the move, but not last more than a year or two—and for some, that's okay. Others might like finding something that grows with their child. It's totally a matter of personal preference here," she says.
Size
Most toddler beds use mattresses around 28 inches by 52 inches, slightly smaller than a twin mattress. If you've converted their crib into a toddler bed, you'll still be using the standard crib mattress (with 27 ¼ inch by 51 ¼ inch dimensions, according to the United States Consumer Product Safety Commission), so crib-sized bedding will still work for their toddler bed in addition to bed sheets marketed expressly as toddler-sized. Look for bedding sets tailored to these sizes, which typically include fitted and flat sheets, along with a toddler-sized pillowcase. For blankets or comforters, choose lightweight options suitable for their age and the climate, ensuring they don't pose a suffocation risk. Consider mattress protectors for spills and accidents, and opt for toddler-sized pillows for proper support.
This information is provided for educational and entertainment purposes only. We do not accept any responsibility for any liability, loss or risk, personal or otherwise, incurred as a consequence, directly or indirectly, from any information or advice contained here. Babylist may earn compensation from affiliate links in this content. Learn more about
how we write Babylist content
and
review products
, as well as the
Babylist Health Advisory Board
.
The freshest in parenting this week, delivered to your inbox