Best Toddler Beds
Babylist editors love baby gear and independently curate their favorite products to share with you. If you buy something through links on our site, Babylist may earn a commission.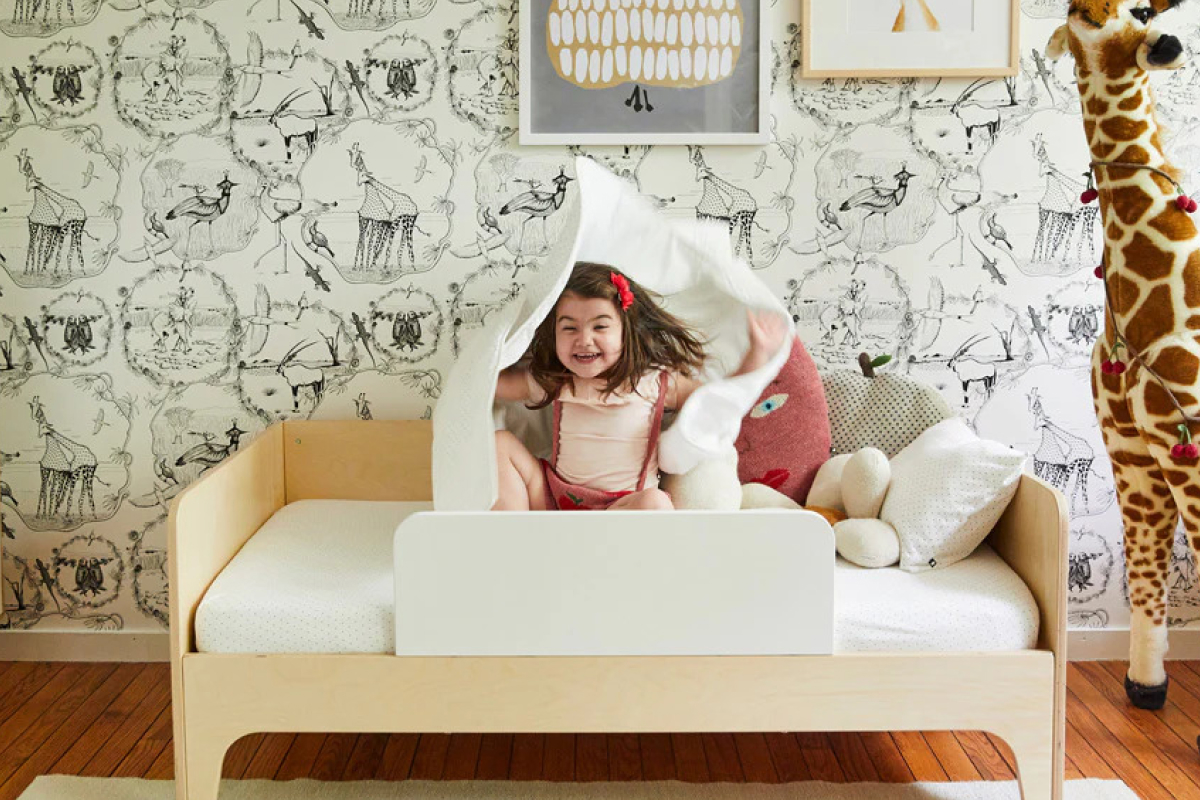 For the first year and a half of their life, your little one only knows a bassinet or crib as their sleeping place. And that works—while they're small. But at what point should they move on to a larger bed?
While it's possible to move your toddler from a crib to a twin-sized or even full-sized bed, especially if it's low to the ground or on the floor for safety reasons, you might consider a toddler-sized bed, too.
Toddler beds are smaller than twin beds. They're generally the same size as a crib, but not fully enclosed and usually lower to the ground. If you're wondering if a toddler bed is right for your kiddo, you'll need to know when to transition them out of their crib, whether your crib can convert into a toddler bed and whether you need to buy a new mattress.
When to transition to a toddler bed
"A child is ready to transition out of the crib when they are trying to jump/climb out," says Dr. Nilong Vyas, board-certified pediatric sleep coach, founder of family sleep consulting service Sleepless in NOLA and medical reviewer for SleepFoundation.org. Even if you've put their crib mattress on the lowest setting, once your toddler is tall enough to lean over the edge of the crib or has mastered climbing skills, keeping them in a crib poses a fall risk if they're trying to climb out. Since toddler beds are low to the ground, have low barriers and aren't completely enclosed, there's no fall risk for even the climbiest of toddlers.
Knowing when to switch to a toddler bed is crucial; transitioning your child out of their crib too early might result in sleep issues, especially if your child doesn't feel comfortable or secure in their new bed. "Look for the child's readiness first, more so than convenience," Dr. Vyas says. "Oftentimes I see parents transition to a toddler bed because they need the crib for a sibling. Don't rush to transition out of the crib, especially if the child is not trying to climb out."
Once your toddler is ready to transition to their new sleep space, keep in mind that it may take a little time for them to really get used to it. "Be patient and consistent when making any transition to a different sleep space," Dr. Vyas says.
Do I need a toddler bed?
After all that time sleeping in a crib, toddlers are used to a smaller, more secure sleep area, which can make a big bed (twin- or full-sized) with no barriers seem intimidating. "Toddler beds are a great transition from a crib to a full-sized bed because it feels smaller and cozier, like the crib, but with an opening, so the toddler can also feel independent, which is essential at their age," Dr. Vyas says.
That being said, you don't need a toddler bed. Some families skip the transitional step and are able to successfully move their little one from a crib straight to a larger bed. The most important thing is to do whatever is most comfortable for your kiddo.
Toddler bed conversion kits
You don't need a separate toddler bed if you have a crib with a toddler bed conversion kit. Also called "4-in-1 cribs" or "3-in-1" cribs, convertible cribs transition to toddler beds by replacing the front crib rail with a toddler rail. Toddler rails are typically about half the height of a crib rail and long enough to keep little ones from accidentally sliding out while still leaving an opening for them to get in and out independently.
If you have a convertible crib, you'll need to purchase the toddler bed conversion kit separately. And make sure the conversion kit is the correct one for your crib, and they're not universal.
What size mattress do toddler beds use?
Toddler beds conveniently use the same size mattress as full-sized cribs. If you have a mini crib, however, those smaller-sized mattresses won't work for toddler beds.
You can continue to use your crib mattress if it's two-sided, which means that one side is more firm for infants, and the other side is slightly less firm for toddlers. If your crib mattress only has the firmness intended for infants (one-sided), your toddler can still sleep on it, but consider getting a new mattress that's the right firmness to support their development.
Best Toddler Beds
Toddler beds can look just like miniature adult beds, or they can be as whimsical and creative as your little one's imagination, including dozens of character beds for fans of all kinds, from Disney classics like princesses and superheroes to Cocomelon and Baby Shark.
This information is provided for educational and entertainment purposes only. We do not accept any responsibility for any liability, loss or risk, personal or otherwise, incurred as a consequence, directly or indirectly, from any information or advice contained here. Babylist may earn compensation from affiliate links in this content. Learn more about
how we write Babylist content
and the
Babylist Health Advisory Board
.
The freshest in parenting this week, delivered to your inbox