Everything You Need to Know About Lalo's New Play Boxes
Everything You Need to Know About Lalo's New Play Boxes
We unbox a whole year of boxes packed with sustainable, development-friendly toys made by baby play experts.
Babylist editors love baby gear and independently curate their favorite products to share with you. If you buy something through links on our site, Babylist may earn a commission.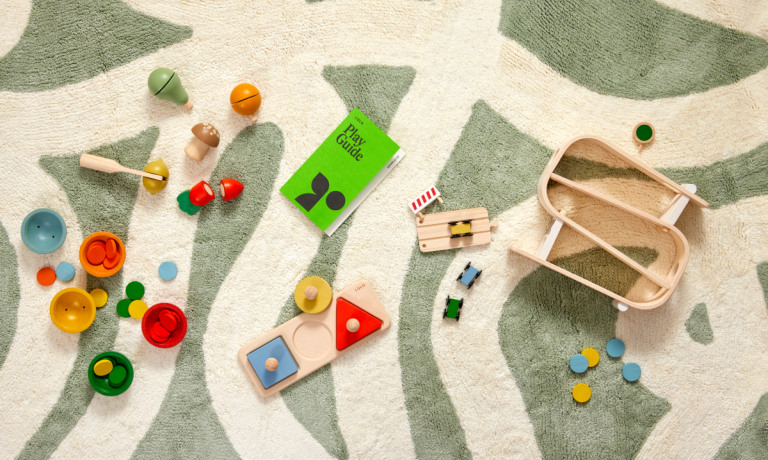 Did you know that your baby's brain will double in size in the first year of their life? Babies change so fast it isn't always easy to keep up with all those leaps and mental growth spurts. And how exactly do you "encourage brain development" anyway? Through play!
Lalo (the same people who make that swoon worthy high chair and bath essentials, plus play table and more) just launched their sustainable age-based play boxes. They're packed with expert-developed toys just for your baby, based on their developmental stage, and come right to your doorstep. We unbox the whole first year of their Play Boxes in the video review above. Here's everything you need to know about how it works and what's inside.
What Makes the Play Box by Lalo Different?
Lalo's Play Box may not be the first subscription play kit you've ever heard of. But they've made a couple of key changes to the toys-by-mail model to make it a little more parent (and wallet)-friendly. First, they've got super-flexible options for how you can sign up for their boxes (no getting "boxed in" here):
Recurring subscription: The first option is a recurring subscription. If you sign up for this option, you'll get a Lalo Play Box every two months during baby's first year and every three months in their second year. You save $10 off the a la carte price when you sign up for a recurring subscription.
A la carte: Want to try just one box at a time? You can do that. Each play box is available as a one-time purchase.
Pre-paid: Ideal for gifting (or adding to your baby registry), there are also three pre-paid options where you can sign up for 6, 12 or 24 months of Lalo Play Boxes (this option offers the most savings compared to the a la carte price).
Regardless of which option you choose, all of the Play Boxes arrive beautifully packaged in recyclable cardboard, and are presented so neatly, they would make an easy and thoughtful gift for other new parent friends.
Lastly, Lalo also offers toy recycling through RePlay, so when the toys have stacked up Lalo will help you pass on your toys to a family in need.
What You Get With The Lalo Play Box
Each Lalo Play Box has been carefully designed with the guidance of child development experts, focusing on items that stoke baby's cognitive development (yep, their brain power). And they're not just crafted to boost smarts, they're made smart too; with eco-friendly materials like 100% cotton muslin and sustainably sourced natural rubberwood. That means you don't have to worry as much when playtime turns into teething time (which, let's be real, feels like it's all the time).
For example, the first box, for ages newborn through 12 weeks, is all about making connections with baby. You'll find the box packed with:
High-contrast toys: Like a crinkly sensory book and vision cards
Soft textures: Including a play scarf with ring and a lovey
Board book: "A little book about love" written by the founders of Lalo. (You'll get a board book in the first three boxes to help encourage a love of reading.)
Milestone blocks: For the many photo opps happening at home
Fun extras: Like a wooden rattle for visual tracking and hand-eye coordination
Then, as your baby grows and you move through the boxes, the play things will change to meet the needs of your baby's current developmental milestones. Lalo's Head of Play and Development wrote the Play Guides that come in each box, breaking down how you can use something like a pair of rattle socks that comes in the 5-6 Months box. For example, at 5-6 months, you can put them on baby's feet and encourage them to grab the rattles. Later, when they're around 9-12 months, put the rattle socks on baby's hands so they can hear all of the sounds they create.
The 5-6 Months box also includes several super-sturdy colorful wood toys like the baby car and roller. (Shout-out to the Tissue Box, which is a favorite among several Babylist Editors (and their babies). As your baby grows, the skills they're developing grow, too, adding fine motor skills and language development to the mix. For example, the stacking rocket that comes in the 19-21 Month box supports color recognition and counting abilities as they stack the brightly colored layers.
The idea of a play box may not be brand new, but the way that Lalo has approached their Play Boxes is a wonderful mix of curation and convenience; a delight in happy mail for both you and baby that's backed by research and big on options.
We found with these play kits it's not just about the toys. It's also about learning how your baby's brain works and the best ways to play for their current age (and beyond). Which can be a surprisingly empowering and rewarding experience when you're in the thick of new parenthood. And if you find yourself pulling colorful cloths from the Tissue Box and stacking blocks too, you'll find just one more benefit of play—having fun.
This article is sponsored by Lalo. Babylist's free site, apps and emails are made possible by our sponsors. We limit our sponsored content to relevant partners that offer products and services we believe in and use ourselves.
This information is provided for educational and entertainment purposes only. We do not accept any responsibility for any liability, loss or risk, personal or otherwise, incurred as a consequence, directly or indirectly, from any information or advice contained here. Babylist may earn compensation from affiliate links in this content. Learn more about
how we write Babylist content
and
review products
, as well as the
Babylist Health Advisory Board
.
The freshest in parenting this week, delivered to your inbox