Best Toddler Towers for Kitchens, Bathrooms and Beyond
Best Toddler Towers for Kitchens, Bathrooms and Beyond
Babylist editors love baby gear and independently curate their favorite products to share with you. If you buy something through links on our site, Babylist may earn a commission.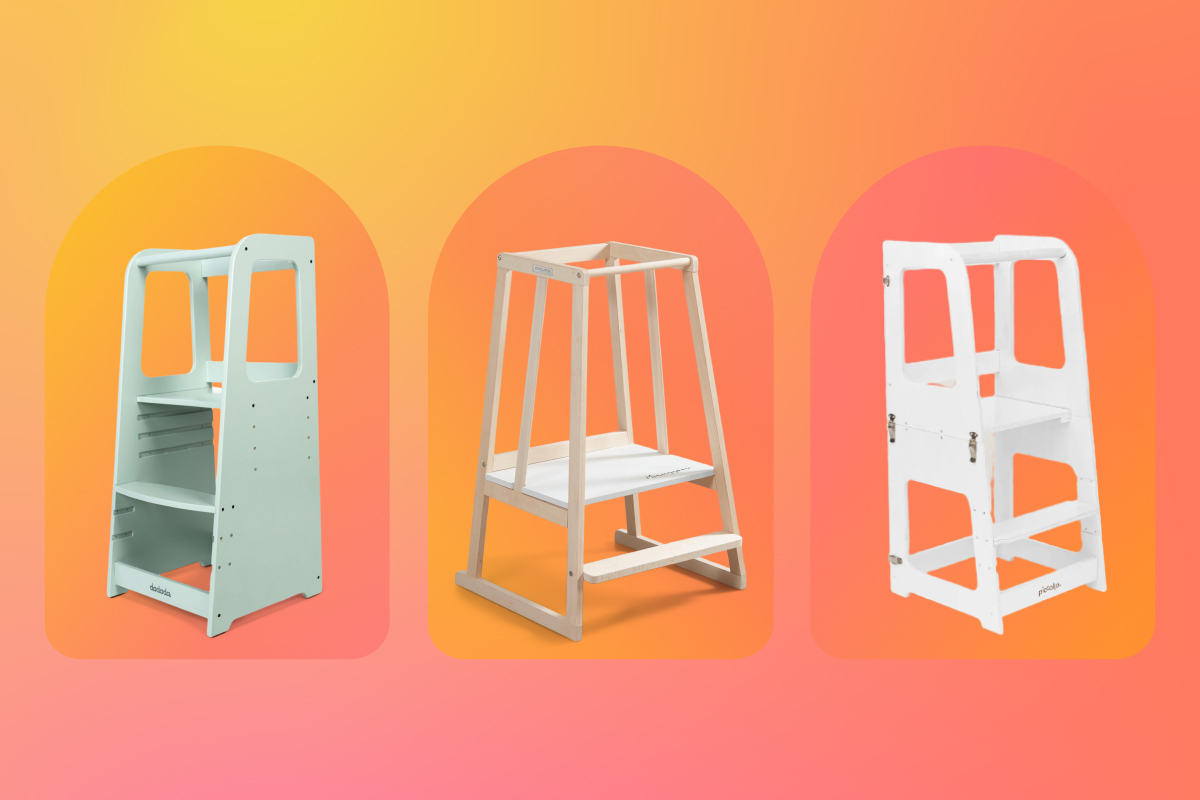 If your toddler is eager to tag along for household chores, it's not only adorable—but also a good sign that your days of tidying up and cooking meals by yourself are numbered. Research shows that helpful toddlers grow up to be excited and proactive little helpers by around age five. But before they can learn to turn on the sink or grab a washcloth, they need a safe way to reach the kitchen counter themselves. Enter the toddler tower!
Like step stools outfitted with safety rails, these modern contraptions are as fun for little ones to climb into as they are practical. But there are so many styles out there. A quick search brings up thousands of models equipped with everything from built-in chalkboards and add-on slides to wild colors and personalization options. It can be hard to pick one. Even rounding up the top five or so seemed a daunting task for us here at Babylist.
But our gear editor, Jen LaBracio, is no stranger to sniffing out the best baby products. And as Babylist's newsletter editor, it's my job to deliver the best content possible to new parents. So we teamed up, got our hands on the most highly reviewed and recommended toddler towers, assembled them ourselves and put our own toddlers to work testing them out. Here's what we learned followed by our favorite toddler towers.
What Is a Toddler Tower?
A toddler tower is a step stool optimized for toddlers with safety rails, sturdy bases, easy-to-wipe surfaces and thoughtful designs. And the contraption has many names. Popular makers also refer to toddler towers as learning towers, kitchen towers, kitchen helpers, standing towers, Montessori towers and, simply, toddler step stools. Some are even marketed as exclusively for budding chefs, with phrases like kitchen helper or kitchen tower.
When Can Toddlers Begin Using Toddler Towers?
On average, toddler towers are safe to use from one-and-a-half to two years old, when your little one can safely stand and walk on their own. When we plopped a younger toddler into one, we learned why: crawlers and very early walkers aren't able to steadily climb into or out of toddler towers on their own, and their little legs tire easily. Also, if they need to hold onto the rails in order to stay upright on the standing platform, sign language users (and grand gesticulators) aren't able to safely let go in order to communicate that they need help.
If you have older children who would like to use the toddler tower, too, it's worth noting that they often come with weight limits, which we've seen range from 60 to 250 pounds.
Are Toddler Towers Worth It?
A toddler tower isn't a must-have item, but certain families would get lots of use out of one.
A toddler tower might be right for your family if:
You enjoy cooking. Some toddlers make excellent kitchen helpers. (We're big fans of the tiny chef @chezoliz, who got his start measuring, stirring and taste testing in his high chair but has since graduated to a toddler tower.) Toddler towers also help little ones access the sink and (when they're ready) the stovetop so that your sous-chef-in-training can enjoy making meals with you—and cleaning up afterward, too.
Your toddler needs to reach the sink. Some children learn to wash their hands by themselves around two years old, when they're able to remember and handle all the steps for scrubbing clean—but aren't tall enough to reach the faucet. A toddler tower operates similarly to a step tool to give them independence but with the added flexibility of adjustable heights, larger standing platforms and safety rails to give them something to hold onto as needed for balance.
You have more than one child. If your toddler wants to join in on their older siblings' activities, a toddler tower allows them to access taller surfaces while standing on their own two feet.
You want to include your toddler in household chores. According to this list of age-appropriate toddler chores, the youngest toddlers can start helping out with things like washing vegetables, pressing the button to start the washing machine or dryer, handing you items from the dishwasher and squirting the plants with a water bottle. A toddler tower is a great way to help them reach many of these areas of the home independently and safely.
What Is the Best Toddler Tower?
When choosing a toddler tower, consider the size of the room(s) where your toddler will use it, whether you want it to fit in with other home decor and what additional features may make your life easier.
These are the features to think through before deciding what the best toddler tower is for you:
Size. If you'd like to pull your toddler tower up to the counter or the table, check the height of your furnishings first. Then decide whether you'd like the toddler tower to sit flush with that surface or, as one of us prefers, just underneath it. You'll also need to consider the size of the toddler tower itself, and whether or not it collapses for storage. If you live in a smaller space, or simply don't want your toddler tower as a permanent fixture in your kitchen, look for a tower that folds compactly for easy storage. (If you'll be storing your toddler tower somewhere else, consider that measurement, too.)
Weight. If you'll want to move the toddler tower from room to room (or stow it when not in use), check the weight to be sure you'll be comfortable handling and carrying it around. Some toddler towers have felt pads to make it easier to slide them around instead of lifting them. But bear in mind that children are not meant to use them unsupervised, and the sliding feature may be very attractive to some active toddlers. One of our own children pushed a lighter-weight toddler tower around the house and climbed up and over the top of it onto kitchen counters and other unsafe areas.
Versatility. If you have more than one child who will be using the toddler tower, and your children are different heights, you may need to adjust the standing platform and the bottom step each time they take turns. This is easier on some toddler towers, where you can easily slide out a step and then slide it into the position you need. You may want to avoid towers where you need to use a screwdriver or other tool to make these frequent adjustments. You'll also want to consider longevity. If you'd like to get the most out of your investment, consider finding a toddler tower with some of the features we mentioned earlier: built-in chalkboards, add-on slides and foldable bases that convert the toddler tower into a tiny table and chair.
Safety. Some toddler towers feature extra safety features to prevent children from falling out and onto the floor. If you're worried about this, look for safety rails along the back, mesh panels that cover wide openings and grippy tape on the steps. If your little one is a climber, like one of ours is, avoid toddler towers with anything that can help them scale the tower, such as cutouts on the side panels.
Appearance. Whatever your home looks like, there's a good chance there's a toddler tower out there to match it. So if aesthetics are important to you, try searching for something that suits your style first.
Cleanliness. Often, toddlers stand in these towers while completing untidy tasks like preparing meals, potting flowers and making crafts. And some toddler towers are easier to wipe down than others. Extra grooves and seams can be more difficult to clean, while smoother and simpler surfaces are generally easier to scrub.
How We Chose Our Best Toddler Towers
We put these toddler towers to the test! Two Babylist editors, gear editor Jen LaBracio and newsletter editor Alainna Wurfel, researched the best toddler towers and tested them with their own toddlers over a period of several months. We also drew from our own research, expert insight and real user reviews to choose the best toddler towers as you shop for your newest little kitchen helper.
---
Alainna Wurfel is Babylist's Newsletter Editor, a role that combines her enthusiasm for discovering new parenting tips and great baby gear with her love for writing. When she's not curating emails and creating content to support them, Alainna enjoys gardening, sewing and cooking. In past lives, she was an editor at The New York Times, The Wall Street Journal and Texas Monthly Magazine; and a marketing director at the design company Schumacher. She lives in Austin, TX with her husband and their toddler.
This information is provided for educational and entertainment purposes only. We do not accept any responsibility for any liability, loss or risk, personal or otherwise, incurred as a consequence, directly or indirectly, from any information or advice contained here. Babylist may earn compensation from affiliate links in this content. Learn more about
how we write Babylist content
and the
Babylist Health Advisory Board
.
The freshest in parenting this week, delivered to your inbox