Best Potty Chairs and Seats
Best Potty Chairs and Seats
Babylist editors love baby gear and independently curate their favorite products to share with you. If you buy something through links on our site, Babylist may earn a commission.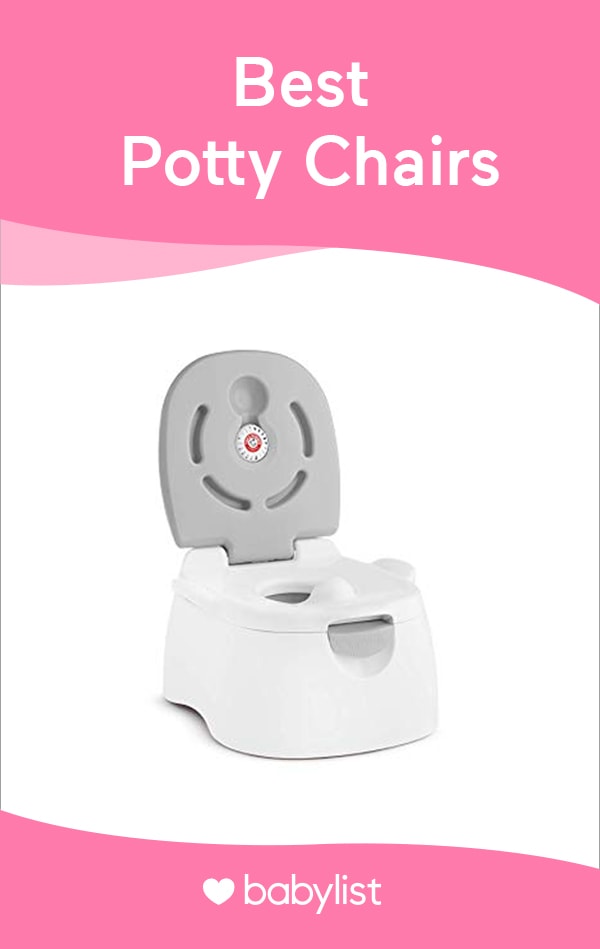 We're not going to lie, potty training isn't one of our favorite parenting jobs. But the bright side? Once your child is done with diapers, it'll all seem so worth it. Once you and your little one feel ready to tackle the big world of potty training, it's time to purchase a potty chair or seat and give it a go.
Potty Chair vs. Potty Seat
There are two potty training options: a stand-alone potty chair or a kid-size seat that fits onto your standard toilet.
Potty Chairs
| | |
| --- | --- |
| Pros: | Cons: |
| Easy for toddlers to sit down on since it's on the floor | The contents out of the basin must be dumped into a regular toilet |
| Often comes with extra features like a removable seat for using on the big toilet, wipes holder, realistic flushing noises or doubling as a step stool for the big toilet or sink | The basin must be cleaned out after each use |
|   | Can clutter up a small bathroom |
|   | Not as portable as a smaller potty seat |
Potty Seats
| | |
| --- | --- |
| Pros: | Cons: |
| Doesn't take up any extra bathroom space since it simply rests over the regular toilet seat | Your child will need a step stool to reach the seat |
| More portable than a potty chair | Needs to be removed from the toilet when grown-ups have to go |
| Often comes with larger handles than a potty chair to help your little one balance | May not fit perfectly over your toilet seat, leaving some room for shifting or for pee to get caught between the potty seat and toilet seat |
Do you need a potty chair or seat?
Many toddlers are intimidated by the size of the toilet, so starting off with a pint-sized version made just for them can often be a step in the right direction when it comes to potty training.
If you do want to skip the chair completely, which for some kiddos is totally fine, we do recommend purchasing a potty seat to put over your regular toilet seat. It often requires a balancing act for your kiddo's tiny rear not to fall through the hole in the toilet, so most parents find that adding a potty seat helps their little one feel more comfortable and relaxed. And most potty seats come with a splash guard to help keep everything in the toilet, so that's less cleanup for you. You'll also need a step stool so kiddo can reach the seat all by themselves.
When Do You Need a Potty Chair or Seat?
You'll probably notice sometime between 18 months to three years that your toddler doesn't need as many diaper changes because they aren't peeing as often. That's a great indicator that your little one may be ready for toilet training. Other signs might include an awareness when wetting or soiling their diaper or a sudden interest in all things potty.
Choosing What's Right for You
We know potty training can sound daunting, but we promise that with consistency and the right gear, you've got it covered. A few things to keep in mind as you decide what kind of potty to purchase should include:
How much space do you have in your bathroom?
Do you need multiple potties for multiple locations?
Can you deal with the ick factor of dumping and cleaning out a potty chair basin?
What makes your child feel the most comfortable and in control?
Best Potty Training Accessories
This information is provided for educational and entertainment purposes only. We do not accept any responsibility for any liability, loss or risk, personal or otherwise, incurred as a consequence, directly or indirectly, from any information or advice contained here. Babylist may earn compensation from affiliate links in this content. Learn more about
how we write Babylist content
and the
Babylist Health Advisory Board
.
The freshest in parenting this week, delivered to your inbox