How to Create a Toddler Reading Nook
How to Create a Toddler Reading Nook
Spark a life-long love of reading with a cozy book nook for your toddler.
Babylist editors love baby gear and independently curate their favorite products to share with you. If you buy something through links on our site, Babylist may earn a commission.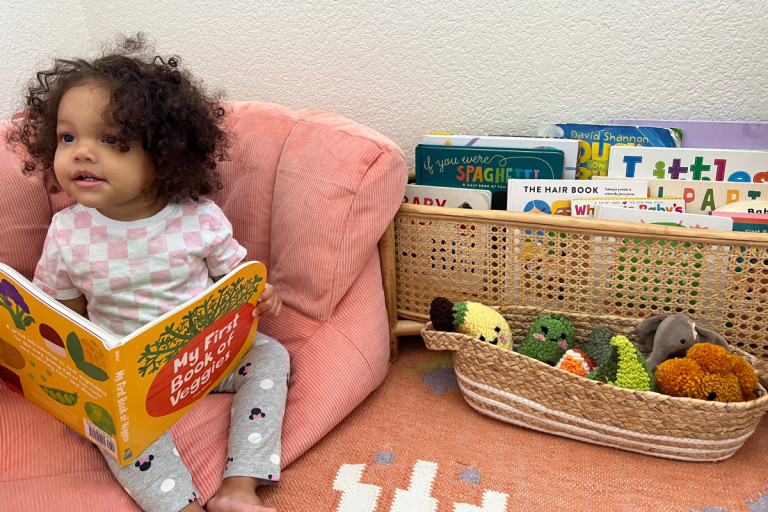 It's never too early to introduce your little one to the magic of books and how special it is to get lost in reading a great story. Reading to your child from birth is so important and has many developmental benefits. And it's never too late to start either—babies and toddlers can benefit from reading books at any age.
You can foster a love of reading by creating a quiet space in your home where your toddler can easily access and interact with their books. Commonly referred to as a reading nook, setting up this type of dedicated quiet space is both simple and can help your toddler fall in love with reading.
The Benefits of Reading to Toddlers
Reading is not only fun for toddlers, it also contributes to development in many areas such as:
Encouraging language development and vocabulary skills
Introducing shapes, colors and numbers
Encouraging cognitive development by engaging with both the reader and the book (pointing, touching and answering questions)
Promoting social-emotional skills
When kids are read to with a sense of joy and excitement, they'll learn to associate books with positive feelings—leading to a lifelong love of reading.
Tips for Reading with Toddlers
As busy as they are, toddlers sure do love to sit and read their favorite books with their favorite people. Here are a few tips for reading with your little one.
Let them choose the book they're most interested in. Pause to ask them open-ended questions about what's on the pages. Encourage them to engage with the book with you, like helping you turn the page or lift the flaps. Though not a requirement, using fun voices can make reading more exciting and keep your toddler engaged. It's totally fine if your toddler wants to read the same book over and over. Repetition can help give them a sense of comfort and predictability. Find a time that works with your family's schedule and make reading a book or two a special daily thing.
How to Set Up a Reading Corner
A cozy reading nook doesn't have to be elaborate; in fact, less is more. The following steps will help you create an inviting, cozy corner for your toddler to curl up with their favorite books.
Age-appropriate books. Younger toddlers do well with board books since they're durable and hold up to curious little hands. If you have hardcover books, you can remove (and save) the dustjacket so they don't get torn. Display book covers facing outwards. Having the book covers face your toddler will allow them to see their library and easily select their favorites. It's also a great way to display those beautiful book covers in your space.
Easy access to books. Display and store your toddler's books on low shelves or in baskets so they're accessible. Wall shelves are a popular choice, as well as book ledges. You can also just keep a basket of books in a quiet, comfortable spot if you can't (or don't want to) hang shelves. Put a few books out at a time to prevent them from feeling overwhelmed and rotate new titles in as they lose interest.
A cozy place to sit. Once you have the book setup figured out, add some comfortable seating. Floor pillows, bean bag chairs or cute kid-sized chairs work really well in toddler reading nooks. You can also use a padded playmat with a few throw pillows for extra comfort, or a modular sofa (like the Nugget couch) so the two of you can relax together. You may also want to add a soft blanket and a few of their beloved stuffed animals to cuddle up with too.
Good lighting. Whether it's natural lighting from a nearby window or from a floor lamp, make sure there is proper lighting to prevent eye strain. You can also add some string lights for an extra touch of whimsy (just be sure to keep them far enough away from curious little hands!).
Now that you have the basics of creating a cozy space, here are our favorite items to set up the perfect reading nook, plus a bunch of books your toddler is sure to love.
This information is provided for educational and entertainment purposes only. We do not accept any responsibility for any liability, loss or risk, personal or otherwise, incurred as a consequence, directly or indirectly, from any information or advice contained here. Babylist may earn compensation from affiliate links in this content. Learn more about
how we write Babylist content
and
review products
, as well as the
Babylist Health Advisory Board
.
The freshest in parenting this week, delivered to your inbox