Everything to Know about Parental Leave for LGBTQIA+ Parents
Everything to Know about Parental Leave for LGBTQIA+ Parents
Queer parents need to consider support systems, legal restrictions and more when planning for family leave.
Babylist editors love baby gear and independently curate their favorite products to share with you. If you buy something through links on our site, Babylist may earn a commission.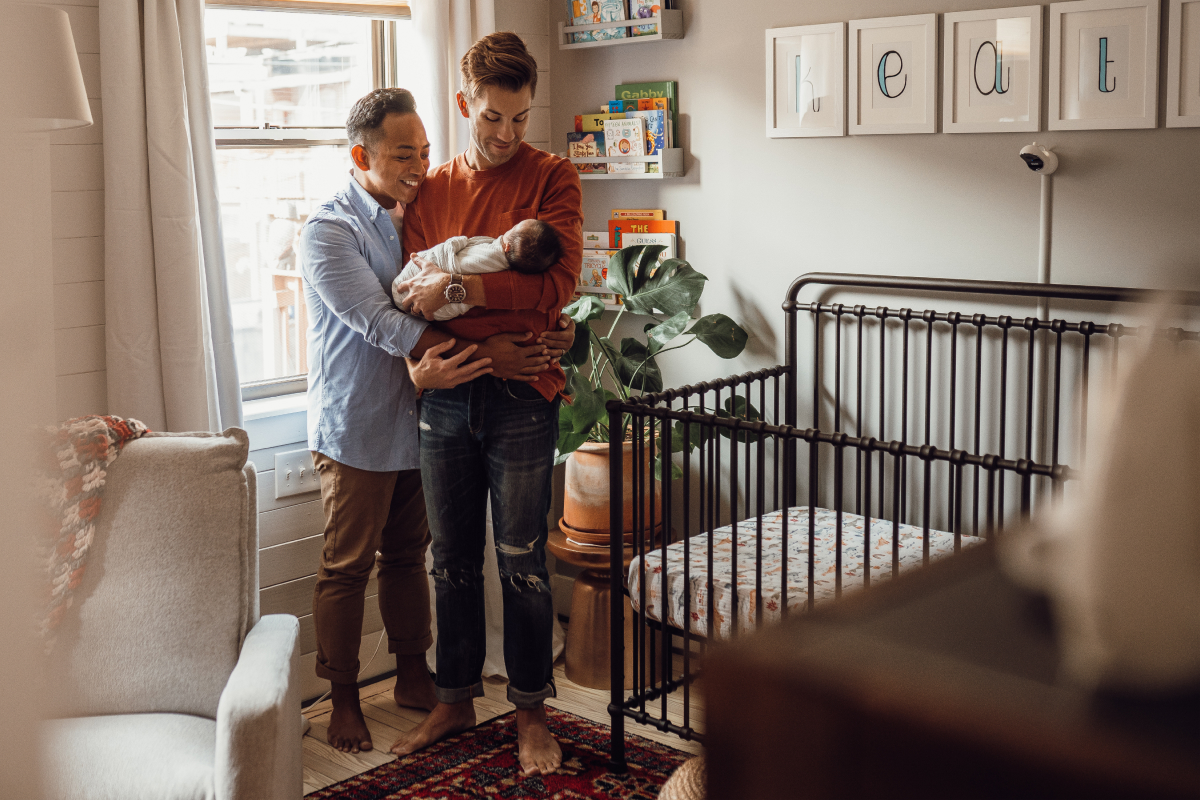 For many LGBTQIA+ parents, deciding to start or grow a family by adding a child to your house means more than daydreaming about baby names and nursery themes. Those Best Sex Positions For Getting Pregnant articles don't usually apply (despite your best efforts). Instead you make notes about your options, and then wonder if you can afford to create the family you want.
Pregnancy, surrogacy and adoption are typical ways same-sex, nonbinary and transgender parents choose to bring home a baby. While these are also options for cisgender and heterosexual people trying to conceive or adopt, LGBTQIA+ folks, especially those who rely on fertility resources not available in their home, face ongoing discrimination and stigma, restrictions from insurance companies, adoption agencies and health care providers.
When you're queer, growing a family can feel like both an act of intentional love and resistance.
The uphill battle to finally experience the joy of becoming a parent is worth it, but it shouldn't be such a struggle. And the fight often continues when LGBTQIA+ parents seek parental leave before and after a child is brought home.
Parental leave rights and restrictions for LGBTQIA+ parents
Moss, a nonbinary person, educator and full spectrum trans- and queer-centered doula, says, "Postpartum recovery and adapting to parenthood takes a lot more time, support and patience than our culture commonly affords. This applies to both gestational and non-gestational parents." They emphasize the need to carve out as much time as possible to focus on this huge life change for the physical, mental and emotional health of everyone in the family.
Despite the proven mental and physical health benefits of parental leave, the United States doesn't have a federally mandated policy when it comes to parental leave. The amount of time off after welcoming a child from birth, adoption or fostering—and whether it will be paid—depends on your employer and the criteria in which they say must be met under the Family Medical Leave Act.
The act was meant to protect a parent's job for up to 12 weeks, but it doesn't guarantee paid time off or even the full 12 weeks. Also, any necessary time off before a child is brought home will be deducted from those 12 weeks.
How marriage equality and parental rights impact leave
To make matters more frustrating and complicated, state laws vary on who can get paid leave and if partners are also eligible. Because of this, 58% of the known LGBTQIA+ population in the United States lives in states lacking parental leave laws. As of now, marriage is a federal right, though not all queer people want to get married. But when you are queer, a lack of a marriage means a parent may not be seen as a legal guardian to their child. It may also mean lack of parental leave.
When it comes to being recognized for parental leave, only 20% of queer parents live in states that will grant leave if they are in a relationship that is not legally recognized. Another 22% live in states where leave is granted but only with marriage.
Before marriage was federally legalized in 2015, I was only seen as my children's guardian in the state I lived in because our state allowed same-sex marriage and I was married to my children's birth mother. Because I didn't birth my children, I needed to adopt them through second-parent adoption, despite having purchased the sperm used to inseminate my then partner. I was self-employed when my children were born, so any time I took after their birth was unpaid.
Moss confirms this hurdle: "One unique challenge for many queer families is the financial and legal burden involved in growing their families using donor gametes (i.e. sperm and eggs). Legally, there are many legal agreements between the intended parents and donors that require the hiring of multiple lawyers, and court proceedings for things like second parent adoptions, that are necessary to best protect the legal rights of parents. These are both emotionally taxing and very expensive."
Add in visits to clinics and the need for medical intervention and you have people paying for services likely not covered by insurance. The need to take time off from work to make these appointments means queer people who are trying to conceive are taking vacation time, sick time and unpaid time off (if employers allow it) that cuts into leave time after baby is born.
How barriers rooted in sexism and stigma impact LGBTQIA+ parents
Rebecca Minor, a licensed independent clinical social worker and Gender Specialist in private practice, says, "LGBTQ parents may face stigma and discrimination in the workplace, making it difficult for them to take time off or receive support for their parental leave."
Almost half (46%) of LGBTQ people have reported being unfairly treated at their place of employment, and half of queer people say they are not out to their supervisor. Being a queer parent adds exponential layers of job insecurity, fear and stress when also trying to navigate parental leave or any time off to support their family.
Jeffery Bernstein, a nonbinary parent of twins, says their company was seemingly supportive of them taking parental leave. Bernstein, who uses he/they pronouns, and his husband were open about the fact they were planning to become parents via surrogacy. Bernstein says the company even supported them when the babies were born over a month early and needed to be in the NICU.
However, returning to work was a different story. "It was wretched. I was ostracized for 'having to leave and get kids from daycare,' and had to [stay home] when my kids were sick. I was often compared to a mom and asked, 'Don't you have a nanny at home that can do that?' It was terrible. I never missed a deadline, never let a project slip."
While many people think of parental leave as "maternity leave" or "paternity leave," the narrative needs to shift in terms of not only seeing fathers as people who should be home with their children, but that not all people who have children identify as being male or female. Nonbinary folks like myself, Bernstein and others have children, and many nonbinary parents, as well as transgender men, give birth.
Berstein calls the sexism they experienced "gross and toxic," as was referring to parenting as "woman's work." They want people to see parenting as genderless.
Jenna Lee, a mom of one, says her experience was fairly typical. "Since I'm a cisgender female and carried my baby, I don't know if that allowed me to 'pass' and have a similar experience to heterosexual parents."
Lee says she had access to 12 weeks of leave, but the only paid time off was time she had banked. Her wife had access to six weeks from her employer as the non-birthing parent.
Minor says employers need to understand the connection between the mental health impact of parental leave in the face of these workplace challenges for LGBTQIA+ parents. "It's important for employers and policymakers to create inclusive policies and support systems to ensure that all parents, regardless of sexual orientation or gender identity, have access to the resources and support they need," says Minor.
How LGBTQIA+ parents can get the most out of their parental leave
Minor addresses how being in a supportive environment after bringing home a child can help a parent bond with their child, reduce stress and minimize burnout. But she also recognizes that, for LGBTQIA+ parents, a supportive environment means leaning on a chosen family and staying connected to the queer community. "LGBTQ parents may not have access to the same support systems as heterosexual parents, such as bio-family or community support, leading to increased stress and anxiety," Minor says.
To minimize this anxiety, Minor recommends prioritizing self-care and stress management through meditation, yoga, connecting with friends and making time for hobbies. She also reminds parents that it's okay to ask for help. By knowing their limits, parents can set realistic expectations.
Moss reiterates the limitations of social support for queer families and says the connection between isolation and postpartum mood disorders can impact a queer parent's mental health. This is why robust support is so important and often comes from a variety of sources. "Visits include help around the house and help with caring for the baby from close ones, professional support from people like postpartum doulas and therapists, and community assistance with food and supplies are all pillars of a support structure," they say.
Lee says she and her wife received the bulk of their support from friends. "Our friends organized a meal train and brought food over during the first few weeks. Typically, [friends] held our baby and chatted with us during visits." Lee's parents, who are divorced, came to visit, but her wife's family didn't offer more than a congratulatory text message.
Lee also benefited from a private doula (which was not covered by insurance), a lactation consultant and a local postnatal yoga class.
All parents deserve the benefits of parental leave, and that includes queer parents. There is a growing network of queer and trans-affirming providers who can help navigate some of these hurdles. Whether you are comfortable with your employer or not, do what you can to find flexibility while maintaining the autonomy you desire. And always reach out to a professional if you are struggling with your mental health. There is no shame in being a queer parent or in being a queer parent who needs help.
When you are a queer parent, there are extra layers to consider when building a family—and that includes parental leave. Here is a reminder of considerations to get the most out of your leave:
Find out what kind of parental leave is offered for both birthing and non-birthing parents at your place of employment. How long is leave and is any of it paid?
Based on your relationship status, determine if state laws where you live impact your parental leave.
Ask if your employer is willing to be flexible when it comes to parental leave by allowing you to take unpaid time off or adjusting your schedule to be available at home to support a partner.
Know if there's a non-discrimination policy in place at your place of employment. Do you have a plan if you experience discrimination?
Establish support systems (i.e. lactation consultant, doula, friends) for when you bring your child home.
Make a plan to prioritize your mental health.
---
Amber Leventry is a queer, nonbinary writer and advocate. They live in Vermont and have three kids. Amber's writing appears in many places including The Washington Post, Romper, Grown and Flown, Longreads, The Temper and Parents. Follow them on Twitter and Instagram @amberleventry and reach out to hire them for speaking engagements and LGBTQIA+ training sessions.
This information is provided for educational and entertainment purposes only. We do not accept any responsibility for any liability, loss or risk, personal or otherwise, incurred as a consequence, directly or indirectly, from any information or advice contained here. Babylist may earn compensation from affiliate links in this content. Learn more about
how we write Babylist content
and the
Babylist Health Advisory Board
.
The freshest in parenting this week, delivered to your inbox