How to Share Pride Month with Your Toddler
How to Share Pride Month with Your Toddler
Toddlers aren't too young to learn about the LGBTQIA+ community. Here are important lessons to teach.
Babylist editors love baby gear and independently curate their favorite products to share with you. If you buy something through links on our site, Babylist may earn a commission.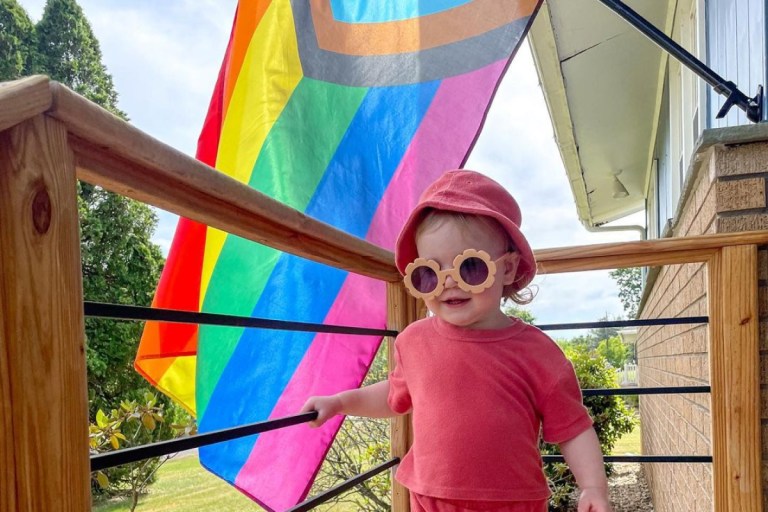 Pride Month started in 1970, one year after the Stonewall Riots incited gay, lesbian and transgender people to self-organize and fight for the rights and safety they deserve. And now, Pride Month is a focused time of year when members of the LGBTQIA+ community uplift each other and call upon allies to help with the fight to live and thrive as their authentic selves. Each June, the LGBTQIA+ community celebrates their joy and resiliency with festivals, events and parades.
You may still be learning about Pride and the spectrum of the queer community, so when it comes to teaching your little one about Pride month, it makes sense if you aren't sure where to start. The good news is that you're starting early. Raising kids who are open-minded and empathetic also invites children to share information about themselves that may have otherwise not felt comfortable sharing. Opening the door to conversations about Pride lets your child know you are an ally to them.
Like any topic, toddlers don't need (or want) more than a simple, age-appropriate lesson. And, despite what some may say, toddlers are not too young to know about Pride or the LGBTQIA+ community.
"Toddlers are old enough to decide if they want to hug someone, so that's basically teaching them consent," says Holly Moyseenko (she/her), a sexual health educator. "How hard could it be to begin to talk about Pride?"
Here's how:
What To Consider When Introducing Pride to Your Toddler
It's critical that we teach our children how to respect themselves and others. We can teach toddlers that kindness and diversity are amazing traits; we can also show them that the LGBTQIA+ community is full of talented, beautiful and unique people who deserve and need allyship. But first, parents and caregivers need to do a little self-reflection.
"[If you are a] cishet parent, it is essential to assess your own level of comfort with the queer community and what contributes to [any] resistance," says Dr. Alfonso Ferguson (he/him), a counselor educator at Saybrook University and the founder of Goodwerk, a psychotherapy company primarily serving LGBTQIA+ BIPOC community members. He says that when you avoid looking at the bias you bring into introductions about Pride or the queer community, you can inadvertently but "negatively influence the child's thoughts, feelings and perception of the queer community."
Monseeko reiterated that "kids aren't too young" to learn about Pride, but adults may not be as educated as they need to be when introducing some topics to their kids, and that can include Pride. "The world is continually changing, and even educators on these topics need to stay up to date." Ferguson agrees that it's imperative for parents (whether queer or not) to be proactive in learning both LGBTQIA+ history and present issues impacting queer folks in order to understand their roles as allies or members of the LGBTQIA+ community.
How to Incorporate Pride and Allyship Into Every Month
For both queer families and allies with young kids, Pride can be introduced anytime of the year and should be incorporated into daily life. Sa'iyda Shabazz (she/her), lesbian mom from California, says, "When my son was little, I used picture books to talk about Pride. We had a few, and I remember him liking one about Stonewall. At that age, picture books were how we related to a lot of social issues. I think it was easier for me as a queer parent to relate how the books applied to history in my life because I could use examples from our life." She said that books give all kids something concrete they can relate to, though. Kids can recall characters and stories and apply those lessons to their real lives.
"You can intentionally introduce toddlers to the queer community and Pride through queer affirming consumption of media and entertainment," says Ferguson. Over the years, more children's books have been published that challenge heteronormativity and elevate queer stories. Similarly, Ferguson says it can be useful to introduce children's shows with characters that have two moms or two dads. "Increasing exposure to the queer community and answering questions children may have about non-heteronormative experiences can also support in introducing [Pride] to toddlers."
Don't Just Show Pride, Practice It
"It's important for parents to be proactive in cultivating safety and freedom for children," says Ferguson. Here are some ways parents and caregivers can navigate conversations with their toddlers that will allow space to learn about and carry the meaning of Pride forward:
Encourage curiosity. Practice and encourage curiosity that is age appropriate. It's important to let children explore thoughts, ideas and feelings that may be unique to them and not common within the context of what their family looks like.
Diversify play. Jennifer Stalley (she/her), a former educator with a degree in Gender Studies, says parents can't overlook the power of play when it comes to empathy and learning. "Children need to practice and process through play, and Pride should be no different! Make sure parents aren't just talking about Pride, but give children a chance to role play with representative toys as well. For example, include two brides in an imaginary wedding or two daddies when playing house."
Teach Equity. When parents understand the privileges they have, they can use it to create more equitable spaces for everyone. This starts with showing kids how systems are more fair for some just because of their identity, race or financial background.
Continue to normalize and learn about queer experiences. The LGBTQIA+ community, like many underserved communities, is not a monolith. Learning more about gender expression, including pronoun use, sexuality and the stereotypes and laws that may impact a person's right to live authentically, will help you show your child the importance of being true to yourself and supporting others to do the same.
Attending a Pride Event with a Toddler
With any outdoor or public event, there are usually crowds to navigate at Pride. To make things easier on yourself and your little one, here's what to bring:
A back carrier or front carrier while you watch a parade or show to keep your child close to you and help them see better over a crowd.
Extra water and snacks. There are usually food vendors at Pride events, but lines can get long and the cost can add up if you rely solely on food trucks to fuel your day.
Cash. As much as we rely on credit cards, there are still times when technology fails.
While there may not be a specific guidebook on Pride etiquette, if you're not a part of the community that's being celebrated, make sure you're making space for the individuals who are. You can do this by remembering the privilege and bias you may be bringing into the event or festival. And if you're not ready to or comfortable with calling yourself an ally, Ferguson recommends that you don't go to a Pride event. Pride is for people to feel safe, seen and empowered.
Amanda Marino (she/her), mom of two from Vermont, says when she and her wife go to Pride with their daughters, "We are letting other people know we are here and that they are not alone."
Many Pride events are family friendly as well as family focused, but as with any event, some content may not be suitable for all ages.
Monseeko reminds parents of this example: "You probably wouldn't take a toddler to see an R-rated movie, so keep in mind the same things for drag shows. Not all drag shows are family friendly, but many are! Drag Story Hour is a fantastic place to start with kids, and they're extremely family friendly. Even the books for Drag Story Hour are specially chosen and include lots of topics about diversity and inclusion."
Before attending a Pride event, remember why the celebration exists. Be prepared, as an ally, to listen and learn. And dance. There will be so much dancing.
This information is provided for educational and entertainment purposes only. We do not accept any responsibility for any liability, loss or risk, personal or otherwise, incurred as a consequence, directly or indirectly, from any information or advice contained here. Babylist may earn compensation from affiliate links in this content. Learn more about
how we write Babylist content
and
review products
, as well as the
Babylist Health Advisory Board
.
The freshest in parenting this week, delivered to your inbox