Best TV Shows for Toddlers
Best TV Shows for Toddlers
Ready to introduce your tot to screen time? Here's what to know (plus the best shows to watch).
Babylist editors love baby gear and independently curate their favorite products to share with you. If you buy something through links on our site, Babylist may earn a commission.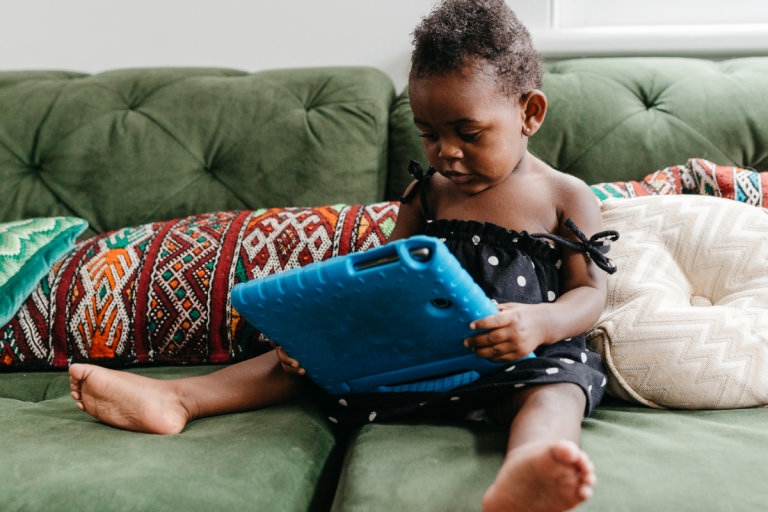 Toddlers are exposed to screens everywhere—whether it's watching a show, Facetiming with grandparents or seeing a parent on their laptop while they're working from home. And sure, there are much better ways for toddlers to spend their time than watching TV. But we're going to be completely honest and admit that sometimes parents just need a break. As with anything in life, moderation is key. "If parents are thoughtful about the content their kids are watching and they're balancing TV time with other activities, there's no reason not to allow toddlers to enjoy some quality entertainment," says Dr. Supreet Mann, the Director of Research at Common Sense Media.
Here's what to know about toddlers and screen time and how to set healthy boundaries around it.
Screen Time Guidelines for Toddlers
How much screen time is okay for toddlers? Unfortunately, there isn't a cut-and-dry answer. According to the American Academy of Pediatrics (AAP), "there isn't enough evidence demonstrating a benefit from specific screen time limitation guidelines."
Instead, the AAP only explicitly recommends avoiding screen time completely for babies under 18 months. For children older than 18 months, they recommend focusing on "the quality of interactions with digital media and not just the quantity, or amount of time." In addition to the quality of what your little one is watching, pay close attention to how your toddler behaves while they're watching a show (and after) to gauge how it's affecting them. Also, be sure to balance with time away from screens doing things that'll benefit development like plenty of free play, reading books and time outdoors.
With the above in mind, here are the AAP's general guidelines for toddler screen time:
Under 18 months: it's best to avoid all screen time except for things like Facetime or Zoom calls with friends and family.
18-24 months: this age is the earliest you should introduce your toddler to television, if you choose to do so. Be sure to stick to high-quality, educational shows and try to watch them with your toddler as much as possible.
2-5 years: try to limit your toddler to no more than an hour a day of screen time and be sure they're watching high-quality programming. Co-viewing (watching with them) is beneficial since you'll be able to help them process what they're seeing and relate it to the environment around them.
How to Make the Most of Screen Time
Children don't need screens to learn—hands-on exploration and free play are best for supporting their physical and cognitive development. However, with high-quality programming and intentional co-viewing (watching with your toddler), you can make watching TV a bit more valuable. It can also be a great tool for parents (who don't have a village or reliable support) to use when they're in need of a breather. Setting limits and boundaries can help you navigate screen time in a healthier way with your little one.
Here are a few things you can do to make your toddler's screen time as beneficial as possible:
Set time limits. Whatever you choose to let your child watch, be sure to set some time limits. Screen time shouldn't replace other aspects of your toddler's routine, such as outdoor play, reading books or interacting with you. Looking for shows with shorter episodes or smaller segments within an episode can help you stay mindful of how long they've been watching. For older toddlers, you can implement a timer to help signal it's time to move on to another activity. And if they're having a hard time transitioning away from screen time, this can be an indicator that you may need to cut down.
Choose less stimulating shows. TV shows aimed at children tend to be really busy, noisy and fast-paced, all of which can be overstimulating to younger viewers. "Start out slow with toddler-targeted shows that are gentle, brief, high quality and age-appropriate," says Dr. Mann. You'll want to find a show that has a slower pace, muted color palette and doesn't sound like a rave (find some of our favorites below!).
Pay attention to themes and messages. Children are soaking in everything they're exposed to so you'll want to make sure you vet the shows they're watching. And make sure they're age and developmentally appropriate. Look for shows that align with your toddler's interests and promote learning in various areas such as language development, problem-solving skills or creativity.
Co-view with your toddler. Watching TV with your toddler has a range of positive effects—asking questions and discussing the show's content can "help children understand how television lessons apply in real life by talking about empathy with others and discussing educational lessons that were included in the show," Dr. Mann says. This will help reinforce positive learnings from the show as well as help them process what they're watching.
Vet your child's shows. It's a good idea to do a little research and look into the shows your toddler is watching to make sure they're appropriate. Common Sense Media has super helpful toddler tv show guides with ratings and reviews for virtually any TV show or movie you can think of.
By creating a well-rounded schedule and setting some boundaries, you'll be able to strike a healthy balance between screen time and other activities that support your toddler's development.
The Best TV Shows for Toddlers
With so many options available, it can be overwhelming to know where to start. We've rounded up a list of the best TV shows for toddlers.
Sesame Street
Sesame Street is an iconic television show that's been both entertaining and educating viewers for generations. This series features a diverse cast of characters, including Big Bird, Elmo and Cookie Monster, who embark on fun-filled adventures in the colorful neighborhood of Sesame Street. The show's characters navigate valuable social-emotional lessons as well as introduce letters, numbers, shapes and so much more. Episodes tend to be around 30 minutes but are generally segmented, making it easy for parents to find stopping points when their toddler has reached their screen-time limit.
| | |
| --- | --- |
| Episode length: | 30 minutes |
| Where to stream: | PBSkids.com, Max, Apple TV, Prime Video |
Mister Rogers' Neighborhood
Another classic show that's captivated viewers for generations—you won't find many characters as welcoming and warm as Mr. Rogers. Through each episode, toddlers can learn about important themes such as empathy, kindness and acceptance. Fred Rogers takes them on field trips to interesting places, introduces them to fascinating people and explores various concepts that nurture their emotional and cognitive development.
| | |
| --- | --- |
| Episode length: | 30 minutes |
| Where to stream: | PBSkids.com |
Reading Rainbow
Reading Rainbow is a timeless children's show that combines the joy of storytelling with the excitement of exploration. Each episode focuses on a different book, bringing the pages to life with engaging animations and vibrant illustrations. It also explores important themes like friendship, diversity, and problem-solving while introducing toddlers to various cultures, historical figures and science concepts.
| | |
| --- | --- |
| Episode length: | 28 minutes |
| Where to stream: | PBS Kids Channel on Prime Video |
Bluey
Bluey, named for its adorable main character, showcases a Blue Heeler puppy and her family. Follow Bluey and her little sister, Bingo, as they engage in simple, imaginative play learning valuable life lessons and building social-emotional skills through their games. Each episode explores themes like friendship, problem-solving and empathy. Episodes are short and sweet and many parents report they're huge fans of Bluey as well!
| | |
| --- | --- |
| Episode length: | 7 minutes |
| Where to stream: | Disney+ |
Puffin Rock
Puffin Rock revolves around the puffin siblings, Oona and Baba, and toddlers can watch as they explore their beautiful island home and encounter various adventures. Along the way, they learn important themes like friendship, problem-solving and empathy. It's a less stimulating show thanks to its slower pace and softer color palette.
| | |
| --- | --- |
| Episode length: | 7 minutes |
| Where to stream: | Netflix |
Daniel Tiger's Neighborhood
Each episode of Daniel Tiger's Neighborhood is filled with heartwarming stories that teach important social and emotional skills. From sharing and kindness to dealing with big emotions, this show covers a wide range of beneficial themes for toddlers that parents can use to start conversations to help tie what they're watching to the real world around them.
| | |
| --- | --- |
| Episode length: | 11 minutes |
| Where to stream: | PBSkids.org, Prime Video, Apple TV |
Ms. Rachel's Songs for Littles
If you spend any time around other parents or on social media then you've most likely heard of Ms. Rachel. With different videos for toddlers and preschool-aged children, her fun and interactive songs introduce little ones to important concepts like colors, shapes and numbers in an enjoyable way. Videos tend to be a bit long but contain multiple segments that you can use to divide the episodes into a more developmentally appropriate length.
| | |
| --- | --- |
| Episode length: | 2 hours |
| Where to stream: | YouTube |
If You Give a Mouse a Cookie
Based on the book series by Laura Numeroff, this animated series follows the adventures of a curious little mouse who is always one step away from a new adventure. Each episode is filled with valuable themes for toddlers—from teaching them about cause and effect to instilling the importance of friendship and imagination.
| | |
| --- | --- |
| Episode length: | 25 minutes |
| Where to stream: | Prime Video |
Trash Truck
This series follows the adventures of a little boy named Hank and his best friend, Trash Truck, a big, friendly garbage truck who comes to life. Each episode contains messages about the importance of kindness and helping others to the joy of sharing and making new friends. The show also introduces toddlers to concepts like recycling and sustainability in an age-appropriate way. Another bonus, the animation is slower-paced and features a softer color palette that can be less stimulating for toddlers.
| | |
| --- | --- |
| Episode length: | 15 minutes |
| Where to stream: | Netflix |
Bug Diaries
Bug Diaries is about a group of three bug buddies that explore important themes like social-emotional skills and working together as a team to problem-solve. The show also highlights the wonders of nature and encourages a sense of curiosity and exploration. It's another show that features simple animation, which can be less stimulating for little ones.
| | |
| --- | --- |
| Episode length: | 25 minutes |
| Where to stream: | Prime Video |
Guess How Much I Love You
The classic book Guess How Much I Love You comes to life in this sweet show about the adventures of Little Nutbrown Hare and friends. The show features beautiful watercolor animation, a slower pace and short episodes. Each episode contains positive messages about love and friendship and also highlights the bond between little ones and their parents.
| | |
| --- | --- |
| Episode length: | 11 minutes |
| Where to stream: | Prime Video |
EXPERT SOURCES
Supreet Mann, PhD Director of Research at Common Sense Media.
Common Sense Media: Parenting, Media, and Everything in Between
This information is provided for educational and entertainment purposes only. We do not accept any responsibility for any liability, loss or risk, personal or otherwise, incurred as a consequence, directly or indirectly, from any information or advice contained here. Babylist may earn compensation from affiliate links in this content. Learn more about
how we write Babylist content
and
review products
, as well as the
Babylist Health Advisory Board
.
The freshest in parenting this week, delivered to your inbox