Best Art Toys and Supplies for Toddlers
Best Art Toys and Supplies for Toddlers
Don't be afraid to make a mess; these art supplies can develop a toddler's skills and inspire creativity.
Babylist editors love baby gear and independently curate their favorite products to share with you. If you buy something through links on our site, Babylist may earn a commission.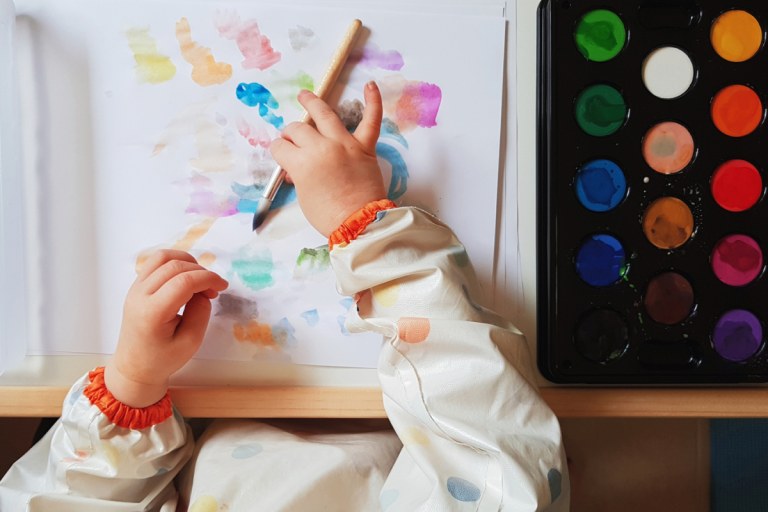 The freedom to explore and express creativity through art is one of the best gifts you can give your growing toddler. From coloring and finger paints to playdough and sidewalk chalk, artistic play is the perfect way to foster creativity in your little one—and develop lots of other important skills along the way.
Art is not only fun for little ones, but it teaches too. Creative play helps babies and toddlers develop important early childhood skills like sensory and fine motor skills, problem solving, cognitive development, self-confidence and even early math skills like recognizing shapes, sizes and patterns.
When you're sitting down to make art with your kiddo, keep in mind that it's the process, not the final product, that matters. (Although all those masterpieces will definitely liven up the front of your refrigerator!) Working on an art project together is a great time to work on language skills by talking to your toddler about what they're making or asking them open-ended questions about their work. It can also be super empowering; there's nothing quite like watching a 2-year-old rock their independence by dipping that paintbrush in every.single.color.
Before you and your little Picasso get to work, you might want to keep a few things in mind:
Dedicate a workspace for creative, artistic play. It can be anything from a small desk in the corner of a playroom to a larger space with a craft table or easel; just make sure there's enough room for your little one to spread out.
Prep for mess. If cleaning finger paints out of your carpet doesn't sound like your idea of a good time, be sure to invest in a good smock and a drop cloth for the floor. You can thank us later.
Supplies are key. Give your little one free reign to make art whenever the inspiration strikes. (While you keep an eye on them, of course!) This means you'll need to stock your art space with safe, kid-friendly supplies like child-safe scissors, glue sticks and easy-grip crayons and markers. We also love lining tables with rolls of craft paper for maximum creativity!
Keep your activities age appropriate. For younger toddlers from 12-18 months or so, this often means lots of supervised sensory play (shaving cream canvas, sand play or finger paints) and simpler projects (sponge paints or large chalk), while kids closer to 2 may start to enjoy more traditional art projects like coloring, painting, collages or modeling clay.
Don't forget to have fun! Toddlers love to express themselves, and art is a great way to empower them to do just that. Let them explore, create and play.
Here are some of our favorite art toys and supplies for your burgeoning little artist!
This information is provided for educational and entertainment purposes only. We do not accept any responsibility for any liability, loss or risk, personal or otherwise, incurred as a consequence, directly or indirectly, from any information or advice contained here. Babylist may earn compensation from affiliate links in this content. Learn more about
how we write Babylist content
and
review products
, as well as the
Babylist Health Advisory Board
.
The freshest in parenting this week, delivered to your inbox