The Best Crafts for Toddlers
The Best Crafts for Toddlers
Get your fridge magnets ready for these display-worthy toddler crafts.
Babylist editors love baby gear and independently curate their favorite products to share with you. If you buy something through links on our site, Babylist may earn a commission.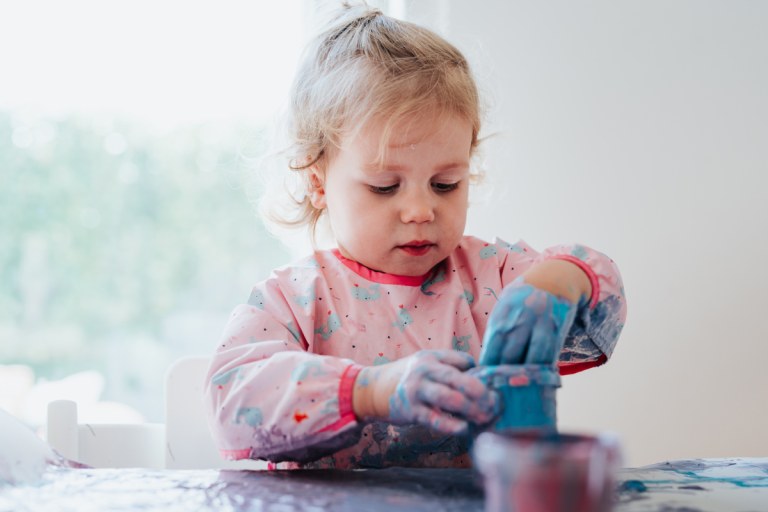 Toddler art, no matter the medium, encourages creativity and self-expression. From painting to drawing, arts and crafts also provides your little one with a ton of learning opportunities. And there's something so sweet about hanging their first piece of art on your refrigerator. The best crafts for toddlers are simple and child-led. While there's nothing wrong with coloring within the lines or following that step-by-step paper plate dinosaur tutorial, giving your toddler the freedom allows for endless creativity. They'll get to explore their imagination and feel good about what they've made.
And you don't need to stock up on a bunch of craft supplies either—just the basics will do! A few things to have on hand include paper, crayons, washable paints and nontoxic glue like Elmer's. You can add on fun options like stickers, stamps, tissue paper, pom poms, googly eyes and pipe cleaners as they grow. Common household recyclables (such as toilet paper rolls and cardboard boxes) make for fun crafting canvases as well.
The Benefits of Arts and Crafts for Toddlers
Before you and your little artist get to work, it can help to understand a few of the benefits of art for toddlers (besides all of the fun, of course).
Fine motor skill practice. Gripping paint brushes and crayons is great for developing dexterity, which is essential for later writing skills.
Language development. Making art comes with a ton of opportunities to talk with your toddler about what they're doing, as well as name shapes and colors.
A rich sensory experience. Art also exposes toddlers to different colors, textures and physical properties.
Creativity. Being able to explore, imagine, make decisions and take risks while crafting encourages creativity, which contributes to developing the skills for innovation—characteristics many of us wish to instill in our children.
As you dive into art projects and get your little artist get to work, it can help to understand a few of the benefits of art for toddlers (besides all of the fun, of course).
Trust the process. It's not just about the finished piece—the actual process (what they're doing) is more important than the end result. Though we do agree it's so sweet hanging up their little masterpieces.
Keep it age appropriate. You'll want to pay close attention while crafting with your toddler, especially if they're still fond of putting things in their mouth. And keep it simple; toddlers don't need an elaborate crafting project to have fun. The simpler, the better.
Prepare for the mess! Lay down a mat (a high chair splat mat is a great option) to catch paint drips. You can also get a smock to protect their clothing too. Having baby wipes nearby is also a good idea for quickly wiping hands, faces, arms, the table—you name it.
Have fun with it! Think outside the box. Color outside the lines. All things toddlers are already so good at doing.
The Best Craft Ideas for Toddlers
Crayons + Paper
Crayons and paper make the best introductory craft. There are a ton of crayon options to choose, from a box of Classic Crayolas to chunky beeswax crayons. Younger toddlers may benefit from jumbo crayons and those with unique shapes designed for little fingers (like Sproutling's First Grasp natural crayons or the Crayola egg-shaped palmar grasp ones).
Finger Paints
A simple set of washable finger paint is another great basic toddler craft. Cover their play table (or the floor) with easel paper, add some paint to a spill-proof paint cup or two and watch the masterpieces unfold. Look for paint brushes with chunky handles to start (we like these options from Honeysticks and Melissa & Doug) and work up to those with thinner handles as they grow. And they're not called finger paints for nothing—they'll have so much fun painting and mixing colors with their fingers. This simple activity also provides plenty of learning opportunities like practicing color recognition.
Sticker Collage
Stickers are not only fun, they also provide valuable fine motor skill practice. Whether they're decorating a piece of paper or themselves, toddlers become immersed in working to peel the stickers off of the sheet. A pro tip: if they're struggling to get the stickers off, remove the extra background (the sticker space around the actual stickers) to make it a bit easier for them. Once they've mastered that, you can leave the extra material there.
Sticky Wall
The "Sticky Wall" is a craft that's sure to hold their attention and bring about a ton of fun. Simply hang some contact paper on the wall and give them a basket of foam shapes, paper cutouts and pom poms. They'll have so much fun exploring the texture of the contact paper and sticking (and then removing) the materials.
Paper Shapes + Glue
If giving your toddler free rein with Elmer's glue sounds like the worst idea, you're not alone. But we promise this one will be fun! The key is giving them a tiny amount of glue and letting them "paint" it on their paper with a paintbrush (this encourages them to keep it off of their hands). Then they can stick shapes on the paper with endless design opportunities. As they grow older, they can paint glue directly on the shapes before placing them down. This craft provides fine motor practice as well as opportunities to learn shapes and colors.
Foam Paint
Foam paints offer a rich sensory experience, feel really cool and give a unique marble effect. Mix shaving cream and as many drops of food coloring as you want (the more drops you add, the more saturated the color will be). Your toddler will definitely want to use their hands for this craft project, but you can also offer a paintbrush if you like. And if you have a little one who's still interested in putting things in their mouth, swap shaving cream for Cool Whip instead to make a taste-safe activity. You can also turn this into an engaging sensory activity by putting the foam in a bin to let your toddler scoop and pour, or hide some dinos or farm animals for them to find.
Fingerprint Flowers
This one is technically parent-directed, but it makes for such a special keepsake or gift. You'll start by drawing a stem (or a few) in a pot or vase. Then help your toddler dip their finger in paint and make fingerprint petals. Once you've got the flowers, you can let them go to town on a new sheet of paper and make a fingerprint collage.
Handprint Cactus
Handprint art is another sweet keepsake or gift idea. Start by drawing or cutting out a plant pot. Next, you'll paint your toddler's hand. Model holding your own fingers out flat with your palm up and have them copy you. Then you can paint their hand (don't worry, most toddlers can't resist squishing the paint) and have them press their hand onto the paper. Once their handprint is dry, cut it out and glue it to the pot and you've got the cutest little cactus you've ever seen. A tip: write their name and age on the back!
Water-Resistant Art (crayons + watercolors)
Sort of like a combination of art and science project, this one's a little bit magical. Start by taking a crayon and drawing out a design or writing out letters on a sheet of paper. (Hint: a white crayon works best for this). Then let your toddler reveal the artwork by painting with watercolors (we like Crayola's My First Watercolor set). And keep just a small amount of water in a cup for painting, that way if any spills happen there will be less to clean up.
Pom Pom Paint Stamps
Paintbrushes and fingers aren't the only tools your toddler can use to paint. Pom poms provide a fun spin on painting as well. You can also take this simple craft up a notch by giving your toddler clothes pins to grab the pom poms with before painting. This provides some fine motor practice and acts as a makeshift handle. There are a few other variations you can try, too: collect a few toilet paper rolls and they can dip the ends in paint and make circles (or bubbles), or cut up a kitchen sponge for stamping.
Cardboard Box + Markers
If you're a frequent online shopper, you've probably got a lot of cardboard boxes lying around. Find the biggest one, throw in some markers, put your toddler inside and let them decorate it! This makes for the perfect indoor activity on a rainy or super hot day. An added bonus: once they're finished (and depending on how big the box is), they've got a new playhouse, pirate ship or rocket to play in.
Egg Carton Caterpillars
Fans of The Very Hungry Caterpillar will love this toddler craft idea. Cut up an egg carton for your toddler (leaving four to five cups), then have fun painting and decorating it. You can help them attach pipe cleaners for legs and glue on some googly eyes, and they'll have their very own adorable caterpillar friend for the next storytime.
Cereal Necklaces
Grab some yarn and get out your box of Cheerios for this simple project. While it looks super simple, making cereal jewelry is a great activity for both cognitive development (problem-solving and focus) and hand-eye coordination. You can also boost the learning factor (without sacrificing fun) by counting out the Cheerios. Or even go for Froot Loops and add in some sorting and color recognition. Plus, once they're finished, they've got a snack ready to go.
Paper Bag Puppets
Another fun craft is making puppets out of paper lunch bags. Your toddler can decorate the bags using crayons, paint and googly eyes—the options are endless. And the fun doesn't stop there! Once dry, the two of you can put on a puppet show for even more entertainment.
This information is provided for educational and entertainment purposes only. We do not accept any responsibility for any liability, loss or risk, personal or otherwise, incurred as a consequence, directly or indirectly, from any information or advice contained here. Babylist may earn compensation from affiliate links in this content. Learn more about
how we write Babylist content
and
review products
, as well as the
Babylist Health Advisory Board
.
The freshest in parenting this week, delivered to your inbox