Best Toddler Training Pants
Best Toddler Training Pants
Ready to ditch the diapers? Potty training pants can help make the transition a little easier.
Babylist editors love baby gear and independently curate their favorite products to share with you. If you buy something through links on our site, Babylist may earn a commission.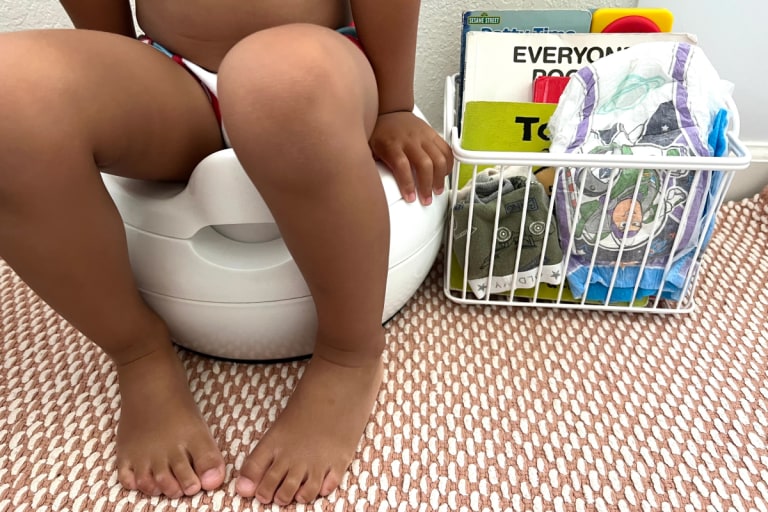 No matter the potty training method you choose to follow (there are quite a few out there) training pants come in handy when transitioning out of diapers and into regular underwear. Not quite diapers and not exactly big kid undies, potty training pants have just enough absorbency to contain accidents while still allowing your little one to feel they've gone pee or poop. There are a bunch of different options to choose from, so we've rounded up our faves to help you decide.
Babylist's Top Picks for the Best Toddler Training Pants
In this article:
The Best Potting Training Pants for Toddlers
Best Disposable Potty Training Pants
One of the best options for earlier stages of potty training, Pampers Easy Ups are super absorbent and affordable. The 360-degree stretchy waistband gives them a comfy underwear fit and they come in a bunch of favorite character prints that can feel exciting for toddlers. There's also a ton of built-in leak protection—like the leak-guard barrier around the leg cuffs and absorbent channels that catch accidents when they don't make it to the potty. Another thing we love about this pick is they come in a wide range of sizes.
Additional Specs
Best Overnight Potty Training Pants
Learning to use the potty during the daytime is one thing, staying dry at night is another. In addition to a waterproof mattress cover for your toddler's bed, they'll need training pants specifically designed for overnight use. Huggies Pull-Ups Nighttime pants are more absorbent than regular diapers meaning they'll provide extra protection overnight (up to 12 hours). The velcro-like sides allow for quick changes but they're also easy for little hands to pull on and off.
Additional Specs
Best Overnight Reusable Training Pants
The most unique option on the list, Peejamas are jammies designed specifically for overnight potty training. The inside of the bottoms is lined with an absorbent cloth diaper that can hold up to three pee accidents in a night. But while they're absorbent, they're not quick to wick away the moisture (which allows your toddler to notice they're wet and encourages them to wake up to use the bathroom). They can be washed up to 300 times while still staying absorbent, making them a cost-effective option for nighttime potty training.
Additional Specs
Best Reusable Potty Training Pants
Cloth training pants can make the transition from diapers to big kid undies a bit less confusing. Although they look (and feel similar) to regular underwear, these Gerber reusable training pants are made with multiple layers of fabric that help contain urine if your little one doesn't quite make it to the potty. The covered elastic waistband and leg cuffs provide extra comfort and they come in a bunch of colors and patterns.
Additional Specs
Best Leakproof Potty Training Pants
While most cloth training undies won't protect your toddler's clothes from accidents, this reusable option will. Four layers of organic cotton plus a unique waterproof layer offer leakproof protection. While they'll keep smaller potty accidents contained, keep in mind they aren't meant to resemble the absorbency or protection of a diaper or disposable training pants. They're on the thicker side but will still allow your toddler to notice they're wet, which is necessary for learning when to go to the potty. Another thing to note, these are not made for overnight—they'll need to switch into overnight training pants at bedtime.
Additional Specs
Best Sustainable Potty Training Pants
Did you know Honest Company's cute designs also come in potty training pants? Transition from diapers in style with the prints (and quality) you know and love. Made with clean and sustainable materials, the inner pulp of these pants is super absorbent and prevents leaks day and overnight. The training pants also have a stretchy all-around waistband making them easy to pull on and off (which is great for encouraging independence). And perforated seams on each side allow for speedy changes on the go.
Additional Specs
Most Comfortable Training Pants
Yes, your favorite luxury, eco-friendly diaper brand also makes training pants for toddlers. The Pant features the same soft, super absorbent materials as their line of diapers. They're also designed with movement in mind, making them extra comfortable for little busybodies. The sides are refastenable which lets you pull them on and off and also change them while they're laying down. The unique, customizable waistband offers a snug fit which helps keep things contained. Just a note: these are on the pricier end.
Additional Specs
Best Organic Cotton Potty Training Pants
Well known for their buttery soft organic cotton clothing (that lasts forever), Hanna Andersson's line of toddler training pants doesn't disappoint. They're made with four layers of soft fabric and an absorbent poly interlining to help catch any accidents or dribbles. They also come in a ton of unique, fun designs that make transitioning from diapers to big kid undies exciting. And once your toddler's mastered using the potty, the big kid undies come in a bunch of fun prints and the same soft, organic cotton.
Additional Specs
| | |
| --- | --- |
| Size range: | XS (18 mos-3 yrs), S (4-5 yrs) |
Types of Potty Training Pants
There are two types of potty training pants you can choose from, each with its pros and cons. Here's what to know.
Disposable
Disposable training pants look and feel very similar to diapers. They do such a great job at catching accidents (which is great for your couch and carpet or when you're on the go) that they can make it harder for your little one to feel when they haven't made it to the potty. Although disposable training pants are so similar to diapers, it's helpful to have them on hand in the earlier stages of potty training when your toddler is still figuring out their body cues to make it to the toilet on time. And since they pull on and off, little ones can practice doing it on their own before moving to big kid underwear.
Cloth
Almost like regular underwear (just with a few extra bells and whistles) cloth training pants are usually made with cotton and have multiple layers of fabric in the crotch area to provide some absorbency for accidents. Although they won't protect your toddler's clothes completely during an accident, they're typically more cost-effective and eco-friendly than their disposable counterparts. Cloth training pants don't wick moisture away as well as diapers or disposable training pants, so your toddler will feel when they've wet their pants. This is helpful when potty training as it lets them notice they've gone to the bathroom and helps them to learn their body's cues. (And most little ones don't particularly enjoy the feeling of peeing in their pants either, so having a few accidents in cloth training pants can encourage them to make it to the potty.)
What to Look for in Potty Training Pants
When shopping for potty training pants, look for these key features.
Breathable fabric. Make sure they're made with breathable material, whether you're buying cloth or disposable training pants.
Multiple layers. If you're going for cloth training pants, look for those with at least four layers of material since this is what will help contain accidents.
Size and fit. Potty training happens at different times and toddlers come in all shapes and sizes. When it comes to potty training pants, comfort and fit are key. Too tight and your toddler's training pants will bunch up and be super uncomfortable; but if they're too loose, you'll be dealing with leaks. You'll want to pay close attention to size guides to make sure you get the best fit for your little one.
How to Introduce Potty Training Pants
Introducing potty training pants is an important part of the potty learning process. They're a great way for little ones to practice independence and learn body cues (like feeling when they go pee or poop) while making their way to the toilet on time. And since most have some absorbency, you don't have to worry about accidents as much.
In addition to introducing the pants to your toddler, be sure to read books and talk about the process with them. You can start by putting a few books and training pants in a small basket next to their potty chair.
It can be helpful to wait to move from disposable training pants to the more underwear-like cloth ones until your toddler is mostly making it to the potty with and without prompting. And you can make the transition exciting by choosing pants with their favorite characters or colors and letting them pick out which ones they want to wear for the day.
Just remember, potty training can be a stressful phase for all involved. Be sure to celebrate your toddler's potty wins—both big and small—and don't feel discouraged if accidents happen. And most importantly, be patient with them. Staying calm and consistent will make the process more enjoyable for both of you!
This information is provided for educational and entertainment purposes only. We do not accept any responsibility for any liability, loss or risk, personal or otherwise, incurred as a consequence, directly or indirectly, from any information or advice contained here. Babylist may earn compensation from affiliate links in this content. Learn more about
how we write Babylist content
and
review products
, as well as the
Babylist Health Advisory Board
.
The freshest in parenting this week, delivered to your inbox