This Alternative to Bulky Baby Seats Is Also Good for Baby's Hips
This Alternative to Bulky Baby Seats Is Also Good for Baby's Hips
Video: a dad-of-three reviews the Skip Hop Silver Lining Cloud Floor Seat
Babylist editors love baby gear and independently curate their favorite products to share with you. If you buy something through links on our site, Babylist may earn a commission.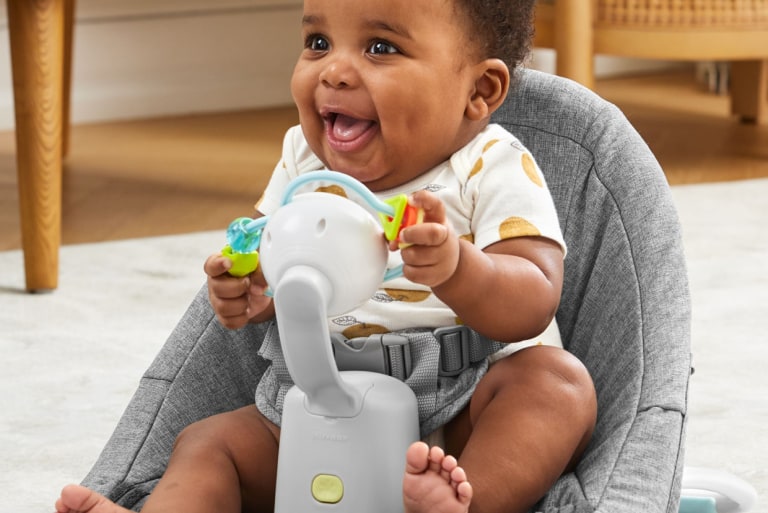 Babies want to be held all the time. While you may love the snuggles, you're human—which means you need the occasional baby-free moment. But, what do you do if your Velcro baby prefers your arms and your arms only? When you can't use a carrier and you need more portability than a swing, enter a lightweight floor seat. If your little one can hold their head up, this Skip Hop Silver Lining Cloud Floor Seat for beginning sitters isn't just cute, it supports baby's posture and entertains them, too. Dad of 3, Daniel, scoped it out for you in the video review above.
What the Silver Lining Cloud Floor Seat Does
Simply put, this sleek and streamlined seat holds your baby, but it does it in an ergonomic, development-friendly way without loud sounds, music, or flashing lights. Babies up to 25 pounds (about the size of an average 20-month-old) can safely sit in this seat. Here are a few other benefits:
Easy In and Out
Some other baby seats are more bulky and hold babies legs and hips in place, while the Skip Hop Silver Lining Cloud has an open design.This means it's easier to get baby into and out of. It also positions your little one in a way that encourages freedom of movement, so those little arms and legs can wave and kick freely. But, safety first, so they're also snug and secured by the 3-point harness—and their head and neck are padded with support.
Ways to Play
Once baby is in the seat, they can play with the multi-sensory, detachable toy attachment. There's a mirror, a spinner rattle, and a bead mover; so if baby wants to do more than hang out, they can play. And, their little legs and feet will be stimulated by the super soft fabric foot pad on the bottom of the seat. Speaking of soft fabric, the cover is machine washable.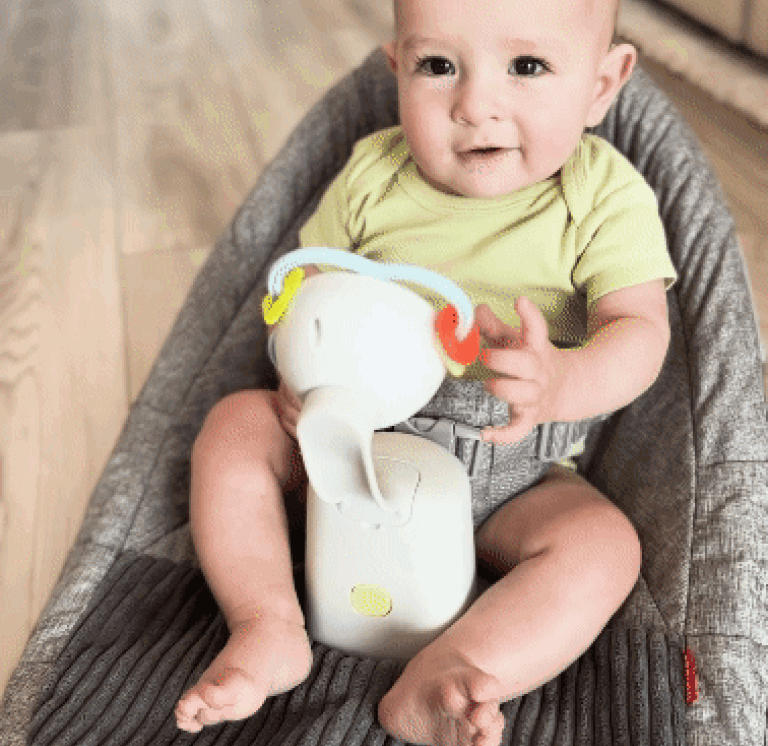 Travel Friendly
Because all the things you have to do aren't in the same place, you can easily pick up this lightweight seat and move it from room to room. Because there's no power, lights or sounds, you don't have to worry about remembering to bring batteries or cords. And, folding it up makes it simple to pack for travel, whether heading to Grandma's or out on a road trip.
Why You'd Want the Silver Lining Cloud Floor Seat
While we all adore the feeling of baby's soft cheek pressed against ours, sometimes you have to get things done without your infant sidekick. A portable seat that's both dependable and lightweight will help you take a hands-free moment while you tackle a sinkful of dishes or simply, you know, breathe. And, it matches the rest of the adorable Skip Hop Silver Lining Cloud line, like the darling activity gym or Cloud Feelings Shape Sorter.
Watch Daniel's full video review to see whether this portable upright activity seat is right for you and your little one now.
This article is sponsored by Skip Hop. Babylist's free site, apps and emails are made possible by our sponsors. We limit our sponsored content to relevant partners that offer products and services we believe in and use ourselves.
This information is provided for educational and entertainment purposes only. We do not accept any responsibility for any liability, loss or risk, personal or otherwise, incurred as a consequence, directly or indirectly, from any information or advice contained here. Babylist may earn compensation from affiliate links in this content. Learn more about
how we write Babylist content
and
review products
, as well as the
Babylist Health Advisory Board
.
The freshest in parenting this week, delivered to your inbox