Best Gliders
Babylist editors love baby gear and independently curate their favorite products to share with you. If you buy something through links on our site, Babylist may earn a commission.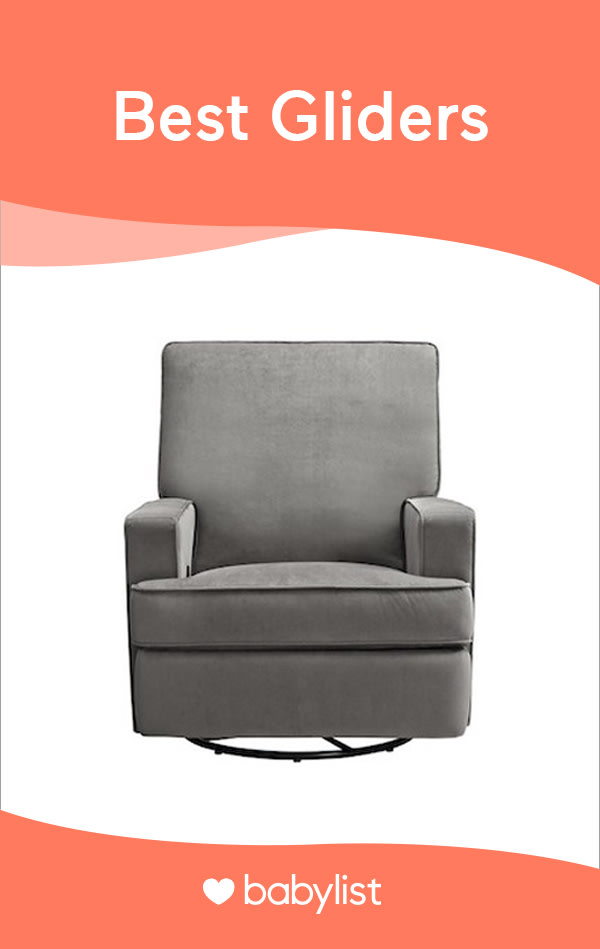 It's 2 a.m. and you look through bleary eyes at your wee one wedged against you, on the brink of nodding off. Sleep will come soon, but for now there's you and your baby, warm and cozy, slowly rocking in the deep quiet of night.
For centuries, parents have used rocking chairs to share snuggles and soothe babies to sleep. These days, the traditional rocker has a major competitor: the glider. Instead of rocking in an arc-like motion, the nursery glider has a fluid back-and-forth slide and requires less effort to keep the momentum going (and perfect for those half-awake nights).
Do You Need a Nursery Glider?
A nursery glider is a nicety, not a necessity. But if you have the budget—and the space—many parents would consider a glider to be a must-have nursery item, especially during those first few years.
A glider chair is the perfect spot to cuddle, soothe and read to your little one. Add an ottoman for extra foot support and it also becomes a comfortable, supportive place to breastfeed or bottle feed. You could certainly curl up on the couch or on a traditional chair, too, but you'd miss out on the rhythmic motion, which simulates the womb and helps babies settle into sleep, and the back support.
Which glider is dreamiest depends on your family's budget, space and decor. Here are the best nursery gliders, and why.
Also consider…
If you're looking for a rocking chair instead of a glider, there are plenty of options to choose from that have similar features to many of the nursery gliders on our list. Some are more traditonal while others have a fun, modern flair. Here are a few of our favorites.
This information is provided for educational and entertainment purposes only. We do not accept any responsibility for any liability, loss or risk, personal or otherwise, incurred as a consequence, directly or indirectly, from any information or advice contained here. Babylist may earn compensation from affiliate links in this content. Learn more about
how we write Babylist content
and the
Babylist Health Advisory Board
.
The freshest in parenting this week, delivered to your inbox