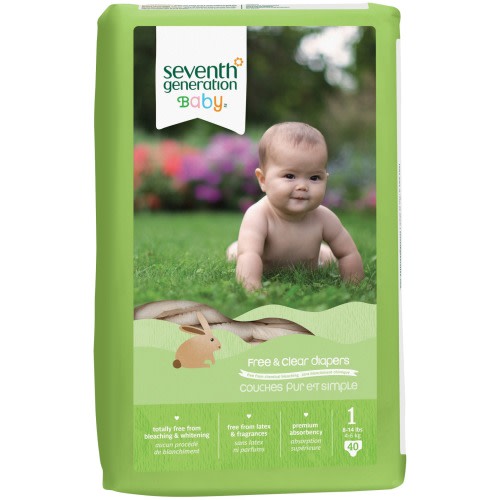 An eco-friendly disposable diaper that's actually affordable with no chemicals at all to irritate baby's tender skin.
Seventh Generation Seventh Generation Diapers
Availability: Out of Stock
Product Details
These diapers are completely free from all latex, fragrance, and bleaching, which is great for helping your little one avoid diaper rash. They're one of the most eco-friendly options among disposable diapers, with absorbent fluff made from tree pulp, and a certification from the Forestry Stewardship Council. Many cloth diapering parents go to Seventh Generation when they're travelling because they fit in with the eco-friendly cloth philosophy better than big brand disposables. They've got a pretty nice trim fit, and they're much more affordable than other eco-friendly disposables.
These diapers got enough votes from satisfied parents to win their way into our Best Disposable Diapers guide.
Specifications:
Average cost per diaper: $0.43
Fragrance and chlorine free
Forestry Stewardship Council certified
Organic
Unbleached
Diaper type: Disposable
SIZING
Newborn = up to 10 lbs
Size 1 = 8 - 14 lbs
Size 2 = 12 - 18 lbs
Size 3 = 16 - 28 lbs
Size 4 = 22 - 37 lbs
Size 5 = 27+ lbs
Size 6 = 35+ lbs
User Reviews (3)
I LOVE the newest version of seventh generation diapers...I LIKE the older one because they seemed almost fuzzy (in a bad way).
The price is a bit high for the product.
These unbleached diapers from Seventh Generation are my go-to after testing out multiple eco brands. The paper-bag coloring isn't the cutest on the market, but I'm convinced they are the same physical design as Honest Co (shape, gussets, closures)!