Best Pacifiers of 2020
Pacifiers can be total lifesavers, but it's hard to know which one your baby will prefer.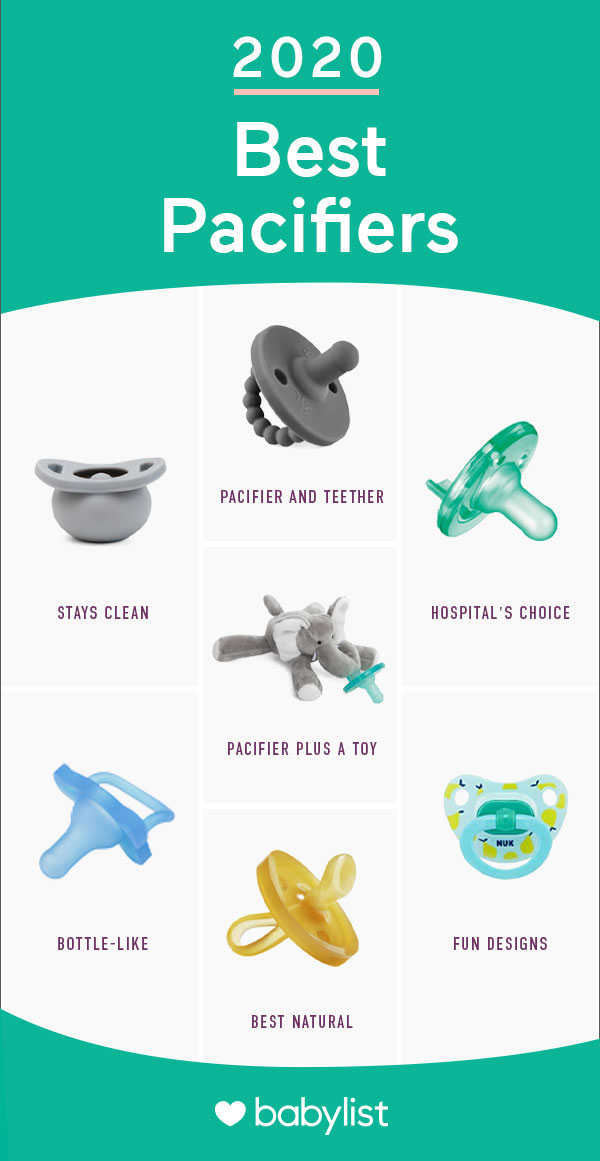 Pacifiers can be total lifesavers, but it's hard to know which one your baby will prefer. And let's be honest, the best pacifier is the one your baby will take, right? Which means you'll probably have to try a few to find the type your little one loves. So where to start? As you start shopping for pacifiers, here are some questions you may find yourself asking:
What is an Orthodontic Pacifier?
A buzzword you'll frequently see on pacifier packaging is "orthodontic." It means that both your baby's top and bottom jaw are in the correct position when the pacifier is in their mouth, so it doesn't interfere with jaw growth and development. As your baby grows, you'll need to buy a bigger paci for 3 months+ or 6-12 months. All of the pacifiers that we recommend have orthodontic options.
Are Silicone or Latex Pacifiers Better?
Generally, we recommend silicone over latex pacifiers because your baby could have an allergy to latex.
What About Pacifiers and Nipple Confusion?
Sucking on a pacifier, bottle and mom's nipple are very different actions involving dozens of muscles in your baby's face. To reduce the risk of confusion, pediatricians recommend waiting until breastfeeding is well established—around three or four weeks old—before introducing pacifiers or bottles.
Do All Babies Like Pacifiers?
Some babies don't like pacifiers at all. You may try a few and find that the habit just doesn't stick or that your child prefers their thumb. But giving it a shot isn't much of an investment and could pay off in a baby that can self-soothe and quickly settle into sleep.
Check out some of our favorite pacifiers.
This information is provided for educational and entertainment purposes only. We do not accept any responsibility for any liability, loss or risk, personal or otherwise, incurred as a consequence, directly or indirectly, from any information or advice contained here. Babylist may earn compensation from affiliate links in this content. Learn more about
how we write Babylist content
.
The freshest in parenting this week, delivered to your inbox