9 Products to Make Your Pregnancy Sleep Much Dreamier
9 Products to Make Your Pregnancy Sleep Much Dreamier
A pregnancy pillow is clutch—but what can help with night sweats, heartburn and the need to pee? Here are ideas.
Babylist editors love baby gear and independently curate their favorite products to share with you. If you buy something through links on our site, Babylist may earn a commission.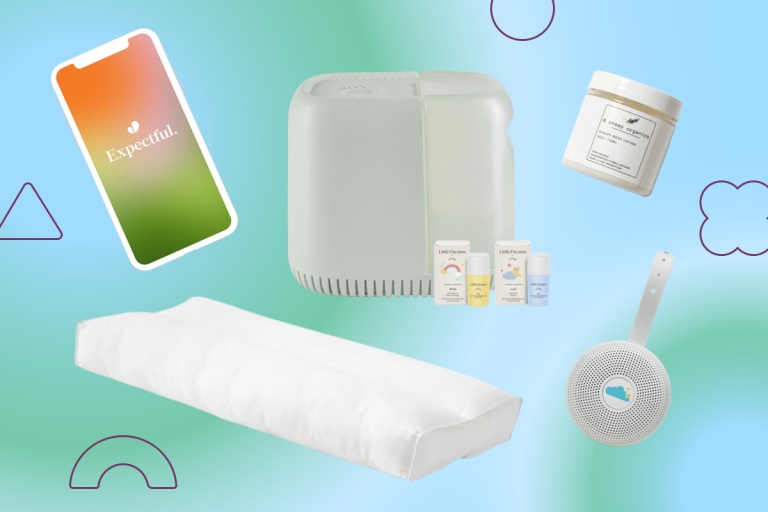 Pregnancy can be dreamy. Sleeping while you're pregnant? Not so much. Many people experience difficulties sleeping during pregnancy due to a combination of physical discomfort, hormonal changes and emotional stress. More specifically, factors such as hormonal fluctuations, increased urination, heartburn, restless legs syndrome and the baby's movements can disrupt sleep patterns and leave you feeling wiped out.
Thankfully, there are several products to help put some of these sleep disturbances to bed. From reflex-reducing pregnancy pillows and comfortable maternity sleepwear to handy urinals for middle-of-the-night pee breaks (hear us out: this personal bedside urinal is a game changer) and relaxing wind-down apps, our list of slumber-saving essentials might be exactly what you need to turn your bedtime routine around.
Why You Might Have Trouble Sleeping During Pregnancy
Our hope is that you catch some Zzzs with ease, but if things aren't panning out at present, don't panic. It's totally normal to experience at least one (and probably a lot more) of these sleep disruptions over the course of your pregnancy, so if even one of the below solutions can offer relief, we say go for it! Just be sure to check in with your doctor about any big changes to your sleep routine or ongoing bouts of insomnia.
Physical discomfort
As your bump gets bigger and your body changes for baby, weight gain, back pain and pressure and soreness in your hips and pelvic area can make it difficult to find a comfortable sleeping position. And it certainly doesn't help when your preferred way to sleep, be it on your stomach or your back, becomes impossible, uncomfortable or, perhaps, even not advised—lying on your back in the second or third trimester can put pressure on the major blood vessel carrying blood to your uterus.
Heartburn
Acid reflux is a pretty normal occurrence in pregnancy, as a result of hormones relaxing muscles in the digestive tract and letting acid creep up the esophagus, and a growing uterus shifting organs upward and creating pressure. You're more inclined to feel the effects nocturnally, because reclining allows the acid in the stomach to easily flow up the esophagus. You also don't have saliva, a natural acid neutralizer, working in your favor: the body produces less saliva at night, overall, and for pregnant people, those fickle hormones can create congestion and lead to more mouth breathing (and dryness) at night.
Frequent urination
There are a few reasons why you might find yourself jumping out of bed to use the bathroom in the middle of the night. Since you're probably drinking a lot more water in pregnancy, you'll be emptying your bladder on the regular. Moreover, increased blood volume during pregnancy kickstarts greater blood flow to the kidneys, which means your urine output is supercharged. And as the uterus continues to expand to accommodate the growing baby, it puts pressure on the bladder and makes pee breaks in the wee hours of the morning all the more common.
Restless legs
Although restless legs syndrome tends to happen a lot more often during the third trimester, it can prove bothersome at any point in your pregnancy. Chalk it up to hormonal changes, circulatory changes and/or iron deficiency anemia—courtesy of the abovementioned increased blood volume in someone who's expecting—but these pregnancy-related factors can contribute to the development or worsening of RLS symptoms, especially when you're trying to sleep at night. The uncomfortable sensations in your legs make it challenging to initiate sleep, while the irresistible urge to move or shift the legs disrupts the ability to maintain continuous sleep.
Anxiety and stress
Pregnancy can be wonderful, but it can also bring about various worries and concerns, be it the health and well-being of the baby, anxiety around childbirth or the postpartum period and/or the changes and responsibilities that come with becoming a parent. These thoughts and anticipations can become more prominent during quiet nighttime hours (when distractions are minimal), which can intensify feelings of anxiety or stress.
Again, as much as we'd love to say that the below products are proof-positive pregnancy sleep hacks, we won't make any promises. But, like the very advice and sleep essentials we recommend for babies to get better sleep, hopefully these parallel picks can do the same for you!
This information is provided for educational and entertainment purposes only. We do not accept any responsibility for any liability, loss or risk, personal or otherwise, incurred as a consequence, directly or indirectly, from any information or advice contained here. Babylist may earn compensation from affiliate links in this content. Learn more about
how we write Babylist content
and
review products
, as well as the
Babylist Health Advisory Board
.
Keep your pregnancy on track. One email a week.