Best Toddler Bento Boxes
These compartmentalized lunch boxes make toddler meals more fun—and more likely to be eaten.
Babylist editors love baby gear and independently curate their favorite products to share with you. If you buy something through links on our site, Babylist may earn a commission.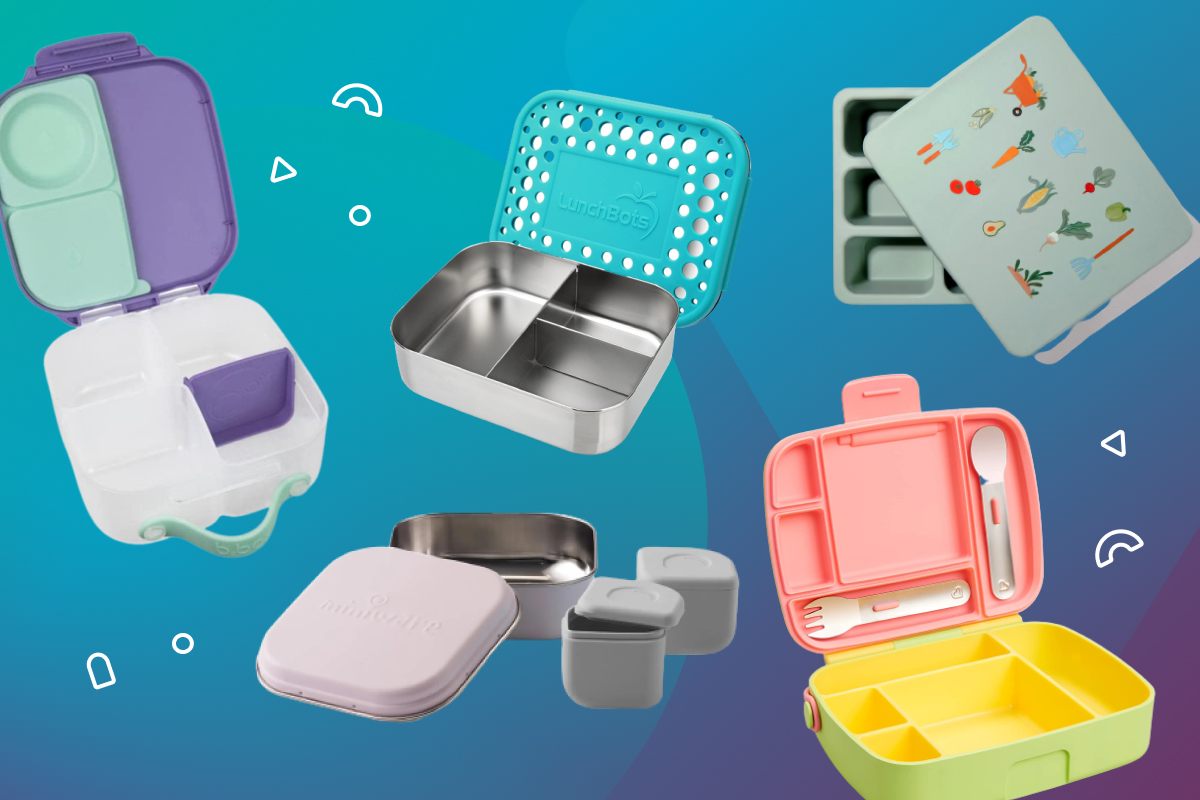 The days of the brown bag lunch are long gone. Meet the bento box: the more fun, more stylish and more eco-friendly way to pack your toddler's lunch.
Bento boxes are compact, compartmentalized containers perfect for packing a variety of foods and snacks for your hungry—and often probably very particular—toddler. They're ideal for when you need to feed your toddler a meal on the go or if you're packing a lunch for daycare or preschool.
Made from various materials like plastic, stainless steel and silicone and with so many sizes and styles to choose from, it's easy to get overtaken by decision fatigue when you're trying to figure out the best bento box for your toddler. We've researched and tested various bento boxes to bring you our top picks for durability, functionality, ease of use and overall value.
In this article:
Best Stainless Steel Toddler Bento Box
There's no getting around the price of this bento box, and there was a time we'd have balked at it—until we used the Rover every school day for the last five years and can happily say that it's in the exact same condition as it was the day we unboxed it. Yes, it's that great.
Made from stainless steel, this bento box from PlanetBox is ultra-durable and completely dishwasher-safe, by far our two favorite features. You can fill the five compartments as much or as little as you'd like, depending on your little one's appetite, so you'll get years and years of use out of it. The box is easy for little hands to open and close and the kit comes with the bento, two food containers, an insulated carrying bag with a handle and a decorative magnet set for fun customization. Other than the price, if we had to find a knock against the Rover it would be that the compartments aren't leakproof—but the dipping containers solve for that issue and are perfect for foods like yogurt or hummus. It's also one of the larger bento boxes on our list, making it better suited for older toddlers.
Best Stainless Steel Bento Box for Younger Toddlers
Feeling a bit overwhelmed by the size of the Rover? For a smaller (and more affordable) stainless option—and one that we think is a bit more manageable for a younger toddler just starting out with a bento box—check out this bento from LunchBots. The Trio 2 is lightweight and the lid is fast and easy to get on and off, a feature we appreciate for the younger set who often struggle with more complicated lunch box closures. The compact size also means this bento is lightweight and won't take up all the space in a toddler-size backpack. Although it features only three compartments, they're deeper than many other bento box compartments, a nice perk. (You'll easily be able to fit half a sandwich and two sides here.) The compartments aren't leakproof but the Trio is completely dishwasher safe for easy cleaning.
Best Leakproof Toddler Bento Box
If your toddler is a big fan of things like yogurt, dips or hummus, a bento box with leakproof containers will make your life much easier. (And a lot neater.) The Bentgo, made from BPA-free plastic, is by far our favorite leakproof option. Each of the five compartments seals, keeping whatever foods you pack separate and completely contained even when it's being tossed around by a less-than-careful toddler. (The outer edges of the Bentgo are lined with rubber, another feature that helps with durability and keeps the box protected from drops.) The Bentgo's inner removable tray is microwavable, a nice feature if your little one likes warm lunch. It's also freezer- and microwave-safe.
The Bentgo is on the heavier side, especially if you're using it inside of an insulated carry bag along with an ice pack. The closures take a bit of practice, especially for younger toddlers. And while the inner tray is microwave-safe, you'll need to hand wash the main outer box.
Prefer stainless steel over plastic? Bentgo makes an awesome leak-resistant stainless bento-style lunch box, too.
Fun Design, Also Leakproof
One more leakproof option to consider: the Yumbox. It has six separate compartments and is completely leakproof thanks to the silicone seal on the top lid. Aesthetically, it's one of the more fun bento boxes on our list, with a variety of color options and bright artwork under the lid. There's just one latch to open and close, and each compartment is intentionally sized to offer the appropriate portion sizes for toddlers and young kids.
While the entire Yumbox is top-rack dishwasher-safe, the manufacturer (and other parents) recommend hand washing the outer shell to keep it in better condition.
Most Stylish Toddler Bento Box
We'd be lying if we said we hadn't swiped this beautifully minimalist bento box set for ourselves more than once. (It's the perfect size to pack a few snacks for on the go, what can we say?) We love the simplicity, function and versatility of the Miniware Grow. You can use the stainless steel compartment solo, or nest one or both leakproof silicone pods to add fruit, yogurt, dip or whatever else you need to keep separate.
The square shape is just right for easy portability and the lid is secure while still being easy to get on and off. The Grow comes in several stylish colorways and the whole thing can be tossed into the dishwasher for easy cleaning.
Best Affordable Toddler Bento Box
If we had to find the drawbacks of bento boxes, they'd be price, as many bento boxes are more expensive than traditional lunch boxes or disposable options, and weight, as most tend to be on the heavy side. This bento snack box isn't either of those things. At under fifteen dollars, it's a wallet-friendly option and ideal if you want to give bento lunches a try without committing to an expensive setup. (It's also great if you need an affordable bento box for multiple kids or if you have a child who easily "misplaces" everything.) It's also much lighter than the other bento boxes on our best-of list, but still holds a good amount of food in its four compartments and is a nice starter size for a toddler who's new to the world of packed lunch.
The one thing to be aware of if you're considering this bento box is that the lid isn't as secure as some of the other lunch boxes on our list. We didn't find it to be an issue if we put the box inside of an insulated carry bag, but if you're planning on using it solo in your toddler's backpack, we recommend securing it with a rubber band to be sure it doesn't open in transit.
Best Toddler Bento Box for Whole Foods
There are some things you simply can't fit in most bento boxes, and a whole piece of fruit is one of them. While this isn't that big of a deal, it's a bit of a pain if your toddler won't go near a browned apple slice or just prefers munching on whole fruit. This bento box from Australian brand b. Box has creatively solved this problem with a unique silicone top section that enables you to fit larger foods like a whole apple (or other similarly sized fruit) in the compartment. So cool!
Other features we love about this bento box include removable dividers, its light weight, the dedicated leakproof compartment and the easy-to-disassemble, dishwasher-safe style that ensures you're getting all the nooks and crannies cleaned at every wash.
Best Toddler Bento Box for Warm Food
If mac and cheese, soup or pasta is your toddler's jam, look no further than the OmieBox if you're in the market for a toddler bento box. The 8.5-ounce main compartment features a stainless steel, vacuum-insulated thermos that keeps food warm for hours, so it's the perfect solution if you know a sandwich isn't going to cut it for your picky toddler. Love the style of the Omie but don't always want or need the thermos option? You can mix and match hot and cold food, or pop out the thermos and use the whole thing as a traditional bento box instead, making the whole thing super versatile. The box is a bit heavy and bulky, but we're willing to overlook that for the convenience the Omie provides. We like the option to use or remove the inner divider and appreciate that everything comes apart for thorough cleaning.
Best Silicone Toddler Bento Box
Made from food-grade silicone, this bento box from Austin stands out from the pack of mostly plastic or stainless steel bento options. We love how sturdy and durable it is; the silicone won't scratch or dent, an especially nice feature since most toddlers are pretty rough on their things. We also like how easy and straightforward this bento box is—just toss it in the dishwasher and you're all set. The compartments are all leakproof and the lid is both easy to get on and off and secure, a good combo.
Best All-in-One Toddler Bento Box
As parents, we're always on the lookout for any type of all-in-one solution. A bento box that also includes utensils? Sign us up. One less thing to buy and one less thing to remember to pack: a win-win for everyone.
This five-compartment box is one of the most colorful of our picks, a feature many toddlers love. Each compartment is roomy enough to fit most foods but still proportioned correctly for toddlers and younger preschool kids. The carry handle is a fun and convenient add, and we like that the entire bento box is dishwasher-safe. This isn't the best choice if you're looking to pack dips and yogurts, however, as the compartments aren't leakproof.
Best Pottery Barn Toddler Bento Box
Any parent who's ever Googled, "Does [insert bento box of choice here] fit in the Pottery Barn lunch box?" (ourselves included) will appreciate this pick. While lots of parents mix and match brands of bento boxes + insulated lunch boxes, it can be a pain to research, measure and hope for the best when your order arrives. Keep it simple and pair your Pottery Barn Kids lunch box with the brand's All-in-One Bento Box. It fits perfectly in the PBK Mackenzie Classic Lunch Box and features five compartments. It's made from recycled plastic and comes in lots of fun colors. Just note it's not a leakproof-style design.
What Are Bento Boxes?
A bento box is a traditional Japanese lunch box. Instead of a single compartment, bento boxes have multiple compartments to hold different types of foods. Bento boxes have become popular worldwide and are now available in a variety of styles and sizes, often with fun and innovative designs.
Benefits of Bento Boxes for Toddlers
Toddlers are known for many traits, but calmly and happily eating whatever food you offer often isn't one of them. A bento box can help! There are several benefits to these fun alternatives to the traditional lunch box.
Bento boxes allow for variety—and variety is the spice of (toddler) life. With three, four and even up to five different compartments, you can fill your toddler's lunch with a variety of foods and snacks, creating a balanced meal. This can help your toddler feel more in control of what they're eating and more likely to try whatever you've packed them. This is especially helpful if you have a picky eater.
Portion control generally isn't a concern when feeding kids, and according to feeding experts, you shouldn't control toddler portion sizes. But a toddler's daily energy requirements are fairly small, so it's important not to overwhelm your little one, either. The individual compartments in a bento box are perfectly sized for toddler appetites.
Does your two-year-old lose it if their pasta touches their peas? (Totally normal, we promise.) The bento box compartments help keep foods separate and prevent them from getting mixed together or squished, which means (hopefully) less yelling from your tiny diner.
A bento box is an eco-friendly meal solution that can help reduce waste from disposable packaging. A stainless steel bento box, for example, can last from the preschool days all the way through the teen years—or until your child decides it's no longer cool to bring their lunch from home, whichever comes first.
Simply put: Bento boxes are fun! And a toddler who's having fun at mealtime is often a toddler who's actually eating at mealtime—something every parent can appreciate.
What to Look for in a Bento Box for Toddlers
Finding the best bento box for your toddler won't take too much of your (very valuable) time, but there are a few things worth considering before you buy.
Size. Be sure the toddler bento box you choose is small enough to fit in a toddler-sized backpack or bag and light enough for your little one to carry comfortably.
Material. Most bento boxes are made from plastic, stainless steel or glass. Since you're shopping for a toddler, we recommend sticking to plastic or stainless. Plastic bento boxes are often more affordable than stainless steel options, but not all are dishwasher-safe. Stainless steel bento boxes tend to be a more expensive choice but are extremely durable and can be washed in the dishwasher.
Compartments. The number of compartments you want in a toddler bento box is a personal preference. Some parents prefer a smaller box with fewer compartments, especially for a younger toddler, but a larger box with four or five separate areas is fine, too. You'll also want to pay attention to whether or not the bento box you choose is leakproof. Some bento boxes have leakproof compartments to keep wet foods like yogurt or dips separate from dry foods.
---
Jen LaBracio is Babylist's Gear Editor, a role that perfectly combines her love of all things baby gear with her love of (obsessive) research. When she's not testing out a new high chair or pushing the latest stroller model around her neighborhood, she likes to run, spin, listen to podcasts, read and spend time at the beach. She lives in New Jersey with her husband and their two boys, Will and Ben.
This information is provided for educational and entertainment purposes only. We do not accept any responsibility for any liability, loss or risk, personal or otherwise, incurred as a consequence, directly or indirectly, from any information or advice contained here. Babylist may earn compensation from affiliate links in this content. Learn more about
how we write Babylist content
and the
Babylist Health Advisory Board
.
The freshest in parenting this week, delivered to your inbox