How to Choose Your Baby Swing, Bouncer, or Rocker
Last Updated: February 15, 2017

Babies love being rocked and jiggled. It reminds them of the womb where they moved with the motion of your body. But sometimes… you actually need your hands to do other things.
That's where your rocker, bouncer, or swing comes to the rescue. They can soothe your child for you while you cook dinner, answer emails, or change your clothes.
How to decide what to get for your baby
Like most things parenting, you'll hear contradictory things from other parents about which bouncers and swings are the best. That's because it honestly depends on your baby's personality. Babies are people, and just like adults are all different from each other, babies are all different from each other too! They may not be old enough to talk or even sit up, but they're old enough to have STRONG OPINIONS. That's kind of amazing–but it's also inconvenient when it comes to deciding what bouncer or swing to put on your registry.
To help you out, we surveyed thousands of parents to come up with our Best Bouncers and Swings guide. Be a little cautious when it comes to the very most expensive items, because it's frustrating to drop a lot of cash on something that ends up not meshing with your baby's preferences and that you use for a short period of time.
But let's start with a question that you might already be asking.
What's the difference between a swing, a bouncer, and a rocker?
If you're bewildered by the variety of options, you're not alone (and it doesn't help that baby brands try to name their version of the product something "creative" and unique). So here are the basic definitions of each category to help you sort through the chaos.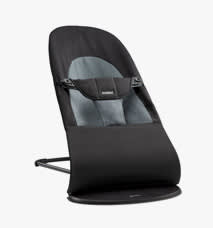 What are baby bouncers?
Bouncers are motion-powered and usually on the smaller side. The baby wriggles, or you give them a little bounce, and the bouncer is able to vibrate for a few minutes before gradually winding down. An example of a popular (and expensive but worth it) bouncer is the BabyBjorn Bouncer Balance. For the most part, bouncers won't break the bank, but the downside is sometimes babies wake up when the motion stops.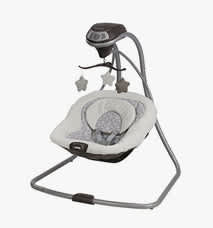 What are baby swings?
Swings are mechanically powered and take up about as much space as an armchair (because a wide base is needed to support stable swinging). Parents like them because they just keep going, but they tend to be more on the expensive side. A popular swing is the Fisher Price Cradle 'n Swing.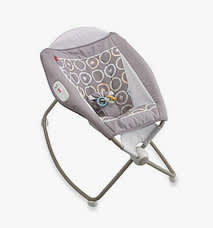 What are baby rockers?
There are two kinds of baby rockers: bassinet rockers and tiny baby-sized rocking chairs. (Sometimes the word "rocker" is also used to refer to an adult-sized rocking chair, but we prefer to call those "gliders" just to cut down on the ambiguity and confusion.)
Bassinet rockers are also known as rock n' plays, sleepers, or soothers, and so on, depending on the brand.
The great thing about bassinet rockers is that they're often approved for overnight sleeping. Bassinet rockers tend to be mechanically powered to rock or vibrate your baby to sleep. The most popular bassinet rocker (by far!) is the Fisher-Price Newborn Auto Rock 'n Play Sleeper. It also won the coveted prize spot in our Best Bassinets.
By contrast, the tiny baby-sized rocking chairs are often motion-powered rather than mechanically powered. A great example of a popular rocker in this category is the Fisher-Price Newborn-to-Toddler Portable Rocker. They're not as widespread as bassinet rockers, and they're usually not intended for overnight sleep. However, one great thing about them: they often have incline settings for both a reclined newborn and an upright toddler, which means they grow with baby.
What's the best for your family?
On average, swings are more effective as a sleep aid, but bouncers tend to be more space and cost efficient. Some parents like to cover their bases by buying a couple different options. This can also be useful if your baby's preferences change over time, or if you want to have different choices in different rooms of the house. You could get a swing for the nursery, but a bouncer to move around wherever needed. That way, baby won't be far from you when you cook or bathe.
If space or finances are tight, buying multiple options obviously isn't as great. Sometimes two-in-one products, like the Graco Duet Soothe Swing & Rocker (both a bouncer and a swing in one) can be a good compromise.
What features should you think about while shopping?
Other than space, price, and bouncer vs. swing vs. rocker, these are the top seven attributes to keep in mind while browsing. We tried to kinda arrange them in priority order, but we know that every parent's priorities are different.
How portable is it?
Something light you can move around the house is often a lot handier than a heavy item you install and leave in place. Since bouncers and swings are not intended for long-term unsupervised sleep, it's nice to be able to move them around to keep baby in sight.
Ease of washing 💦
Think of your baby as a mess bomb that could potentially explode at any moment. The more washable the baby product, the better. Look for either a removable, machine washable cover, or a waterproof fabric that's easy to wipe down. (Some machine washable covers with a lot of padding tend to get a little distorted or lumpy in the washing machine.)
Seat incline
An adjustable seat incline can make your bouncer or swing useful for longer. Newborns like to be very reclined so they can sleep, and older babies prefer to be a little more upright so they can look around. Some products are explicitly designed to have an "infant mode" and a "toddler mode" which makes them last longer.
How many sound and motion settings does it have? 🎶
It's nice to have a few different sound and motion settings because you can experiment to see what your baby will like (and avoid driving yourself crazy with the repetition of one tune). One of the fanciest baby swings, the 4moms mamaRoo, can play music from any mp3 device.
Depth of seat
Newborn babies find it soothing to be surrounded on all sides; the deeper the seat, the better at soothing. Fabric that cuddles them from all sides is great. An older baby might not care as much as a newborn about having the seat be deep.
How is it powered? ⚡
If you're buying something electricity powered, the most convenient option is something that both plugs in and has batteries. If there are only batteries, you'll run through them really fast, which can get expensive and annoying. If there's only a plug-in option, you don't have as much flexibility to place the swing wherever you want.
Do you like the way it looks?
Some parents don't want their homes to look completely taken over by baby stuff. If that's you, you should know there are plenty of swing and bouncer options that tastefully blend into adult decor. OR you could go full Snugapuppy. You do you.
One extra little tip: If you're going to be using your bouncer on slippery tile or hardwood floor, consider getting a nonslip mat to put under it. Otherwise, the motion of your baby bouncing can cause the bouncer to slip and slide across the floor.
How to choose between stimulating and soothing options 💤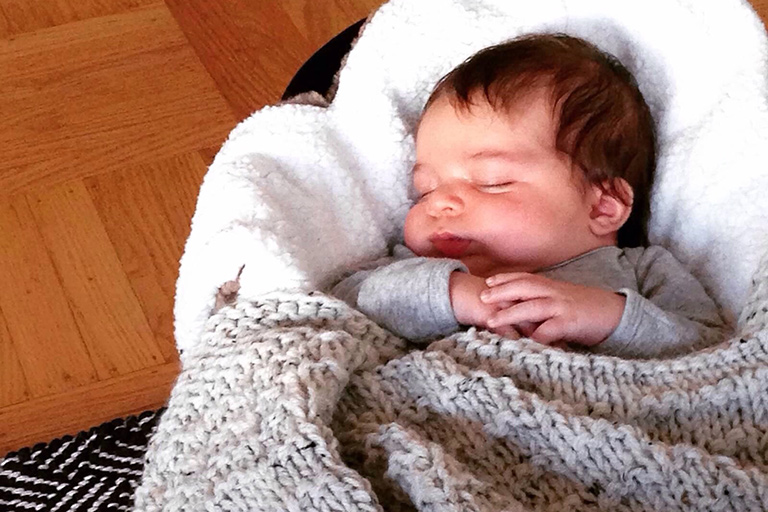 A lot of baby bouncers and swings have exciting mobiles and music, but that can be a little overstimulating if your goal is simply to relax your baby. Babies under six months take a lot of naps. So for them, a simple no-frills device might be a better sleep aid than something with a lot of distracting bells and whistles. Babies over six months are more active, and can probably handle the more stimulating and fun options.
Will a bouncer or swing interfere with learning to self-soothe?
Some parents believe that babies should learn how to self-soothe without relying on artificial aids; it's one among many sleep training philosophies. If that's your attitude, you may be against buying a bouncer or swing. However, many parents find bouncers and swings to be extremely helpful–and in the end, it's all about what works for YOUR family. There's no reason to judge or feel judged by another family doing things differently.
One of the best things about bouncers, swings, and rockers is that they make YOUR life easier. Maybe baby wants to be cuddled in your arms every moment, but you'll have to put them down eventually. When you do have to put them down, it's nice to be able to nestle them someplace soothing. 👼