Do-It-All Baby Gear That's Got Your Back For Any Adventure
Do-It-All Baby Gear That's Got Your Back For Any Adventure
Babylist editors love baby gear and independently curate their favorite products to share with you. If you buy something through links on our site, Babylist may earn a commission.
When you're new to parenting, almost everything feels like uncharted territory. From giving your baby their first bath to taking them on their first trip out of the house, it all takes some getting used to—and perhaps a few helpful pieces of fool-proof baby gear.
If you're looking for do-anything, go-anywhere, make-life-easier baby gear, Veer is a great place to start. Their all-terrain Cruiser is already a parent-fave for bringing babies, toddlers and big kids along for the ride. The lightweight Switchback Seat, foundation of the Switchback system, connects to a wide range of frames to adapt to your lifestyle, whether that includes morning jogs with baby (using the &Jog jogger stroller) or everyday errand runs (with the &Roll stroller configuration). It can even be used on its own as a mealtime booster. Basically, Veer gear is made for anything you throw at it—including food, milk, dirt, mud and sand, thanks to its easy hose-down cleanup.
The truth is this: life with your little one is the ultimate adventure. There are going to be some surprises along the way, but it's nothing you—and your Veer gear—can't handle. Ahead, we're sharing some ideas for how you can make Veer's gear a part of your family's adventures, both big and small.
For Family Bike Rides: Switchback + Bike Mount
If biking was your pre-baby passion, you don't have to hang up your wheels. Veer's Switchback system gives you a range of options for bringing your baby along with the S&Bike bike mount. With the bike mount (compatible with universal mount and quick release systems), the Switchback becomes a bike seat, and you become the cool parent who figured out how to bike with a baby along for the ride. When you're not biking, you can attach the Switchback Seat to Veer's other frames for ultimate versatility.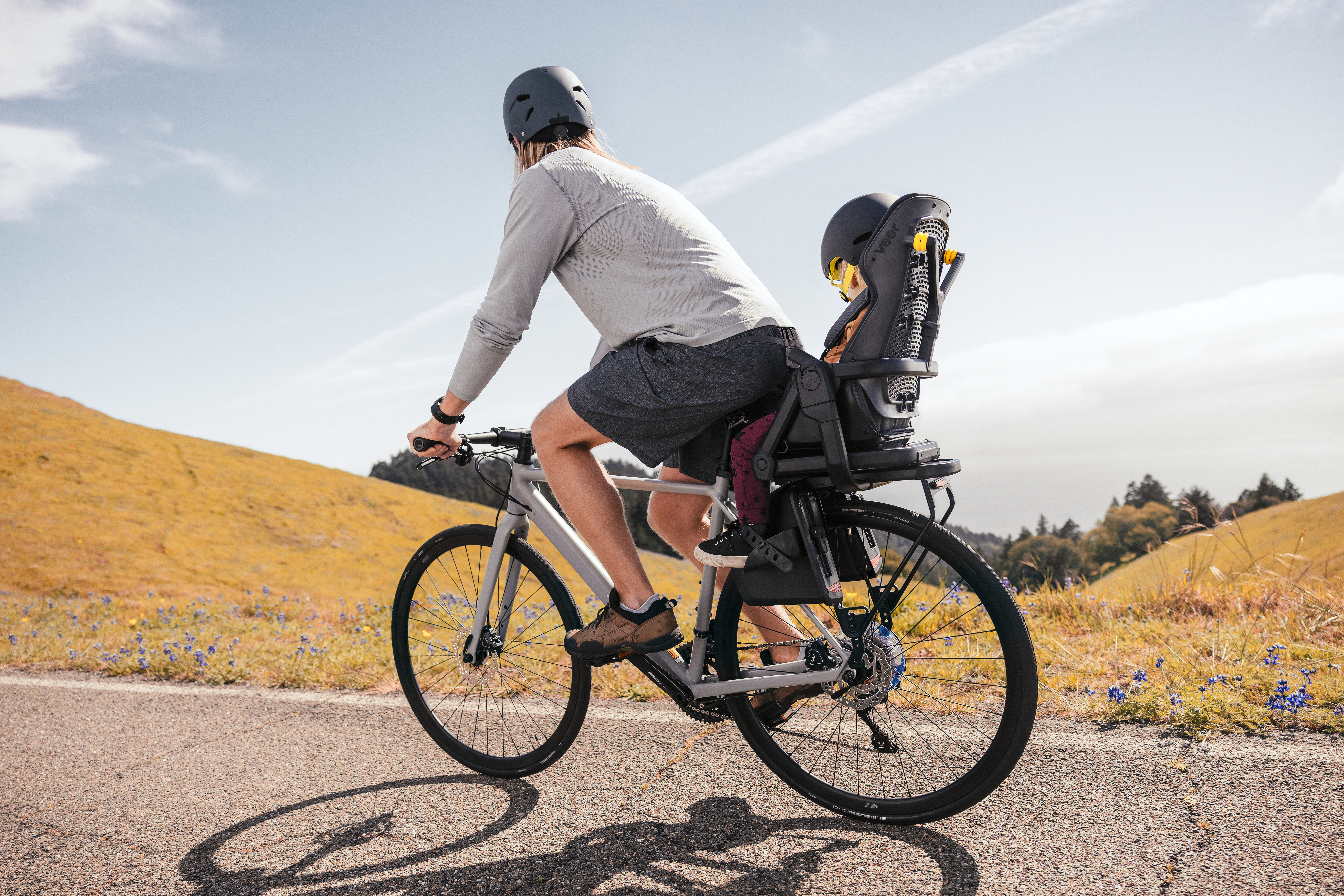 For Grocery Restock Day: Cruiser
Whether you're navigating the narrow aisles of your grocery store or scoping out fresh produce at a muddy outdoor farmer's market, the Cruiser tackles it all—with enough room to haul your baby and groceries, too. Since typical strollers don't have the capacity to hold nearly as much, and putting a car seat in a shopping cart isn't the safest option, the Cruiser really is a genius option. You can push it, pull it, twist it and turn it, and it's been tested on all-terrains, so you know it can handle the cereal aisle. Just keep it in your car (it folds compact to save space) and pull it out whenever you need an extra hand and a place for your kiddo to sit.
For Baby's First Beach Day: Cruiser + Basecamp
Not every stroller can handle mounds of sand, but the Cruiser is literally made for it. Just pull it along in wagon mode to better navigate soft terrain like sand. And since it's car-seat compatible with adapters, you can even turn the Cruiser into a multi-seat ride for a baby and a toddler, or use the Cruiser as beach-day storage while your kiddo is buckled into their car seat. To complete baby's beach day essentials, Veer's Basecamp tent is a safe, shady pop-up refuge sized just for your baby to lounge. Plus: the tent's fabric is made with UV protection for extra sun-safety.
For Brunch with Baby: Switchback + Stroller Frame
Who doesn't love a good weekend brunch? Bring baby along with the &Roll stroller frame, which the Switchback Seat pops right into in seconds. Built with all-terrain, oversized wheels and shock absorption, it's made for anything without skipping the comforts of a classic stroller—including a large storage compartment for all your necessities. Your kiddo even gets a spot to enjoy their brunch, using the seat as a mealtime booster. It's a safe, comfortable, flexible, traditional stroller, with next-level Veer details that'll leave other parents asking "Where'd you get that?"
For Your Daily Jog: Switchback + Jogger Stroller Frame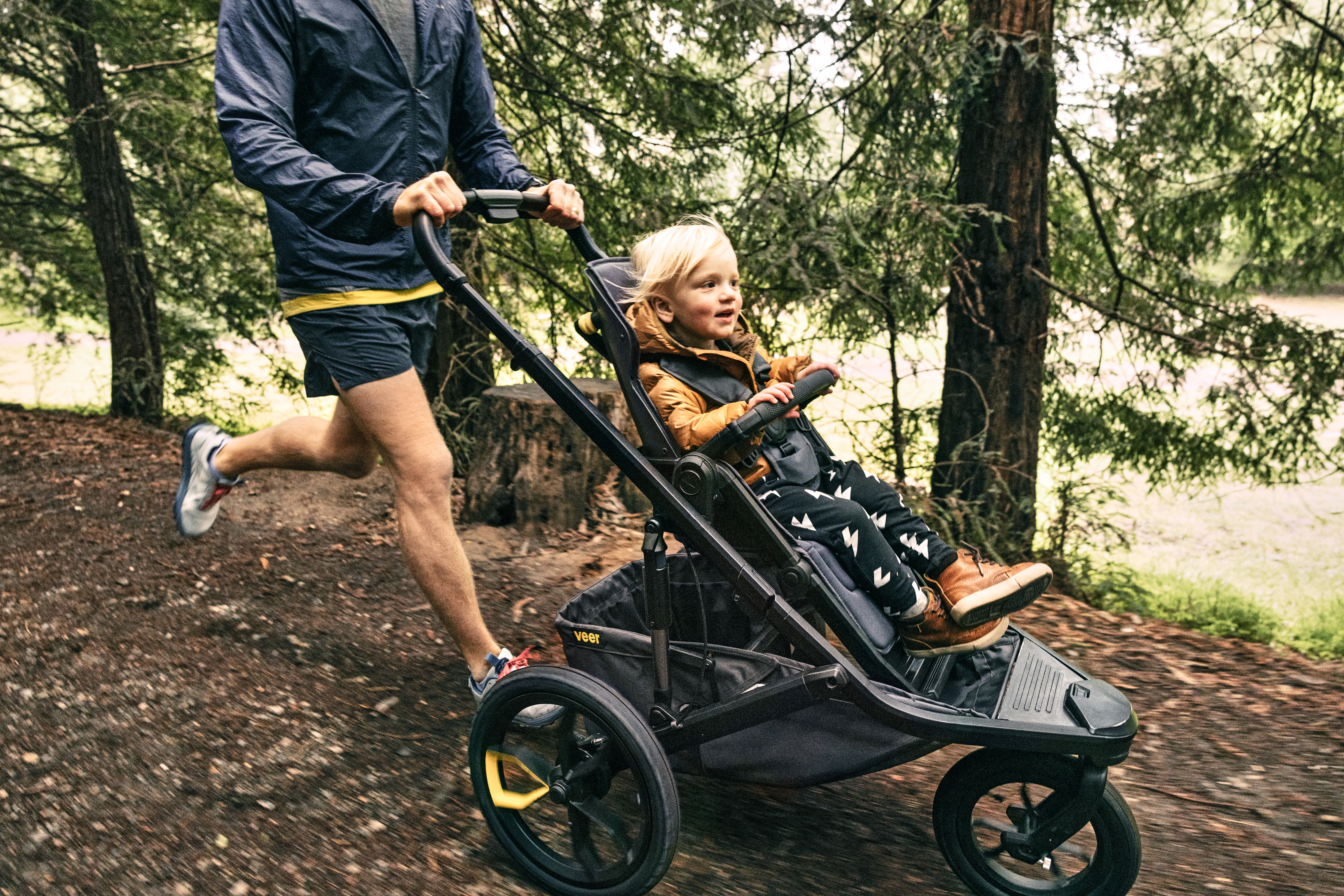 Committed to your running routine? Veer has something for that. Pair the Switchback Seat with their &Jog 3-wheel ultra-terrain jogger frame and you've got a ride made to glide through running paths with the durability and shock absorption you'd expect from Veer. The 360-swivel front wheel helps you navigate with ease, but easily locks it in place when you're actively running for added safety.
Weekend Camping: Camp Chair + Family Basecamp
When your adventure includes a moment of chill, the Switchback Seat meets the Camp Chair—a go-anywhere chair for your little one that gives them a place to sit right next to you. It's easy to assemble, and with 4 recline positions, extendable calf support and a canopy, it's the best seat in the house (er, campsite) for a break. Of course, you deserve a break, too, and the Family Basecamp will give you that. This pop-up-in-place open-air tent is made to provide adult-sized rest for the whole family.
Want to see more of Veer's adventure-ready gear? Take a look here.
This article is sponsored by Veer. Babylist's free site, apps and emails are made possible by our sponsors. We limit our sponsored content to relevant partners that offer products and services we believe in and use ourselves.
This information is provided for educational and entertainment purposes only. We do not accept any responsibility for any liability, loss or risk, personal or otherwise, incurred as a consequence, directly or indirectly, from any information or advice contained here. Babylist may earn compensation from affiliate links in this content. Learn more about
how we write Babylist content
and the
Babylist Health Advisory Board
.
The freshest in parenting this week, delivered to your inbox