Best Pregnancy Books
Last Updated: August 17, 2016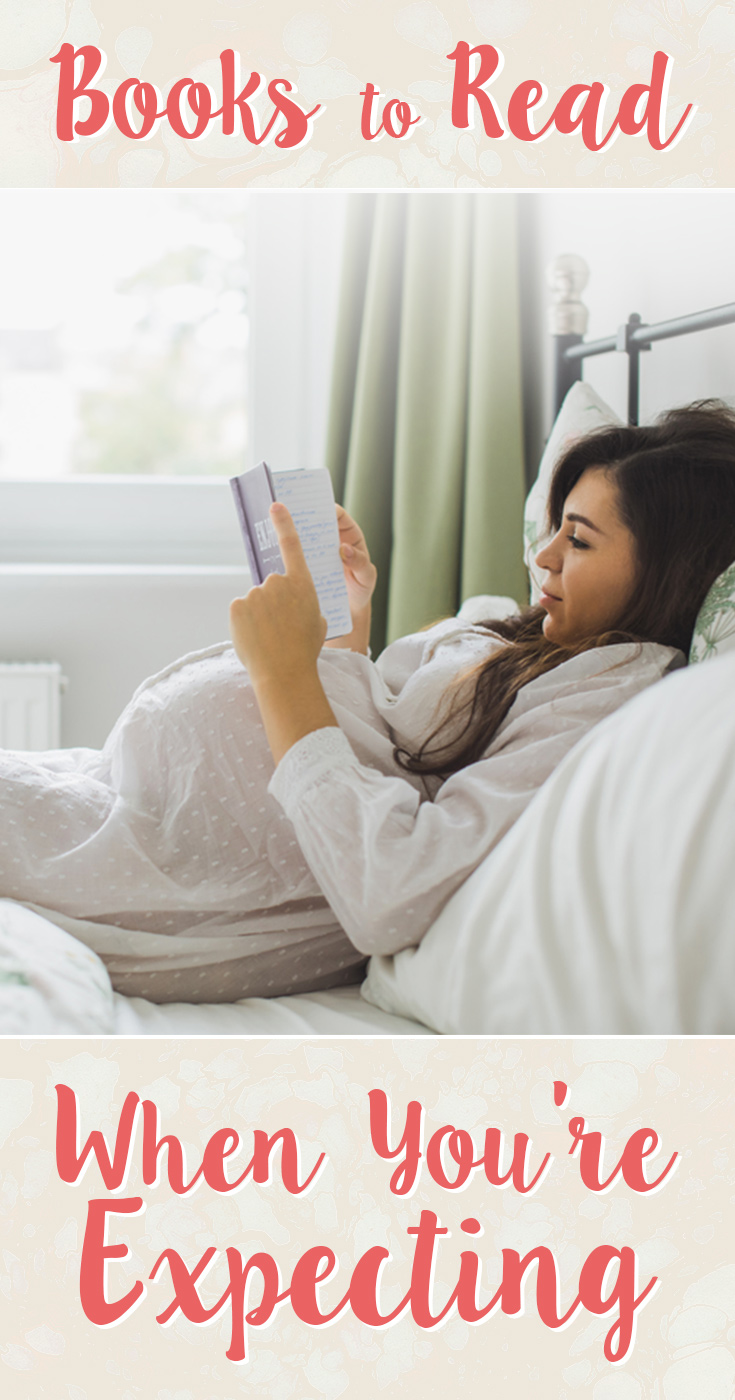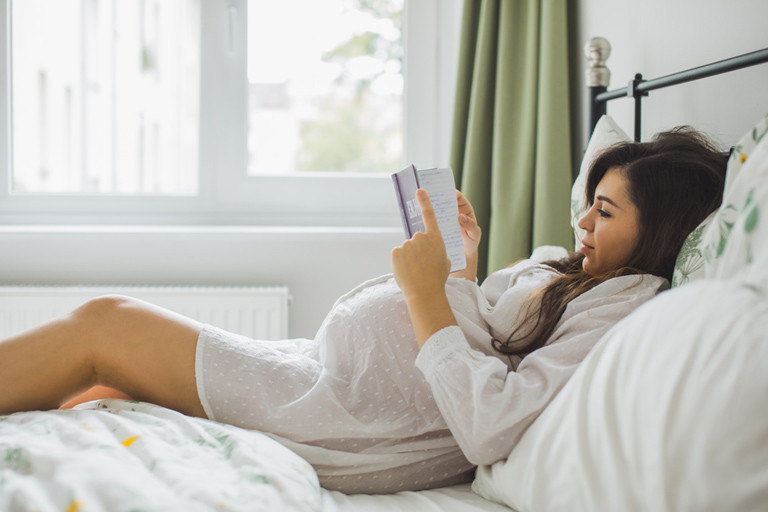 Are you picking up any books to read during your pregnancy? We asked BabyList parents whether they read pregnancy books and which ones they would recommend to other families. Some of their answers may surprise you. Here are the twelve most recommended books, the one most overrated book, plus three recommendations we thought were just plain fun.
Twelve Most-Recommended Books
We surveyed hundreds of BabyList parents and these twelve received more recommendations than all the other books. They're arranged here chronologically in the order you'll need them (from pregnancy to breastfeeding to baby parenting skills).
Mayo Clinic Guide to a Healthy Pregnancy
Many BabyList parents counted on this Mayo Clinic book because it was such a reliable source for guiding you through the months of pregnancy. BabyList parent Danielle says, "I really like how Mayo Clinic explains things; it gives the facts, but it's not scary to read it." This is a great choice if you want a trustworthy reference book that's not too cumbersome or weighted down by details about everything that could go wrong.
The Girlfriend's Guide to Pregnancy
The idea of this book is that it gives you the skinny on what really happens during pregnancy, just like you were hearing stories from your best girlfriend. It's written in a hilarious, direct way that balances brutal honesty with reassurance. BabyList parent Diane says, "I liked that they were realistic without being gory or scary or too focused on everything that could go wrong." Women who don't connect with this book often mention that the author is too concerned about looking "fat" while pregnant. However, many seem to find comfort in the author's frank discussion of her emotional insecurities; it helps them feel less pressure to have the "perfect" pregnancy.
Expecting Better
This book is featured on our BabyList CEO's sample registry, and it is a BabyList parent favorite as well. BabyList parent Courtney says, "I liked Expecting Better, because it was so data driven rather than fear driven." It reviews pregnancy health studies and evaluates the quality of their methodology, with the goal of giving the reader objective information to make informed decisions about pregnancy risks. For example, the author shares evidence that very light drinking is fine during pregnancy, even if heavy drinking is extremely dangerous. In general, she wants women to look at evidence and make their own decisions rather than follow black-and-white rules. Needless to say, it has therefore been very polarizing.
Ina May Gaskin
Many BabyList parents loved Ina May Gaskin; for the most part, they recommended "everything she's ever wrote," rather than recommending specific books, so we feature two of her books below. BabyList parent Jill says, "I liked how Ina May's books regard pregnancy and childbirth as a natural process that our bodies are designed for and know how to do; it gave me confidence in my body and my ability to handle birth." And BabyList parent Marie says, "The breastfeeding book was indispensable. Also, Ina May's books are filled with positive birth stories that were comforting to read leading up to labor."
As a long-time activist for natural childbirth, Ina May definitely writes her books with a very strong point of view. Her guide to childbirth criticizes the medical establishment to a point that many consider unfair. Although, Ina May's real positions may be more nuanced than many readers assume; in this podcast interview, Ina May says she doesn't mean to make mothers feel guilty if they end up needing a medical rather than natural birth. Even if you disagree with some of her criticisms of hospitals and doctors, it's still interesting to read the birth stories of individual women; she describes the wide range of physical sensations women feel when giving birth. And because she focuses on positive birth stories, she can help you feel less scared and more optimistic about labor.
The Womanly Art of Breastfeeding
BabyList parent Laura says, "I loved that it covers most everything, prepares you for any issues, and empowers you to know that most all issues can be worked through. I didn't like that it makes you feel guilty for leaving baby for work. Aside from this, it is super helpful and still a go-to." This book could definitely do a better job of speaking inclusively about the range of choices that women make around breastfeeding, work, and parenting. However, it does provide tons and tons of helpful information about getting around various practical breastfeeding difficulties.
The Happiest Baby on the Block
This book focuses on how to tune into your baby's calming reflex, and can be really helpful when it comes to soothing babies and increasing sleep. BabyList parent Laura says, "I love Happiest Baby on the Block–it's medically based, but doesn't make you feel bad when something isn't working, just provides you with many great options and advice through the stages." BabyList parent Anjuli echoes that with, "Everything was very helpful, especially when it came to soothing and swaddling our baby."
Bringing up Bébé
Written by an American mother in France who noticed French children were better behaved; it blends her personal story with studies and research. She says French parents are more comfortable with giving their kids limits and teaching their kids to be patient. Also, they "know how to be involved without being obsessed," she writes. BabyList parent Rachel says, "I loved it. I felt like even though it was a parenting book it still read like an actual book. Plus it had all the important points listed in the back for my husband, who didn't want to read the whole thing."
On Becoming Baby Wise
BabyList parent Tabitha says, "The book is about feeding/sleeping schedules and how to implement a routine. I liked the example schedules. If I had to list a dislike, it would be how the book made you feel like your child wasn't meeting expectations if they weren't sleeping through the night by 2-3 months of age. If you take this with a grain of salt and focus on a schedule, yet adapt when needed, you're golden." Many other reviewers take a similar stance to Tabitha; the book is helpful, but it's important not to be too rigid in following its advice. This book was criticized in an American Academy of Pediatrics journal and can be controversial. We found this article helpful in understanding why some parents love and other parents hate the book.
Secrets of the Baby Whisperer
BabyList parent Stephanie says, "I loved it! It prepared me for bringing home the baby and what caring for her would be like." It covers a variety of standard parenting topics, with a focus on trying to understand what your baby is attempting to communicate to you, and talking to your baby. She advocates a middle-of-the-road approach between strict (parent-led) and flexible (baby-led) parenting approaches.
Baby 411
BabyList parent Ericka says, "I loved how easy Baby 411 made creating my registry. I'd recommend it to every new parent." In essence, it's a reference guide with a glossary in the back that you can use any time you have a question. It covers pretty much all important topics in your baby's first year; people say it's a nice alternative to calling your pediatrician all the time.
Baby Bargains
BabyList parent Katharine says, "Baby Bargains is THE resource for all the gear you will need as a parent. They break the essentials down into categories and rate them so you know the best gear from the ones you'd be wasting money on. They also tell you where to get the gear for a good price!" The average cost of a baby in its first year tops $7,000–so having this book is pretty useful. It gives you a general framework for thinking about each category of baby product, which can be a lot more helpful than a bunch of individual product reviews.
Most Overrated Baby Book
Although What to Expect When You're Expecting was read more often than all the other pregnancy books combined, 12% of our BabyList parents mentioned that they would not recommend it. Since BabyList parents were purely positive about most of the other books, the negativity around What to Expect caught our attention. Here are just a few of the critiques BabyList parents had about What to Expect:
"I found it dumbed down a lot, which is annoying to wade through the cutesie crap to get to the information." -Katherine
"What I found with most apps, email newsletters, and books like What to Expect is that content tends to be anxiety/fear driven. Woah! The wrong thing to dose up on during pregnancy!" -Kate
"I HATED What to Expect. Instead of being a useful resource, it was just an anxiety provoking exercise in how you needed to just turn over control of your body to the establishment." -Megan
There's a lot of intensity of feeling there; by contrast, the 88% who liked and recommended What to Expect When You're Expecting tended to praise it in fairly faint terms like "very informative," or "had a lot of info." The most enthusiastic recommendation focused on the fact that she enjoyed using the same book her own mother used during pregnancy.
Other Fun Recommendations
Unlike the other books on this list, these books weren't read and recommended by large numbers of parents. However, we're including these little-known gems in our pregnancy books collection as "editor's choice."
The Sh!t No One Tells You
BabyList parent Chelsea says, "They were honest and helpful. They helped me understand that admitting things were hard didn't mean I was a bad parent." The book explains the difficulty of parenting a new baby in a hilarious way. It helps new parents realize they're not alone in finding parenting to be a less-than-idyllic task. One of the chapters is called, "No One Is Loving This as Much as Their Facebook Posts Would Have You Believe."
Calm the F&ck Down
Calm the F&ck Down; The Only Parenting Technique You'll Ever Need has its origins in a viral blog post by a tongue-in-cheek daddy blogger. It methodically goes through the most common and urgent parenting worries, like "My baby's poop shoots out," and calms you down with gems like, "Congratulations! You've just earned a parenting merit badge. Everyone who's ever changed a diaper has experienced the poo fountain." It gives you all the information you need to keep from freaking out unnecessarily in the most funny way possible.
How Eskimos Keep Their Babies Warm
BabyList parent Jade says, "I liked that it made the point that many parents will do different things in different cultures… and all these different styles yield well adjusted children. It helped me relax and loosen up a little (and learn that in most situations there isn't just one way, and that's OK)." The book is written by a first-time mom who toured the world to observe parenting styles in different countries. The fascinating thing is, a lot of parenting practices that would be considered heresy in America, work out just fine for other cultures!
Hopefully, this helped you figure out what pregnancy books you want to buy. With a little professional advice, we hope your pregnancy and parenting experience will be as unstressful as possible.