These Are the Best Shoes for Pregnancy in 2023
These Are the Best Shoes for Pregnancy in 2023
From swelling to aching, pregnancy can do a number on your feet. You'll want to slip on these shoes for nine months and beyond.
Babylist editors love baby gear and independently curate their favorite products to share with you. If you buy something through links on our site, Babylist may earn a commission.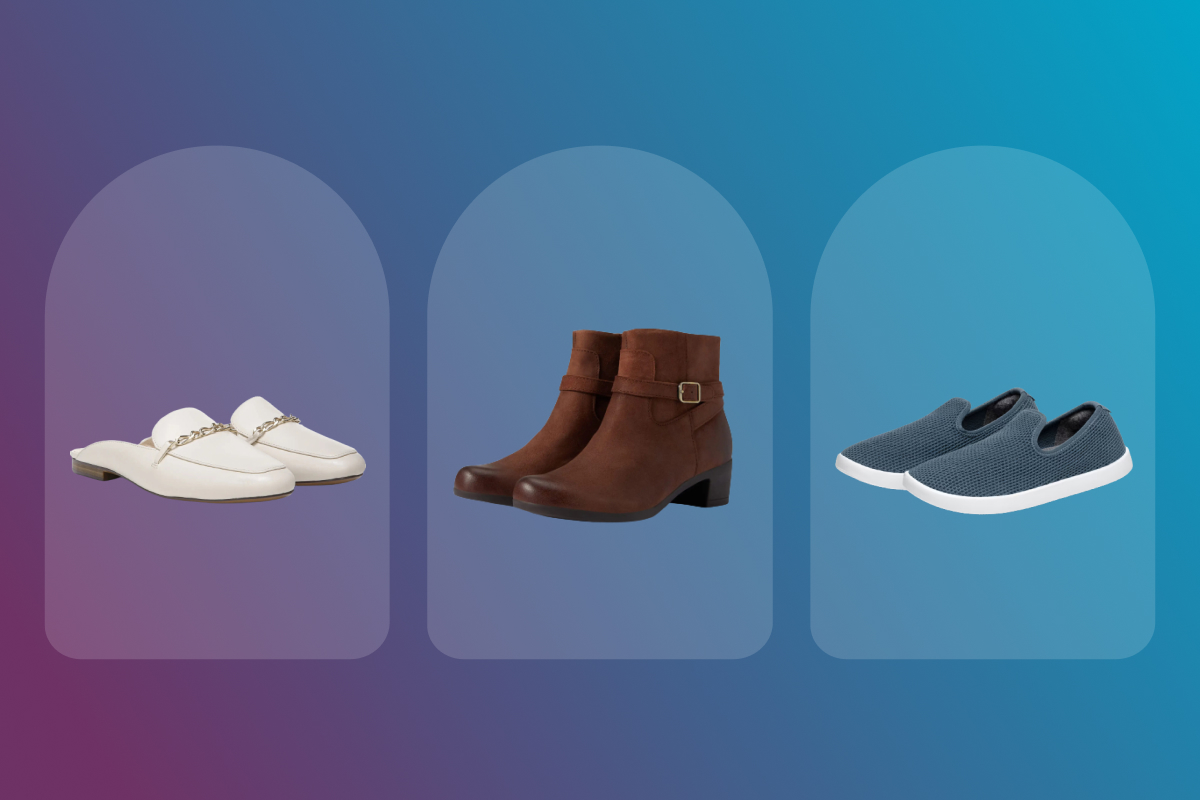 Pregnancy is an amazing thing, but the toll it takes on a body? At times it can be head-to-toe taxing. As your pregnancy progresses, the extra weight you're carrying can put pressure on your feet, while pregnancy hormones can relax ligaments in your feet (as well as in the pelvis as you near delivery time), causing fallen arches/flat feet. The increased blood volume moving extra oxygen to your baby often can result in foot and ankle swelling as well. It's definitely a trip, and one you'll want to take with supportive footwear in tow.
Babylist's Top Picks for the Best Shoes for Pregnancy
Read full reviews of the best maternity shoes below.
How Does Pregnancy Affect Your Feet?
Pregnancy affects everyone differently, but foot changes are common. Here are some you might experience:
Foot growth
In order to make room for a growing baby and prepare your pelvic area for delivery, your body produces a hormone called relaxin that softens the cervix and makes bones and ligaments more pliable. For some moms-to-be, relaxin can force the feet to lengthen and expand. While these changes sometimes go away after pregnancy, some people find their shoe size has permanently changed.
A waddling stride
Your gait—or the way you walk—may change, as well, as a result of your spine and pelvis curving inward to accommodate the extra weight and growth in your abdomen. You may start to lean backward as a way to compensate. In the last few weeks before baby comes, you'll also experience "lightening," when your baby starts to drop in your pelvis. As your pelvis expands, your stance gets wider, and voila: The much-talked-about mama "waddle" is born.
Ingrown toenails
Swollen feet (which we'll get into later!) can also do a number on your toenails. If you're constantly squeezing your feet into ill- or tightly-fitting shoes, your nails can start digging into your skin, causing inflammation and even infection. Sizing up, wearing open-toe shoes that are less confining and perhaps even a warm foot soak at the end of the day can help prevent and treat ingrown toenails.
What to Look for in Pregnancy Shoes
Almost every foot-related concern in pregnancy can be improved with a new pair of well-fitting, comfortable shoes (even if that means sizing up a half to one size for the duration of your pregnancy). When choosing a maternity shoe, though, keep the following considerations in mind:
Comfort
Pregnancy can be an uncomfortable experience, so when it comes to what you're wearing on your feet, you want to choose supportive shoes.
"Widening and flattening of the arch is very common during the gestational period," says Sarah Haller, DPM, FACFAS, a Fellowship-Trained foot and ankle surgeon. If pregnancy hormones have caused your arches to flatten—this can increase the likelihood of ankle sprains or instability issues—you can ameliorate some of the pain or soreness with contoured, cushioned insoles.
You'll also want to avoid squishing your feet into too-tight shoes. If you've wondered if your feet got longer, you might not be too far off! As the weight from your belly pushes down into your extremities, your feet may become flatter and grow in size a bit. Combined with any swelling you might experience in your ankles, you'll find that shoes that are "roomy and supportive, like cushioned sneakers," says Dr. Haller, are most appropriate. Again, don't be afraid to go a size larger!
Breathability
Hormones have a way of making you all kinds of sweaty (no matter what time of year it is), so when you're considering shoes for everyday wear, consider options made from breathable fabrics such as mesh, canvas, leather and suede to help your sweaty feet.
Stability
When you're pregnant, your body's center of gravity (or balance point) changes, so you may become less coordinated as your bump gets bigger. It doesn't mean that you have to surrender all your heels, but wearing wedges or espadrilles or finding a shoe with a stable block heel and wide supportive straps can be good ideas.
Alternatively, if you're already more inclined to choose flip flops over high heels, look for picks that feature cushioned footbeds and built-in arch contours that cradle your feet where they need it most.
"For balance and stability, I always suggest an over-the-counter insert to my pregnant moms since their arch will continue to change as they go through pregnancy. A Powerstep Orthotic is exceptionally accommodative and supportive."
In addition, compression socks are also your friend. Edema—or swelling—is a common concern during pregnancy, as there's greater blood volume in the body.
Compression socks can help keep fluid from accumulating in the calves and feet. They're also ideal for improving circulation and reducing the risk of blood clots. "I like Doc Millers, but anything with a compression intensity of 15 to 20 mmHg is appropriate," suggests Dr. Haller.
Keep in mind: Some swelling is totally normal during and after your pregnancy, but if you're noticing something outside of what's normal for you—particularly excessive swelling in your legs, hands or especially the face—you should talk to your healthcare provider right away. It could be a sign of preeclampsia.
The Best Shoes for Pregnancy
---
Danielle Halibey is a mom, writer, editor and publicist living in Central New Jersey. Danielle has written for The Bump, Cubby at Home, Babe by HATCH and countless other lifestyle publications. But her biggest passion is for expert product curation. From pregnancy game-changers and baby essentials to toys for growing children, Danielle is always seeking out the best buys for everyone who makes a child's world go round. When she's not writing, she cherishes the daily experiences and conversations shared with her three little ones. She also wouldn't mind living in her maternity leggings indefinitely.
This information is provided for educational and entertainment purposes only. We do not accept any responsibility for any liability, loss or risk, personal or otherwise, incurred as a consequence, directly or indirectly, from any information or advice contained here. Babylist may earn compensation from affiliate links in this content. Learn more about
how we write Babylist content
and the
Babylist Health Advisory Board
.
Keep your pregnancy on track. One email a week.